Supermarkets With the Best Store Brands
CR's members tell us which grocers' private labels are really worth going out of your way for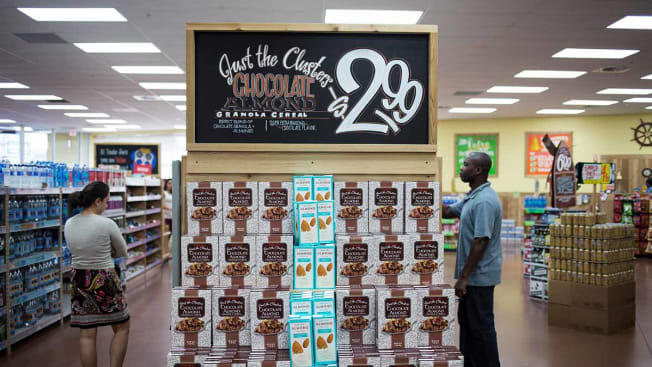 Fern Becker can reel off a list of store-brand items that draw her each week to the Trader Joe's grocery near her Hartsdale, N.Y., home: dried mangoes, Five Seed Almond Bars, Crunchy Salted Peanut Butter With Flax & Chia Seeds, Sweet Potato Tortilla Chips, refrigerated minestrone soup, and Extra Dark Chocolate Wedges.
"They're not sweet," she says of the chocolate. "If I need something after dinner, one or two is enough to satisfy me."
Not so the Kirkland Cashew Clusters, a blend of nuts and seeds bound with cane sugar, rice syrup, and honey, that she used to pick up at a nearby Costco. "I had to stop buying them," she says. "I became addicted."
Choice of Store Based on 'Private Label'
Grocery-store loyalties can run deep. Price is a major factor. So are produce quality and variety. But sometimes it's the store-brand products—those items that carry the grocer's name—that impel shoppers through the sliding doors and up the aisles.
And when CR members were surveyed about the grocery stores and supermarkets they liked best, only three grocers earned top marks for their store brands: national names Trader Joe's and Costco; and San Antonio, Texas-based Central Market, a subsidiary of the privately owned H-E-B supermarket chain.
What appears to attract the most ardent store-brand followers, however, aren't the copycat products. They're the store-brand items that are unique to a retailer.
Flickinger says retailers are increasingly partnering with university food research centers and small, high-quality name-brand food manufacturers and processors to develop new, unique private-label products.
The passion for such foods is evident, for instance, on the Facebook page of high-end Central Market, which regularly posts swoon-worthy photos of prepared original recipes and products from its shelves. A recent post featuring the retailer's private-label small-batch ice cream—which comes in flavors like coconut ginger, Saigon cinnamon, chile pepper pecan, whiskey honey, and dark chocolate ganache—garnered rapturous responses.
"I do not need to be eating any ice cream but man this looks so good!!" said a commenter named Kim Loan Ngo.
"My favorite is the whiskey honey," said Heather Evans, another poster.
Another, less committed commenter, Charice Shannon, fantasized about combining the dark chocolate and the cinnamon.
"Think I'll do that when I'm in town Friday," she said. "Driving 30 miles for this!"