When you shop through retailer links on our site, we may earn affiliate commissions. 100% of the fees we collect are used to support our nonprofit mission.
Learn more.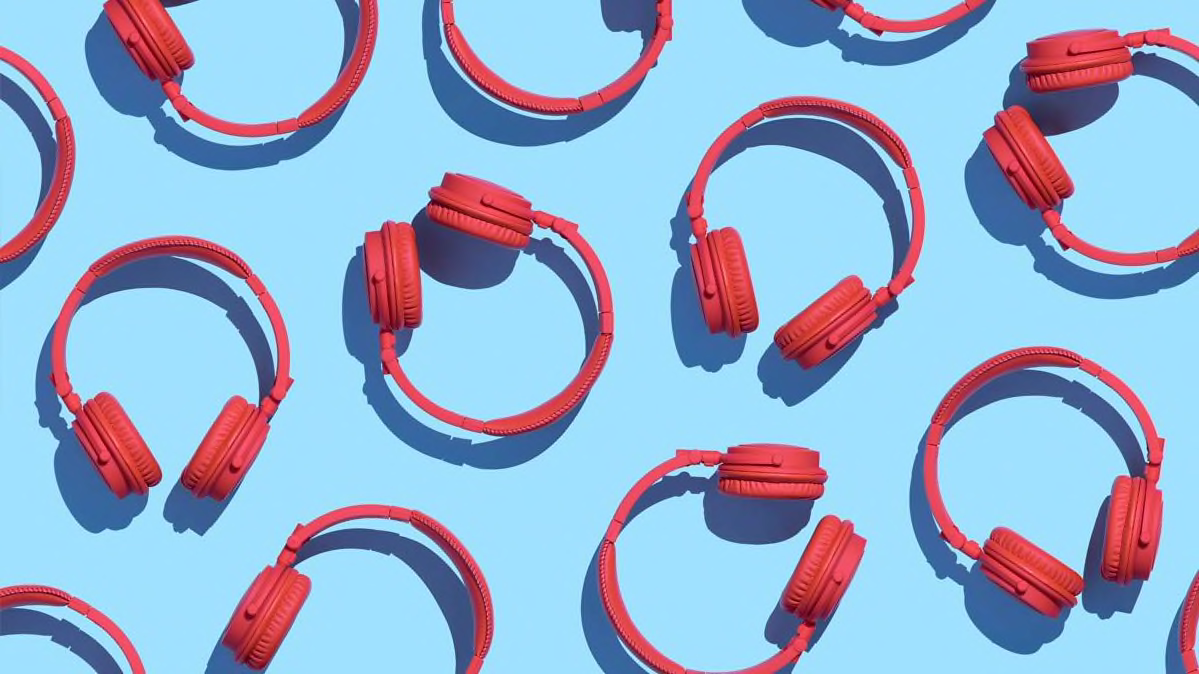 These days, it's easy to find low-cost headphones in a broad range of styles and colors. But headphones are more than a fashion statement, and what distinguishes the models on this list of the best headphones under $100 is that they earn high marks for sound quality from our testers.
The models here not only rank among the top headphones in our ratings but also earn CR's Best Buy designation, thanks to prices that start as low as $50. There's something for everyone in this roundup, whether you care most about high-quality sound, the convenience of Bluetooth, the unmatched portability of true wireless earphones, or even active noise-cancellation.
Every year Consumer Reports buys dozens of headphones at retail—at places you might shop yourself—and puts them through a battery of tests to help you sort through the noise and find headphones that sound as good as they look.
Portable High Fidelity
You won't find many headphones that deliver such superb audio for the price as the in-ear 1MORE E1001 Triple Driver, which typically costs just $70 or less.

These wired earphones have a sleek design and come with extras, including a removable shirt clip, a carrying case, and nine sets of earpieces of varying shapes and sizes to help you find a good fit. The integrated microphone, call/connect, playback, and volume controls will play nicely with your iPhone and other devices. And the isolating design also muffles ambient noise and blocks sound from bleeding out and bothering people around you.
True Wireless
The Anker SoundCore Liberty Air earphones look a lot like Apple's AirPods, but they cost about half as much and have a few notable advantages. Unlike the AirPods, the Ankers have an isolating design that will muffle some outside sound, and our testing shows that their audio quality is significantly better, too. CR's technicians also note that they fit and stay in place well, avoiding a problem that affects many true wireless models.

According to Anker, the earphones have a 5-hour battery life and come with a charging/carrying case good for three additional charges on the go. They're also advertised as water-resistant. (Consumer Reports doesn't test water resistance or battery life in headphones.)

They have tap controls for calls and playback, and support for digital assistants, and they come with the option to use the right earpiece alone for single-ear listening. They're available in black or white.

For the Audiophile
The Grado Prestige SR80e is a perennial favorite among music fans looking for a bargain on top-notch sound. For just $100, the SR80e's outstanding audio quality is hard to beat. (Prices have fluctuated lately—shop around or go directly to Grado's website to snag them at this price.)

These on-ear home/studio-style headphones are built for the audio-focused listener. Their open-back ear cups, which are meant to boost the clarity of the audio, won't block sound from bleeding in or out, and their large profile and long, sturdy cable limits their portability. All that means they're best used in a quiet environment where you can really focus on the music—and where you won't irritate other people nearby.
Studio-Style Wireless
The Jabra Move Style Edition, an on-ear Bluetooth model with a sleek appearance and more than decent sound, comes with convenient features like controls for calls, playback, and volume, and the option to forgo Bluetooth and use the detachable audio cable included with your purchase.
The headphones have a closed, isolating design that will keep some noise from leaking in or out during a listening session. The headphones have an advertised 14-hour battery life, more than enough to get you through a day of listening.
Bargain Bluetooth
A decent pair of wireless headphones used to cost at least $100, but those days are just an unpleasant memory. We have a ton of great bargain picks in our ratings, and with above-average sound and a 7-hour advertised battery life, the 1MORE Triple Driver BT is a fantastic option.
If you forget to charge the Triple Driver BT before you head out for the day, 1MORE says a handy quick charge feature will give you 2 additional hours of playback time after plugging them in for just 10 minutes. And when you're done listening, you can roll up the unobtrusive collar and slide the headphones into a bag or a pocket.
Noise-Canceling Bliss
We're seeing more and more great, inexpensive noise-canceling headphones—shopping on a tight budget no longer means you have to sacrifice performance. Case in point is the Anker SoundCore Life Q20. You can pick up this model for just $60, and our tests show it beats out models that cost hundreds more.
The Life Q20 has great sound quality and outstanding noise cancellation. You won't get features like adjustable levels of noise-canceling that come with pricier models, but the sacrifice may be worth it for a deal this good.
Anker includes some appealing perks, such as the headphones' ability to work over Bluetooth or through an audio cable, and a free app that adds features including a bass boost EQ setting. According to Anker, this model delivers a generous 40-hour battery life when Bluetooth and noise-canceling are both turned on.
How to Choose Headphones
With so many types of headphones, how do you know which pair is right for you? On the "Consumer 101" TV show, Consumer Reports expert Elias Arias explains everything you need to know.