When you shop through retailer links on our site, we may earn affiliate commissions. 100% of the fees we collect are used to support our nonprofit mission.
Learn more.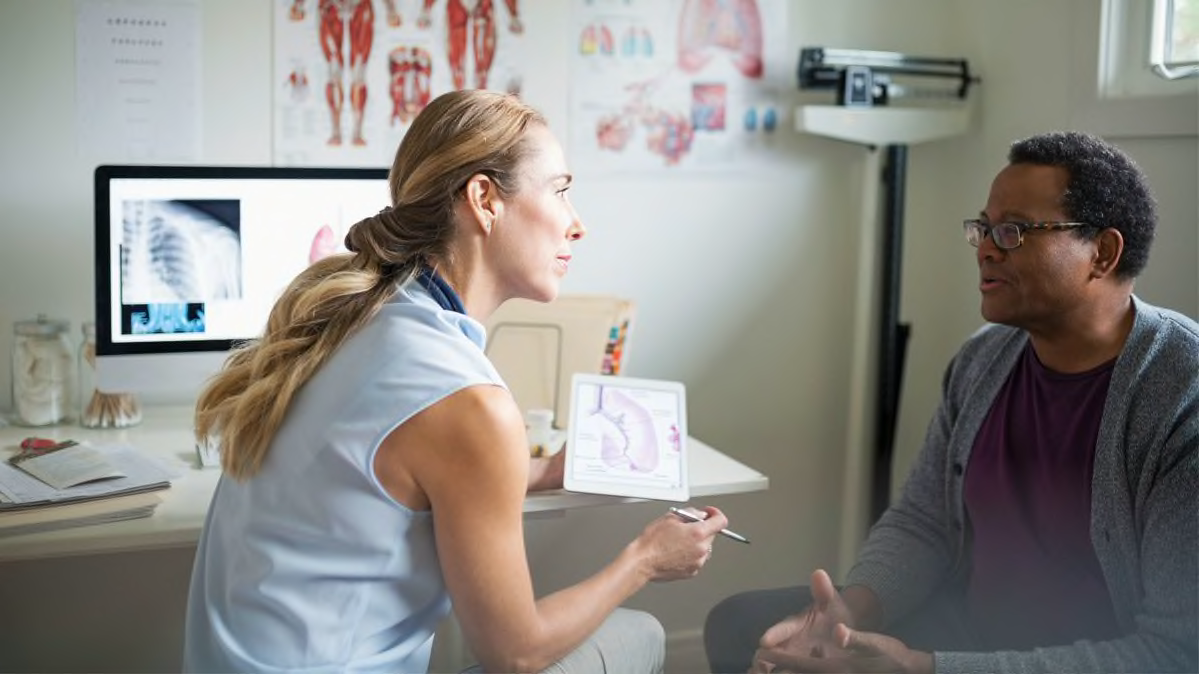 Imagine being able to reach a primary care doctor any time you want. Someone who knows your entire medical history; answers your emails, texts, and phone calls 24/7; and gives you same-day appointments when you're sick. And all for a flat fee of about $80 per month.
If that sounds good to you, you may be tempted to sign up for this form of personalized medical care, known as direct primary care (DPC), which is being offered by a growing number of doctors. But don't rush in without doing some research—DPC is not right for everyone.
The biggest limitation of DPC is that it's not insurance or a replacement for it. This type of care, which is also called retainer medicine or concierge care, works best as an add-on to your existing health plan. You pay a flat monthly or annual fee—no add-on charges—in exchange for the promise of nearly unfettered access to a primary care physician you choose, not one dictated by your insurance network. You also would have to switch from your current doctor to one in the DPC practice.
Because DPC covers only a narrow range of services, you'll still need to pay the premium costs to maintain your regular health insurance to cover specialized treatments or catastrophic care. And if you need a higher level of care than your DPC doctor can provide, you'll face deductible and out-of-pocket costs as well. DPC also doesn't have the same consumer protections required by insurance regulators.
More on Managing Healthcare Costs
Still, signing up with a DPC can make sense for some people, particularly those who have a chronic medical condition that requires frequent primary care doctor visits, or who have a high-deductible health plan and are likely to pay thousands of dollars in out-of-pocket costs. Instead, these patients could pay one flat fee, which averages less than $100 per month, for unlimited doctor visits.
The focus on affordability distinguishes this new type of DPC from old-school "boutique" concierge medical practices, which cater to a small number of patients willing to pay thousands of dollars a year for access to top-tier doctors. Recognizing the potential value of DPC, some employers are even offering direct primary care as a benefit to go along with their insurance plan, covering some or all of the membership fee.
If you're considering signing up for DPC, whether on your own or through your employer, here's what you need to know about concierge medicine.
You Get Unlimited Primary Care Services
There are almost 900 such practices across 48 states and Washington, D.C., according to DPCFrontier.com, a website that provides support and guidance to doctors who are launching DPC practices. That's up from 273 locations in 39 states in 2015. An estimated 500,000 patients are receiving care from DPC practices.
Every DPC practice is different, but typically they offer general medical services such as prevention screenings, wellness visits, and diagnostic tests, as well as minor urgent care services, such as stitches or treatment for a rash. (For more extensive care, like surgery or emergency services, you will need coverage through a comprehensive health insurance plan.)
Given this menu of services, many people using DPCs could ultimately spend less on healthcare compared with a traditional insurance plan if they end up requiring frequent visits.
Three-quarters of those with employer insurance have copays (out-of-pocket fees per office visit) for primary care that average $25, and one-quarter have coinsurance (a fee based on a percentage of cost of a visit), which averages 19 percent, according to the Kaiser Family Foundation. And 81 percent have deductibles that average $1,500 before insurance kicks in.
For those with chronic health problems that need close monitoring, such as diabetes or heart disease, having access to DCP services can be especially cost-effective and convenient. Some practices have dispensaries where you can purchase your prescriptions and offer lab tests such as EKGs on site. Some even make house calls if you're not feeling well enough to get to the doctor's office.
Your Doctor Can Really Get to Know You
Even healthier patients may be attracted to the convenience and personal attention you can get in direct primary care. No more booking appointments months in advance, and you can spend more time with your doctor, who can get a better understanding of your medical history.
The typical primary physician today devotes just 15 minutes to patient visits, which happen 1.6 times a year on average. By contrast, DPC physicians spend an average of 35 minutes per visit, and patients average four visits per year, a University of Wisconsin report [PDF] found.
DPC doctors can afford to spend more time with you because they have fewer patients and have eliminated the time and administrative cost of dealing with insurance. A typical primary care practice will have 1,000 to 2,000 patients, while a DPC practice will average about 600 people.
If you can spend more time with your doctor when you're not feeling well or need help managing chronic issues, you could head off more costly problems and bigger health issues down the road, says Philip Eskew, founder of the DPC Frontier website and a primary care doctor who advocates for DPC medicine.
Still, there's no research yet that shows that people using DPC have better health outcomes than those patients in a typical primary care practice, according to Paul George, M.D., associate professor of family medicine at Brown University Medical School.
You Need to Budget for Health Insurance
It can't be emphasized enough that a direct primary care arrangement is not a substitute for health insurance. That's why most DPC physicians encourage you to pair your membership with an insurance plan—usually a low-premium, high-deductible policy—to cover things such as inpatient hospital care, surgery, or emergency services.
You have to factor that into your healthcare budget. In addition to the premium and out-of-pocket costs of your insurance, you may not be able take advantage of a Health Savings Account to pay your membership fees, either. That's because DPC isn't considered insurance in most states. (An HSA, available to those with high-deductible plans, allows you to use pretax dollars to pay for healthcare costs not covered by your insurance.)
Beware that some DPC organizations are marketing their services as a replacement for insurance. For example, Zenith Direct Care, which says it is the largest direct primary care group in Utah, promotes its services as a low-cost alternative to traditional health insurance. Zenith also suggests that patients get additional coverage through healthcare sharing ministries, but these are also not health insurance and have strict limits on what they cover.
Still, if you're the kind of person who wants or needs ready access to your doctor, and you have the extra money to spend, it can be a good option to supplement your health coverage with a primary care membership, says Paul George at Brown University.
Consumer Protections Are Scarce
At least 25 states have passed legislation that generally defines DPC services as being outside the scope of state insurance regulation. This eases the costly regulatory burden for physicians who operate in these practices and enables them to offer low monthly fees. But it also means DPC patients mostly lack the consumer protections mandated by the Affordable Care Act, such as coverage of preexisting conditions and prohibitions against charging more based on gender.
That could be a problem if you should ever have a dispute with your DPC provider over how your care is handled or what services should be covered—perhaps differing definitions of what should be routine care paid by the membership fee. For those with health plans regulated by state insurance departments, you can often get help from these authorities, says Maanasa Kona, assistant research professor at the Georgetown University Health Policy Institute's Center on Health Insurance Reforms.
But if you find yourself disagreeing with your DPC provider, you'll be on your own. "Consumers in DPCs have no place to go," Kona says.