When you shop through retailer links on our site, we may earn affiliate commissions. 100% of the fees we collect are used to support our nonprofit mission.
Learn more.
Update: Since this first drive was published in March 2018, we have added a quick drive video and finished our testing.
See the complete Nissan Leaf road test.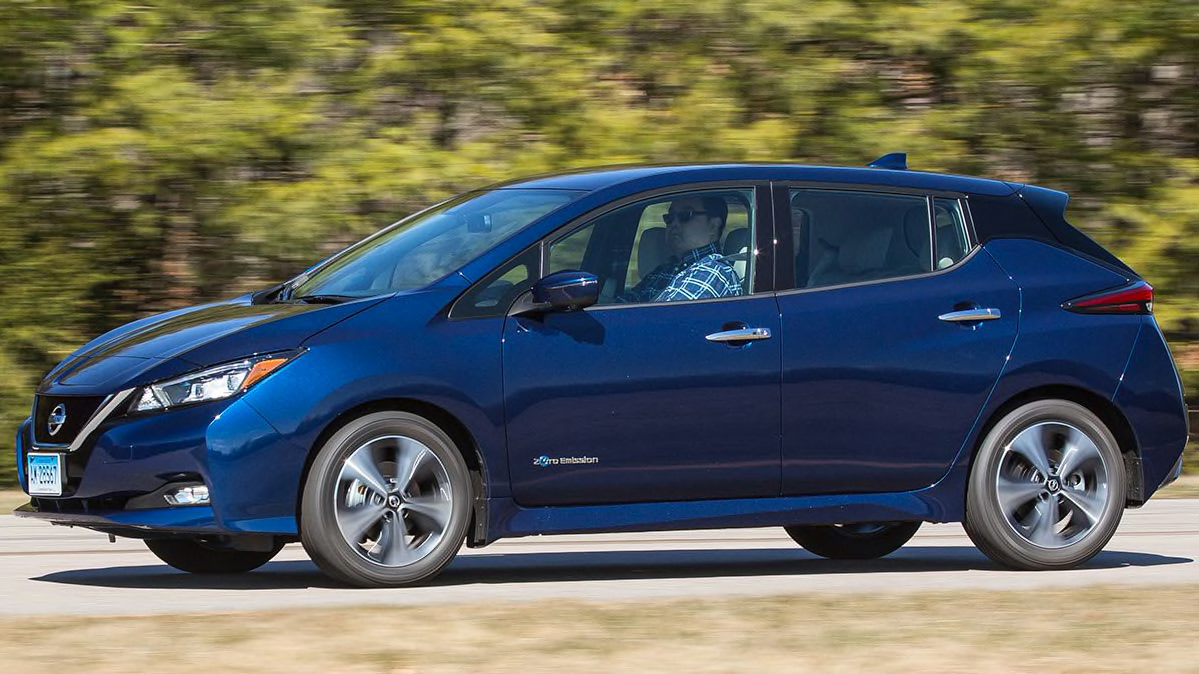 Introduction of the original Nissan Leaf in 2011 was a watershed moment because it was the first mass-produced electric vehicle (EV) from an established automaker.
Now that we've taken delivery of a redesigned 2018 model, we have our doubts about whether the Leaf can compete strongly in the current EV world.
MORE ON ELECTRIC VEHICLES
The new Leaf, with its 40-kWh battery, is Environmental Protection Agency-rated for 151 miles of range. That's an improvement compared with the original, pioneering Leaf, but the competition has moved onward—and upward even faster. The Chevrolet Boltcan go 250 miles comfortably, and a base Tesla Model 3 is estimated at 220 miles.
Incidentally, Nissan is fully aware of the range shortcoming and will add a 60-kWh version that the carmaker promises will deliver 200 miles for 2019. Below are our first impressions, based on the Leaf we purchased for testing.
What we bought: 2018 Nissan Leaf SL
Drivetrain: 147-hp electric motor, one speed direct drive, 40-kWh battery
MSRP: $36,200
Destination fee: $885
Options: $1,030
Total cost: $38,115
How It Drives
The Leaf takes off silently and immediately like all EVs, but unlike the Bolt or Tesla, there's no thrilling shove that glues drivers to their seats. The Leaf builds up speed in a smooth, linear way.
The new Leaf rides firmer than the softly sprung previous model. Though the suspension takes the edge off most bumps, it still tends to jiggle on rough roads. Handling, on the other hand, has improved, providing less body lean in corners and a more decisive turn-in response.
A new feature, called e-Pedal, allows what's known as one-pedal driving: When drivers take their foot off the throttle, there's significant slowing, and the car can even come to a full stop. The feature is activated by a button on the console. Most CR testers prefer a paddle by the steering wheel, like with the Bolt, to activate the extra regenerative braking when needed, so there's no fumbling for a button to push.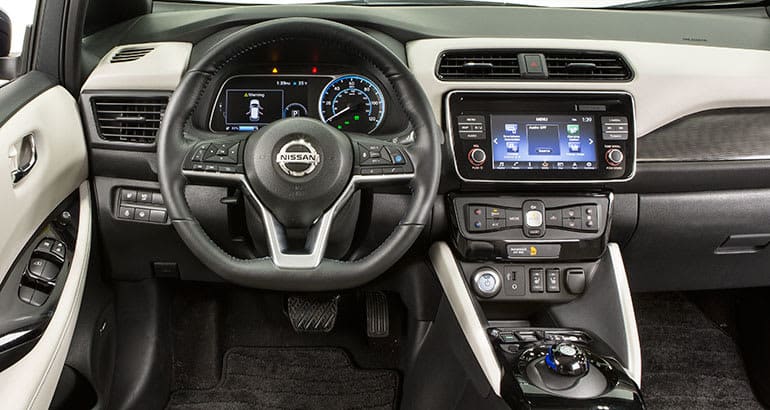 Inside
The cabin's ambience is rather mundane, but the Leaf's fit and finish is better than the Bolt's so-so interior furnishings. Still, the Leaf is no match for the more premium Volkswagen e-Golf.
The fussy hockey puck-style gear selector remains. It takes some getting used to and can be awkward to use during frequent Reverse to Drive parking maneuvers.
The center touch screen is straightforward to operate. Android Auto and Apple CarPlay are available, starting from the the midlevel trim SV, $32,490. But the display in the instrument panel, used for trip info, EV specifics, and turning off safety features, is too confusing. We can't think of one good reason anyone would want to turn off the blind-spot detection.
A power seat with adjustable lumbar support adds to the quality of life for the driver and is an amenity the more expensive Bolt doesn't have. Oddly, though, the steering wheel lacks a telescoping adjustment. Combined with the protruding center console that rubs against the driver's knee, the driving position is severely compromised.
The rear-seat room is quite decent. Two adults will have no problem with its elevated posture and good legroom.
The trunk space suffers much less intrusion due to the battery compared with the first-generation Leaf. Some staffers have been able to transport a mountain bike with the rear seat folded down. Our top-line SL trim has the all-weather package that includes heated seats and steering wheel, which is a $900 option on lesser versions. These features have been a boon during our New England winter.
In addition to 240-volt charging, the Leaf can use a regular 120-volt outlet, but that's likely to take around 20 hours. The home charging kit that comes with the car includes a neat dual plug that can easily convert from a regular three-prong plug to a 240-volt heavy-duty plug, compatible with outlets that most households have for clothes dryers or ovens. So long as there is a 240-volt outlet near your garage, that can eliminate the need to invest in a dedicated charger.
So far we're finding that the Leaf takes about 5 kWh per hour of charging. A port for DC fast charging is optional. With that, Nissan claims an 80 percent charge in 40 minutes.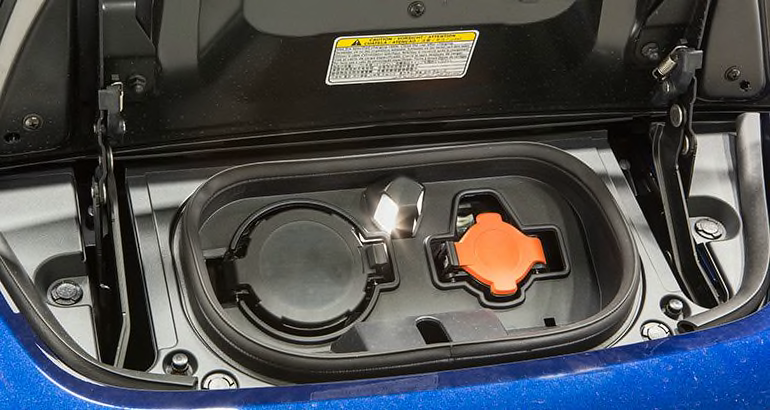 Safety & Driver Assist Systems
The Leaf is Nissan's second model (after the Rogue) to offer ProPilot Assist—the automaker's name for adaptive cruise control that's combined with lane-keeping assist. It's not an autonomous feature, nor is it designed to be one.
ProPilot Assist is a convenience in stop-and-go traffic and is supposed to serve as a guardian, keeping the car in its lane, in case the driver becomes distracted. However, the lane-departure warning feature is one of the least pleasant we've experienced; as soon as the car is about to cross a lane line, it issues a startling steering vibration and a loud buzzing.
The redesign is supposed to address the original Leaf's deficiency in the Insurance Institute for Highway Safety's small-overlap crash test, where it got a Poor score. We won't know about improvements in crash protection until the IIHS evaluates the new one. The results may affect whether the new Leaf can earn a CR recommendation.
Bottom Line
Given the Leaf's comparatively short range, mundane driving experience, and flawed driving position, it's hard to see how it can stand out in today's more competitive EV world. Perhaps Nissan should have waited to launch this car with a bigger battery and a more sorted-out driving position.
See the complete Nissan Leaf road test.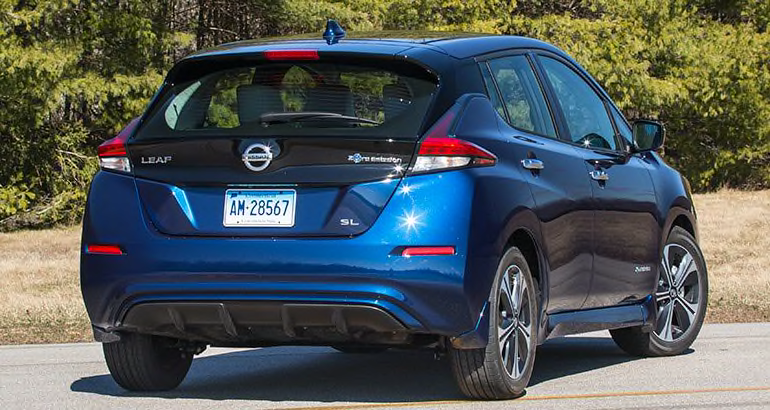 Electric Cars 101
Electric cars are bringing some of the biggest changes the auto industry has seen in years. On the "Consumer 101" TV show, Consumer Reports expert Jake Fisher explains to host Jack Rico why these vehicles might not be as newfangled as you think.