When you shop through retailer links on our site, we may earn affiliate commissions. 100% of the fees we collect are used to support our nonprofit mission.
Learn more.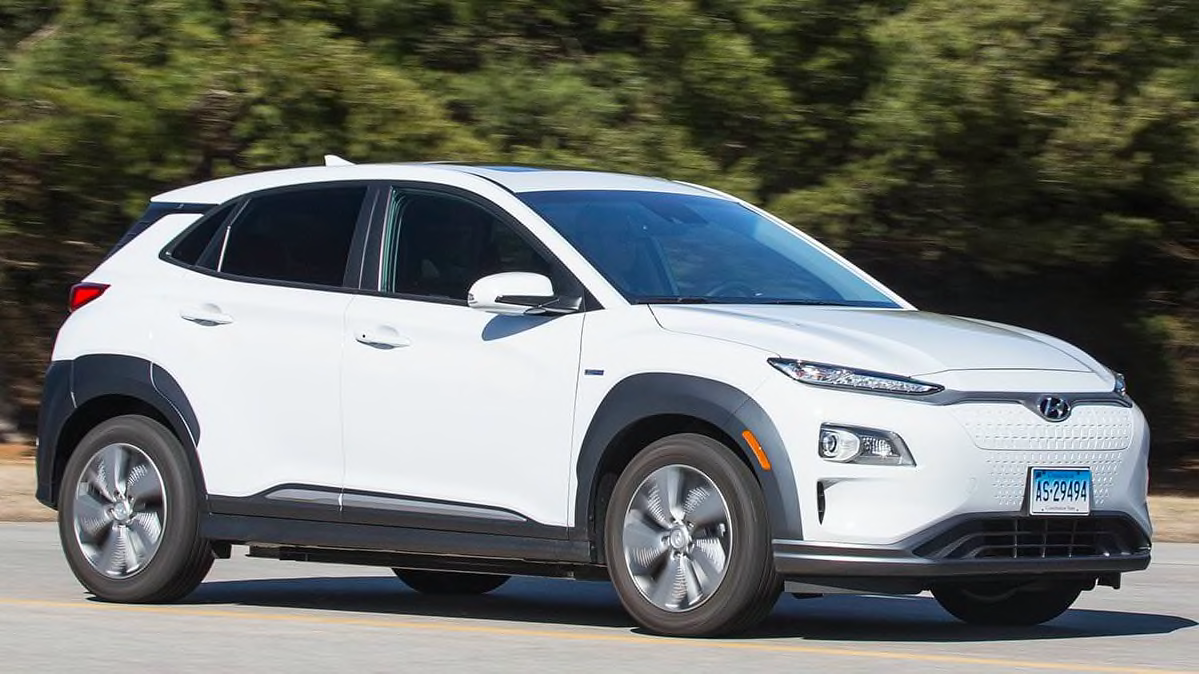 Update: Since this first drive was published in April 2018, we have purchased and evaluated our own Kona Electric.
Read the complete Hyundai Kona Electric road test.
The Hyundai Kona is already our favorite subcompact SUV, largely because its nimble handling and stylish design add a dash of pizazz to an affordable, practical package. Hyundai has now introduced a fully electric version, one that promises 258 miles of driving range on a full charge. It has a starting price of $37,495 before a $7,500 federal tax credit or any other incentives.
It doesn't have a gimmick, it doesn't feel tinny or look goofy, and it has a range long enough that it should allow you to travel to work and back—and then some. It's just a practical car that happens to be electric.
We purchased our own Kona EV so we could put it through our rigorous battery of tests. We'll spend plenty of time behind the wheel and we'll compare it with other EVs including the Chevrolet Bolt, Nissan Leaf, and Tesla Model 3 before issuing our final verdict. For now, these are our first impressions.
What we drove: 2019 Hyundai Kona EV Limited
Powertrain: 201-hp electric motor, one-speed direct drive, 64-kWh battery; front-wheel drive
MSRP: $41,150
Options: $135 (carpeted floor mats)
Destination fee: $1,045
Total cost: $42,330
What We Like . . . So Far
Almost all of our praise for the gas-powered Kona holds true for its electric sibling. Both cars are adept at taking corners with little body lean, both are easy to get in and out of, and both have the same amount of cargo room in the back because the battery doesn't intrude into the cargo hold.
More on Electric Vehicles
In fact, the EV solves some of our few complaints about the gas-powered Kona: its sluggish acceleration and loud engine noise. Taking off from a stop might not feel as meteoric as in a Tesla Model 3, but the electric motor's instantaneous power delivery certainly helps the little Kona hustle along. The lack of internal combustion keeps cabin noise to a minimum.
Hyundai says the Kona EV takes 9 hours and 35 minutes to charge from empty at a traditional Level 2 DC charger, the 240V kind you'd be likely to install at home or find at a public parking lot. Considering how long the Kona's range is, you probably won't need to fully recharge often.
A 50 kW Level 3 fast charger can reload the Kona EV's battery to 80 percent from empty in 75 minutes. If you can find a 100 kW Level 3 fast charger, that task should take only 54 minutes. But those stations are few and far between.
So far, the Kona's dashboard display has shown a good prediction of range, which even stayed accurate during 25º F weather. As with all EVs, we did notice a drop in the Kona's overall range when it was below freezing outside, which we've seen in our own cold-weather testing. Typically, EVs use more power to warm the cabin, and that adds further strain on the battery.
The Kona EV comes well-equipped. Even the base SEL trim comes with heated front seats, LED daytime running lights, and Android Auto and Apple CarPlay, plus safety features including automatic emergency braking, blind spot warning, and lane keeping assist. Our Limited trim added leather, LED headlights, wireless charging, and a sunroof.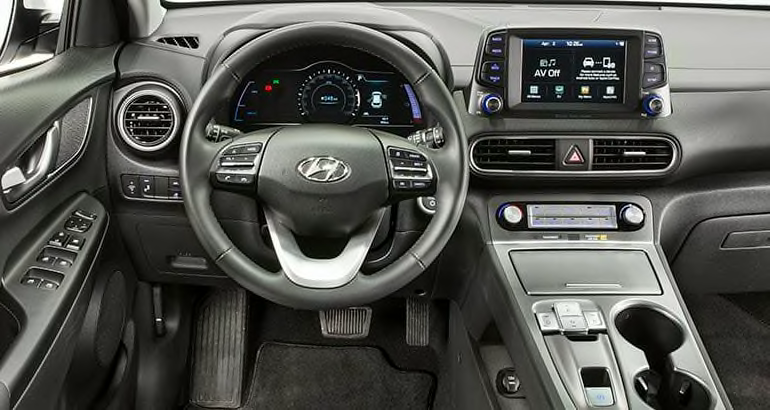 What We Don't Like
Driving on slushy and wet roads, our test drivers noticed that the car had a tendency to spin its front wheels too easily when accelerating from a stop. On icy curves, we occasionally experienced understeer, which is when a car doesn't turn as much as the steering wheel commands it to.
The first problem isn't surprising. Electric vehicles deliver instantaneous power to the drive wheels, so it can be hard to accelerate gently enough to keep the wheels from spinning. The Kona EV is available only with front-wheel drive, which can make it more challenging to keep traction on a slippery surface.
The second concern, however, may be due to the Kona's tires. In order to maximize the car's range, Hyundai chose to put low rolling resistance tires on this EV. Those tires are designed to minimize energy loss from the friction where a rolling tire meets the road. They help with range but they don't always have the greatest grip. For snow-belt buyers, a new set of winter tires might remedy this problem, but it will probably put a dent in the Kona EV's impressive range.
The EV also replaced some of the gas-powered Kona's simple design with what some of our reviewers thought was needless ornamentation. Up front, a flimsy-feeling door covers the charging port. It opens from right to left, which can make plugging in more awkward than with a door hinged at the top or bottom. Inside, the EV gets a push-button gear selector instead of the more traditional one found in the gas-powered car.
But those concerns matter only if you can actually buy the car in the first place, which leads to our final complaint: The Kona EV is currently available only in states in the West and Northeast U.S. that follow the California Air Resources Board's ZEV (zero-emissions vehicle) mandate. Considering the national availability of other EVs, that's a knock against this Hyundai.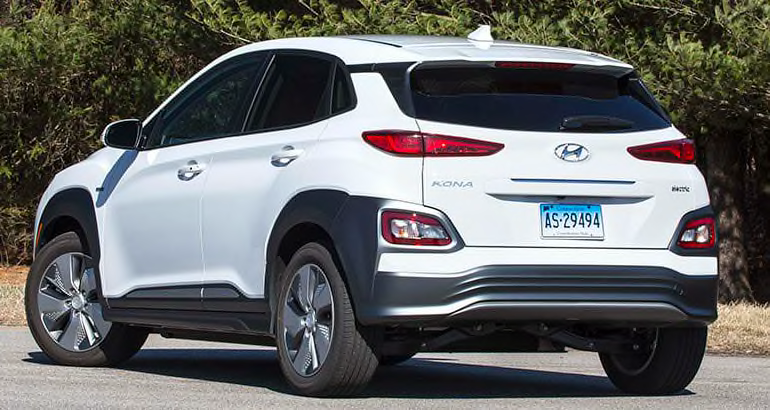 What We'll Keep Our Eyes On
We're especially interested in spending more time with the Kona EV on wet roads and keeping track of its range estimates as we drive it for longer distances.
To comply with a new regulation that affects all "quiet" cars, including EVs and many hybrids, the Kona EV must emit a warning sound at speeds below 18.6 mph. Hyundai went with a futuristic tone similar to a Mac's startup sound, and it got mixed reviews from our testers. Some said it sounded welcoming but reminded others of the sort of ominous sound effects you'd hear in a sci-fi movie. We'll tell you whether we get used to it or whether it gets more annoying as time goes on.
Read the complete Kona Electric road test.
Electric Cars 101
Electric cars are bringing some of the biggest changes the auto industry has seen in years. On the "Consumer 101" TV show, Consumer Reports expert Jake Fisher explains to host Jack Rico why these vehicles might not be as newfangled as you think.