Brand New Tesla Model S Plaid Destroyed by Fire
The car owner's attorney says the driver was trapped inside the car and had to force the door to escape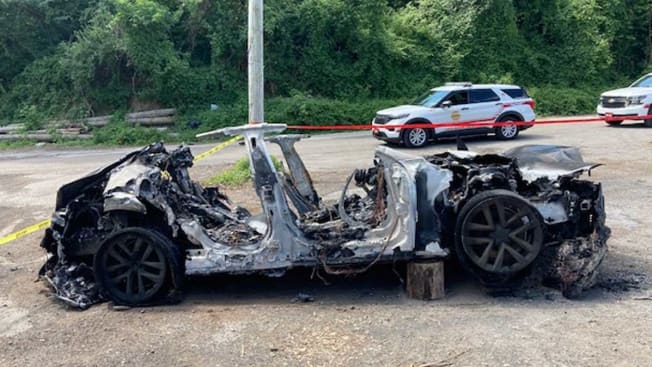 A 2021 Tesla Model S Plaid, the automaker's newest model, caught fire in Haverford, Penn., on Tuesday night for reasons as yet unknown to authorities. The car's owner, a business executive who has not been named—either by authorities or by the law firm representing him—was not injured, according to local fire officials.
The law firm told CR in an e-mailed statement that while the owner was driving his new Model S, he smelled smoke and attempted to leave the car but he found that the doors were locked and would not open. The law firm also said that the driver forced the door open to escape before the Model S erupted into flames.
Charles McGarvey, chief of the Lower Merion Township Fire Department, which responded to the blaze, says his department used copious amounts of water to douse the fire, and kept the vehicle for 24 hours before returning it to its owner, to ensure that it would not reignite.
"This is a harrowing and frightening situation and an obvious major problem," says Mark Geragos, the principal attorney at Geragos & Geragos. "Our preliminary investigation is ongoing, but we call on Tesla to sideline these cars until a full investigation can occur."
Neither Elon Musk nor Tesla responded to a request for comment, which was sent via Twitter because Tesla no longer has a press office.
Independent of any production issues Tesla may have, the fire serves as the latest example of an alarming trend of EV fires requiring huge amounts of water to put out. Chief McGarvey says his department sprayed water from two 1¾-inch fire hoses for more than two hours in order to douse the flames. According to Firehouse Magazine, one 1¾-inch hose can put anywhere from 100 to 180 gallons per minute onto a fire, meaning this fire could have required between 24,000 and 43,000 gallons.
"This is the first EV fire in our district, and the first Tesla fire, too," says McGarvey, who noted that his department had received special training for EV fires. "We're in an affluent area, so there are a lot of them driving around."