Tesla Model 3 Regains CR Top Pick Status and IIHS Safety Award
New IIHS testing shows that Tesla's new camera-based system provides effective automatic emergency braking The Tesla Model 3 has regained its status as a Consumer Reports Top Pick after independent tests proved the effectiveness of its new camera-based automatic emergency braking (AEB) and forward collision warning (FCW) systems.
Earlier today, the Insurance Institute for Highway Safety released the first evaluations of new Tesla vehicles that use a camera-based system for AEB and FCW. Because of their performance, the Model 3 will once again get a Top Safety Pick+ designation, which is the IIHS' highest safety award.
"Given the IIHS' recent evaluations of Tesla's new camera-based system on its Model 3 and consistent with CR's integration of IIHS ratings into our recommendations, CR is restoring the car's Top Pick status," says Jake Fisher, senior director of CR's Auto Test Center.
The development is significant because Tesla recently decided to no longer equip Model 3 sedans and Model Y SUVs with radar sensors, instead choosing to rely on a camera-based system it calls Tesla Vision. In a blog post, Tesla said that Tesla Vision-equipped cars will also use machine learning software it calls a "neural network" to perform some functions that were once reliant on radar. At the time the Tesla Vision-equipped Model 3 and Model Y went on sale, the technology's FCW and AEB performance had not yet been independently tested.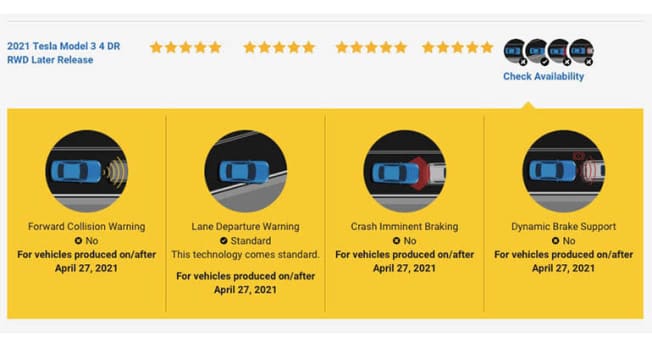 To be considered for a CR Top Pick, a vehicle must be recommended and have standard FCW and AEB with pedestrian detection. CR determines whether a vehicle has these features based on both NHTSA and IIHS ratings. Safety features also factor into a vehicle's Overall Score, and without standard AEB and FCW, the Model 3's temporarily dropped from 78 to 75.
In May, NHTSA changed its website to indicate that FCW, AEB, and LDW were not available on newer Model 3 vehicles. The agency told CR it made this change after Tesla briefed the agency on production changes due to the transition to Tesla Vision from radar. More recently, NHTSA told us it indicates that these features are available only when it has verified the technology internally, or if the vehicle manufacturer reports that it meets NHTSA's performance criteria. As of today, NHTSA's website still indicates that FCW and the two AEB functions are not available but now says LDW comes standard on the Model 3.
Although it isn't common, this isn't the first time a vehicle has lost or regained a performance designation from CR or the IIHS. In recent years, Ford, Hyundai, Fiat, Toyota, Volkswagen, and others have updated vehicles outside of major redesigns to improve their safety scores.
However, the IIHS and NHTSA usually change their scores after a new test or evaluation is introduced, or after a car is redesigned for a new model year. Unlike other automakers, Tesla doesn't adhere to traditional model-year updates. Instead, Tesla makes changes during production runs and often sends out software updates that change how a vehicle behaves. For instance, some Tesla Model X vehicles were sold without active AEB in 2016, a problem that took six months for Tesla to rectify through a software update. And in 2018, some owners lost AEB for more than a day after a software update.