Preview: 2023 Cadillac Lyriq Shows GM's Commitment to Electric Cars
New EV reveals styling, technology, and a platform for future models The Cadillac Lyriq showcases next-generation styling for the brand and introduces a new modular electric platform. Since the electric car was unveiled last summer, General Motors has released a bit more information about this upcoming luxury model and photos of the production model. (It had previously shown a concept car.)
Key among the updates is that the price will start at $59,990. Production starts in early 2022 at the Spring Hill, Tenn., facility. GM has pledged a $2 billion investment in that factory to support electric vehicle production. In addition, the company is spending $2.3 billion on a new battery manufacturing plant in the same town, as part of a joint effort with LG Energy Solution.
Here's what we know so far about the brand's first electric-only car.

What it competes with: Audi E-Tron, BMW iX, Jaguar I-Pace, Tesla Model X
What it looks like: A long, low SUV. Or is it a wagon?
Powertrain: 340 hp from a single electric motor; 1-speed direct drive; rear-wheel drive
Price: $59,990
On-sale date: Early 2022
These days it's vital for any luxury brand going forward to play in the electric car space. Despite pioneering work by General Motors with the early EV1 and Chevrolet Volt, and later the Cadillac ELR and current Chevrolet Bolt, the Cadillac brand finds itself rather late to jump on the EV bandwagon.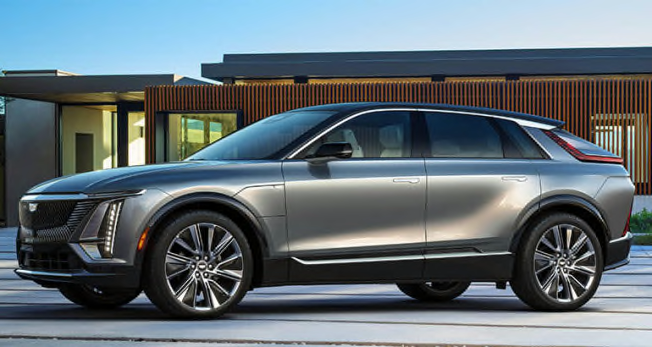 To picture the scale of the Lyriq, it is roughly the length and width of the Cadillac XT6 SUV. However, the Lyriq has a much different profile, being 6 inches lower in height and riding on a 9-inch longer wheelbase. This stretched wheelbase under otherwise typical length is partly due to the EV architecture and the large battery that sits between the front and rear axles.
This long, low profile follows the trend for luxury-branded electric SUVs, as we have seen from Audi and Jaguar, that emphasize style and aerodynamics. Cadillac has underscored that the Lyriq reveals the new face and proportions for future models.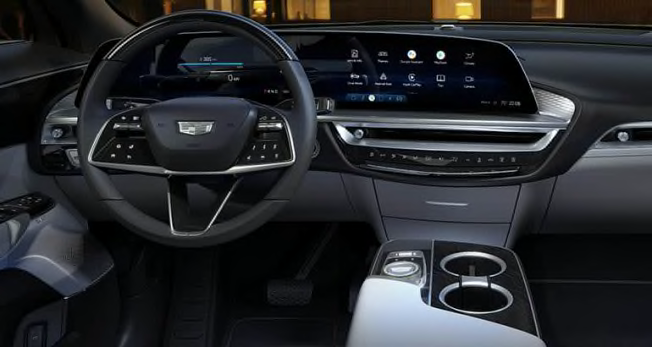 The dominant feature in the cabin is a curved 33-inch LED display that stretches from the instrument panel all the way to where the infotainment screen is traditionally placed. This builds on the presentation found in the 2021 Cadillac Escalade, which has a 38-inch curved OLED display. That screen has twice the pixel density of a 4K television, according to Cadillac. Technically, it consists of three screens under a single pane of glass, with a 7.2-inch touch screen to the driver's left, a 14.2-inch instrument display behind the steering wheel, and an infotainment screen to the right.
There's a center console knob in the Lyriq to navigate the infotainment system. We hope the screen is also touch compatible, as is the case with other competitors'.
The cabin is hushed with active noise-canceling that uses microphones and accelerometers to smartly compensate for unwanted sounds, like tire and road noise. That silence can be filled with an optional 19-speaker AKG Studio audio system designed for premium sound quality.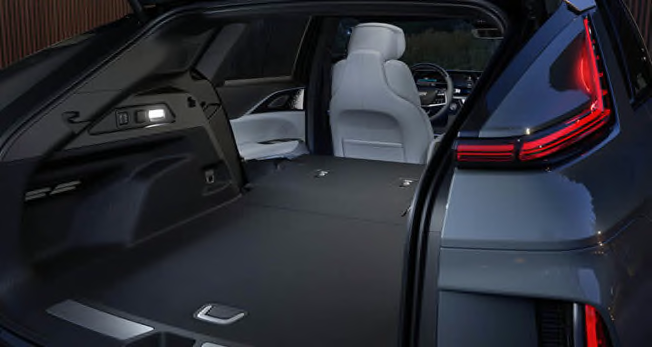 The initial Lyriq is a 340-hp, rear-drive model with a 100-kWh battery—a combination that the automaker estimates is good for at least 300 miles of range. Based on details shown with the concept vehicle, it is expected that the Lyriq will also be offered in a performance-oriented all-wheel-drive configuration. Cadillac says a near 50/50 weight distribution (front to back) and low-mounted battery pack aid driving dynamics.
The NCMA (nickel-cobalt-manganese-aluminum) batteries will be compatible with DC fast chargers at charge rates over 150 kW. Cadillac estimates that the Lyriq would gain 3.5 miles of range for each hour charged at 120 volts and up to 52 miles per hour at 240 volts (at 19.2 kW).
GM has partnered with EVgo to add more than 2,700 new public fast chargers over the next five years. This commitment, along with expansions announced by other companies, should make it far easier to charge while away from home.

Safety and Driver Assist Systems
Cadillac hasn't revealed what the standard equipment will be on a production Lyriq beyond saying it will be available with the latest version of Super Cruise, a partly automated driving system that can brake and steer on divided highways while the driver's hands are off the wheel. The Lyriq adds a lane change on-demand feature that allows the driver to signal the intent to change lanes and empower the car to make the maneuver when it's safe to do so.
Looking again at the Escalade, it's safe to expect that the Lyriq will also have forward collision warning, automatic emergency braking with pedestrian detection, lane keeping assistance, and front and rear parking obstruction warning.
Cadillac has said that the Lyriq will have a dual-plane augmented reality head-up display with two levels of images that seemingly hover in front of the driver, and remote self-parking that uses ultrasonic sensors to park the car in parallel and perpendicular spaces.