Best Energy-Efficient Kitchen Appliances
These top-rated models aren't energy hogs
When you shop through retailer links on our site, we may earn affiliate commissions. 100% of the fees we collect are used to support our nonprofit mission. Learn more. If it's been 15 years or more since you upgraded your kitchen appliances, now might be the time—if not for the new features and conveniences, then for the planet.
By purchasing an Energy Star-certified refrigerator, for example, you can reduce your carbon footprint by 8,200 pounds over five years, the equivalent of driving 9,300 miles in your car.
Energy-Efficient Refrigerators
Your refrigerator uses the most electricity of all your kitchen appliances, but older fridges drain much more power than today's models do. According to Energy Star, refrigerators 15 years or older use twice as much energy as a new Energy Star-certified model.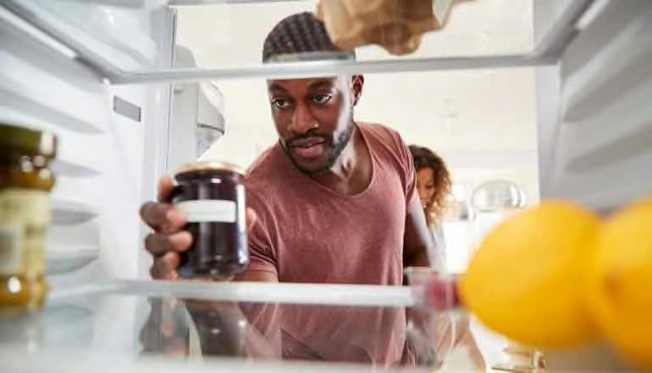 But there are efficiency variations among the new fridges, too, depending on the style. Our tests show that top-freezers and bottom-freezers are more energy-efficient than side-by-sides and French-door models, while no built-in fridge we've tested earns an Excellent rating for energy efficiency. Other factors to consider: Models with an automatic icemaker, through-the-door ice and water dispensers, and an anti-sweat heater consume up to 20 percent more energy.
Energy-Efficient Dishwashers
Today's dishwashers use about half the water and energy that models used 20 years ago—down to about 4 to 6 gallons per load. Still, an Energy Star-certified dishwasher is 12 percent more efficient than a noncertified one, so look for that label if you want to make the biggest difference. Many dishwashers in CR's ratings earn an Excellent score for energy efficiency, but the very best energy-efficient dishwashers also earn top scores for washing and drying.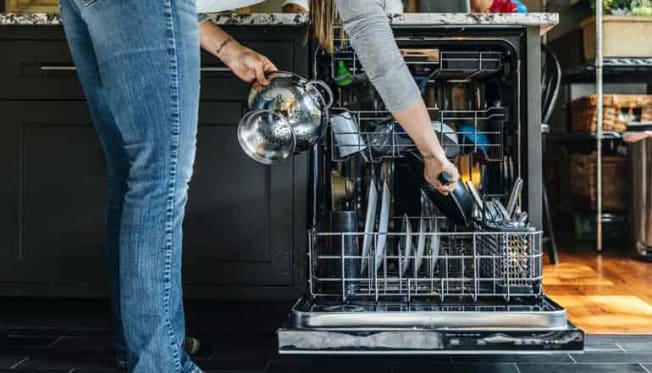 Many modern dishwashers also come with several wash-cycle options for even less of an environmental impact:
Auto uses a soil sensor to detect how dirty the dishes are and adjusts water use accordingly.
Half Load or Light Load settings will run a shorter cycle and use less water and energy.
Optional Heated Dry lets you air-dry to save energy. Some models even automatically pop open the door when the wash is done to release steam and let in air. Others forgo a heating element altogether and use a fan to dry dishes.
There's no Energy Star certification for residential ranges, but induction ranges are currently the most energy-efficient. They're also routinely the top performers in our range tests. Using electromagnetic technology, the stovetops suck up about 15 percent less power than electric coil ones. The burners also heat up water faster than even the most powerful electric and gas stoves.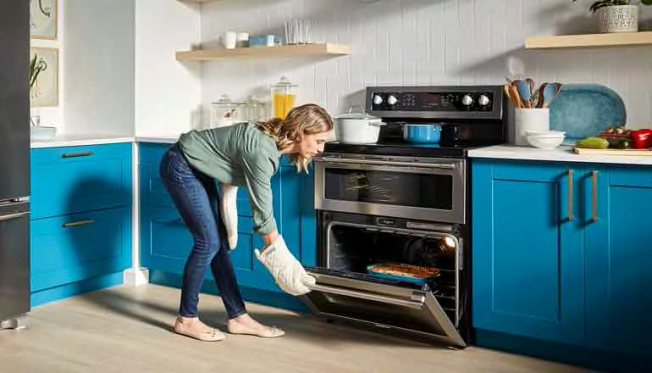 If you're not quite ready for induction or don't have the funds for one (the models in our ratings start around $1,000), a newer electric smoothtop or coil range will still be better for you and the environment than a gas range, which loses lots of heat while in use and releases fumes that contribute significantly to indoor air pollution.
As for the oven, opt for one with convection, a fan setting that typically uses 20 percent less energy than a standard oven. Self-cleaning models are also a bit better when it comes to heat loss because they're insulated.
Energy-Efficient Countertop Appliances
Small-appliance technology has become so advanced that some models can do just about everything an oven or stovetop can do, just on a smaller scale and with at least half the wattage.
When it's speed you're after, a microwave can heat up food in minutes using up to 80 percent less energy than your oven. Generally speaking, a small microwave, rated at 600-800 watts, is more energy-efficient than a larger one. An air-frying toaster oven has the added bonus of getting foods very crispy in less time than an oven. Simmering a stew in a slow cooker or multi-cooker for hours will also draw much less energy than a stovetop or oven.
Buy only the best air fryers, microwaves, multi-cookers, slow cookers, and toaster ovens.