When you shop through retailer links on our site, we may earn affiliate commissions. 100% of the fees we collect are used to support our nonprofit mission.
Learn more.
When you spend this much on a high-end kitchen, you're moving into "super kitchen" territory. Those are highly personalized, multipurpose spaces that stretch the boundaries of traditional kitchens, with entertainment areas (complete with TVs), beverage centers, and homework stations.
Where to Start
Your designer or architect will probably take you to a high-end showroom such as Waterworks, where single light fixtures run into the thousands, or the relative newcomer Pirch, where many appliances are hooked up, allowing you to try them under the guidance of trained chefs.
What's Trending
Wall ovens, ranges, coffee makers, and even crockpots can now connect to the internet. The Samsung Family Hub refrigerator has a WiFi-ready 21.5-inch LCD screen so you can watch TV, order groceries, manage your family calendar, and more. It's a novel feature, but our testers found it hard to hook up and frustrating to use. Focus instead on technology that delivers true value, such as automated light controls that let you switch from different modes with the flip of a switch, say, from full brightness during meal prep to low-level postprandial mood lighting.
---
1. Hudson Valley Lighting Lambert pendant light fixture (not rated), $642.
2. Walker Zanger Jet Set, Starlet tile in Calacata White (not rated), $95.70 per square foot.
3. Kenmore Elite 14763 dishwasher, Score: 82, $1,080.
4. Wolf Gourmet 4-Slice WGTR104S toaster, Score: 74, $400.
---
Appliances and Accents
An entire suite of commercial appliances might not be possible even on this budget, but it's worth splurging on a built-in refrigerator for aesthetics alone. Maintain a coordinated look by choosing one with an integrated panel that matches your cabinets. "Faux pro" ranges actually perform better than true commercial-grade models in our tests and cost less than half as much, so choose one of the slide-in models we recommend for mid-priced renovations. You can have your pick of popular farmhouse sinks and tricked-out faucets, including no-touch versions that turn on and off with the wave of a hand, as well as built-in coffee makers, wine chillers, and more.
Cabinet Decisions
Custom cabinets start about $500 per linear foot, are built to the exact dimensions of a space, and have solid wood doors and drawers and catalyzed finishes for added durability. Look for built-in lighting and storage options such as a pop-up shelf for your hefty stand mixer.
---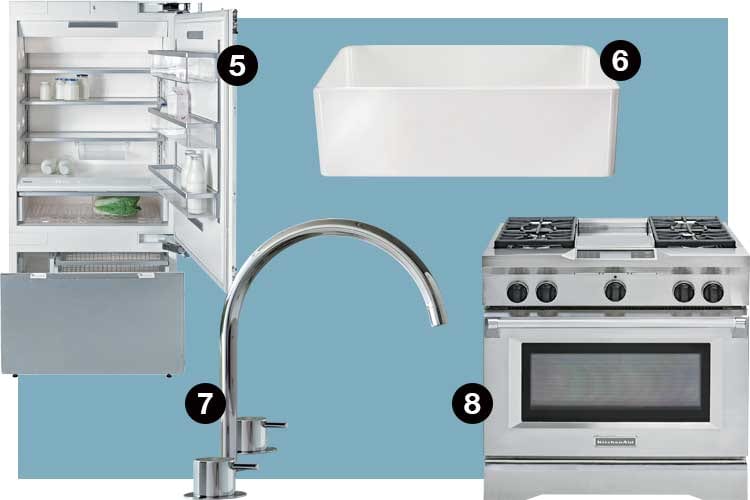 5. Miele MasterCool KF1903SF built-in refrigerator, Score: 81, $8,600.
6. Blanco Cerana apron-front 30-inch sink (not rated), $1,245-$1,450.
7. Vola KV15 faucet (not rated), $1,400.
8. KitchenAid KDRU763VSS, Score: 74, $7,300.
---
Counters and Floors
Exotic stone countertops help personalize a kitchen because no two slabs look alike. "I might even recommend a creamy marble, since this type of client can afford to have it maintained," says Jeri Norris, a certified kitchen designer based in Indianapolis. High-end quartz is another option. Check out Silestone's Lusso from its Influencer series or Caesarstone's new faux concrete patterns.
Solid hardwood is the preferred flooring in luxury kitchens, especially in open-plan homes, where it helps unify the spaces. Lighter species like maple and white oak create an airy feel; darker species like walnut and cherry offer more elegance. Lumber Liquidators' Casa De Colour select pewter maple, at $4.20 per square foot, did well in our tests.
Tips From the Pros
In large kitchens, it's especially important to pay attention to the "work triangle," which connects the refrigerator, range, and sink, ensuring efficient traffic flow. An island with a cooktop or additional sink can create another work zone and help pull the floor plan together.
Exercise restraint with appliances and accents. Drew McGukin, an interior designer in New York City, likens an overstuffed kitchen to a woman wearing one too many accessories.
"I'll often tell clients they need to remove one element from the design—maybe an appliance they'll never use or a superfluous light fixture," McGukin explains. "Balance and scale need major attention in a kitchen." That's sage advice at any budget.
High-End Kitchen Budget: $75K to $125K
Labor: $40,000
Cabinets: $19,000
Appliances: $15,000
Countertops: $5,000
Backsplash: $1,000
Floors: $3,000
Fixtures: (faucet, sink, lighting) $7,000
Design fees: $5,000
Other: (windows, ventilation,etc.) $5,000
TOTAL: $100,000