When you shop through retailer links on our site, we may earn affiliate commissions. 100% of the fees we collect are used to support our nonprofit mission.
Learn more.
Though there are do-it-yourselfers who spend $25,000 on a kitchen, most people working on a mid-range kitchen makeover use professional installers. In the National Kitchen & Bath Association's annual survey, about half of all kitchen projects completed last year cost $20,000 to $50,000, which makes this a sweet spot and means you'll have plenty of materials and appliances to choose from.
Where to Start
At this price range, you can afford the guidance and expertise of a certified kitchen designer, whose fees will be about 5 percent of the budget. Find one through the websites of the National Kitchen & Bath Association or the American Society of Interior Designers. Shop at dedicated kitchen and bath showrooms, which have a more curated range of products and offer more handholding than mass-market home centers. Ferguson, for instance, has 270 retail outlets nationwide.
What's Trending
The secondhand market for kitchen materials no longer means second-rate. Green Demolitions in Fairfield, N.J., for example, salvages about 600 kitchens per year from luxury homes, high-rises, showrooms, and more, and ships them to clients all over the U.S. "It's not for everybody," says its president and co-founder, Steve Feldman. "But if you're into the thrill of the hunt and you can be patient and flexible with your design, it's a way to get a kitchen that might be worth $100,000 for as little as $25,000." Check out greendemolitions.com for more information. You may also have luck at salvage shops in your area.
---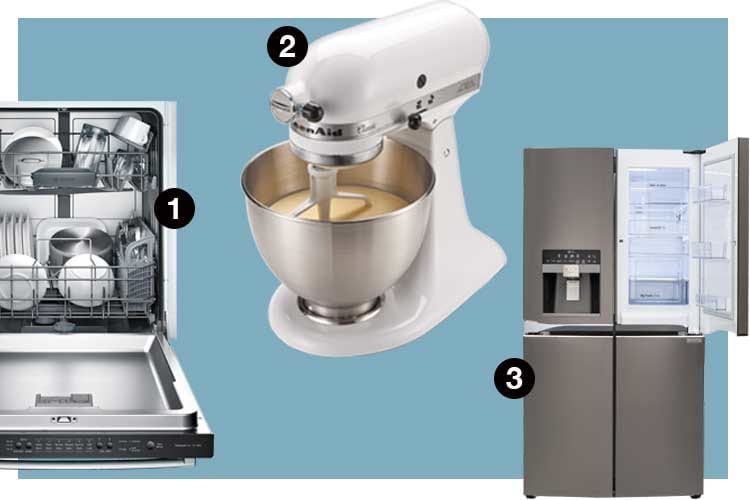 ---
Appliances and Accents
There's a market for secondhand appliances, but we recommend buying new to take advantage of the latest features, including ones that let you achieve a luxury look for less. For example, we're seeing more freestanding refrigerators in the $2,000 to $3,000 range with paneling that can match your cabinets and create an integrated look. That's a feature previously available only on built-in models costing several times more. Slide-in ranges also deliver a commercial-grade look for thousands less. And spending an extra $100 or so on a double-bucket undermount sink makes hand-washing dishes easier, as will an upgrade to a pull-out faucet with an integrated sprayer.
Cabinet Decisions
You can upgrade to semi-custom units from $150 to $250 per linear square foot. They come in more sizes, meaning they will fit your space more precisely, and offer a wider array of storage options, such as tiered drawers and pullout spice racks.
---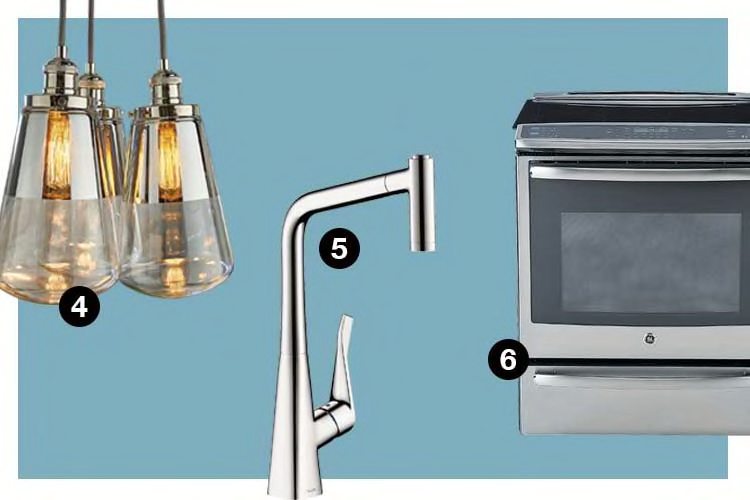 4. Feiss Waveform pendant lamp (not rated), $388.50.
5. Hansgrohe Metris 2-Spray HighArc pull-out kitchen faucet (not rated), $600.
6. GE PS920SFSS slide-in electric range, Score: 83, $1,800.
---
Counters and Floors
Consider quartz for the countertops, an engineered stone that can be made to look just like marble, granite, and other natural materials. Because it's nonporous, it doesn't require the upkeep of other stone surfaces. Engineered wood flooring can provide the look, feel, and durability of solid wood but at a more affordable price.
"In an older kitchen, the flooring is always worn," says Karl Champley, a master builder in Los Angeles. "Installing a new wood floor in a finish that matches the rest of the home creates tremendous bang for the buck."
Tips From the Pros
"Consider removing a nonstructural interior wall, because it won't add a lot to the cost and can have a huge impact on the circulation and overall aesthetics," says Patricia Davis Brown, a designer who is based in Vero Beach, Fla. You may also want to think about relocating electric appliances, because running wires is relatively inexpensive and won't make much of a dent in the budget.
Mid-Range Kitchen Makeover Budget: $25K to $50K
Labor: $11,000
Cabinets: $9,000
Appliances: $8,000
Countertops: $4,000
Backsplash: $500
Floors: $2,000
Fixtures: (faucet sink, lighting) $3,000
Design fees: $2,000
Other: (small appliances, paint, etc.) $500
TOTAL: $40,000