When you shop through retailer links on our site, we may earn affiliate commissions. 100% of the fees we collect are used to support our nonprofit mission.
Learn more.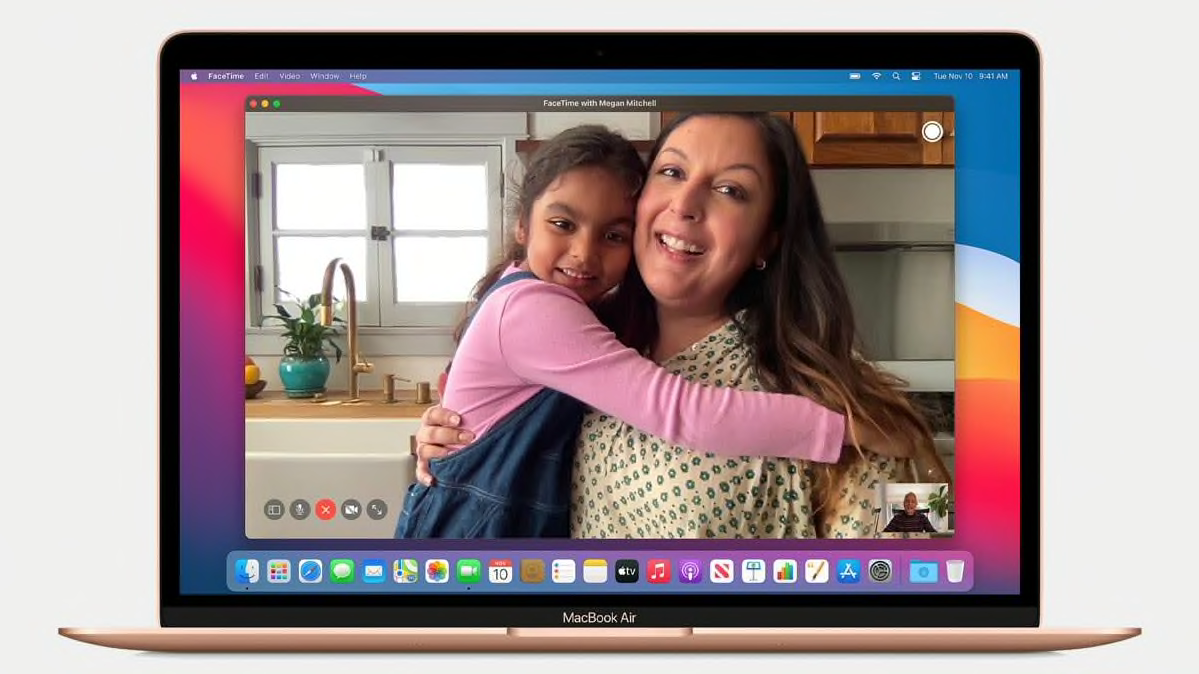 The new MacBook Air is thin, light, and powerful, just like its predecessors. But instead of using an Intel chip, as all Apple computers have done since 2006, it's powered by an ARM-based M1 processor developed by Apple.
The company calls it the biggest leap ever for a Mac. And there's good reason to believe that might be true.
In our tests, the new processor performed with admirable speed, placing the laptop in the august company of devices powered by Intel Core i7 and Ryzen 7 processors. It didn't quite match gaming laptops in graphics-heavy tasks, but that's because the model we tested didn't come with a dedicated graphics card.
The M1 also appears to deliver on Apple's promise to hum along without unleashing heat waves, effectively eliminating the need to install a built-in fan inside the Air's thin chassis. (The new MacBook Pro, which uses the M1 processor as well, still features a fan.)
And in my informal trials, the Air managed to do all that without the hiccups one might expect from such a significant design change. Transitioning from one style of processor to another is a huge undertaking, the kind of task that required Apple and its legion of app developers to rework their operating system and software top to bottom.
It's a bit like replacing the foundation of a house, then trying to restore every last detail of the house to its original condition. Not easy.

In recent years, other manufacturers have tried to pull off the same feat, releasing Windows-based laptops—including the HP Envy X2 and Microsoft Surface Pro X—with ARM-based processors. All came up short in our labs, with slow performance hindering everything from launching apps to conducting video calls to browsing the web.
So why go through all the hassle to develop your own processor? For one thing, it means Apple no longer has to depend on Intel to develop the processors that go into its computers. There are also big gains to be had in performance and efficiency when you design your own components, much like a tailor-made suit.
By comparison, chips from Intel and AMD are more one-size-fits-all. That's because they have to be backward compatible with countless devices, operating systems, and applications.
In the carefully controlled Mac universe, you have fewer intangibles.
"By designing the whole system together, both hardware and software, we're able to make things you love about the Mac even better," Craig Federighi, Apple's senior vice president of software engineering, said during the laptop's product launch in November.
Speed and Efficiency
Compared with the Apple models they replace, the new MacBook Air and MacBook Pro are faster at compressing and decompressing digital files, rapidly encoding content from Apple's QuickTime and Music apps, says Antonette Asedillo, who oversees laptop testing at Consumer Reports.
And as noted above, because the M1 processor doesn't need to work as hard to perform most chores, it doesn't get as hot, which is why this laptop has no fan. It also reduces heat-related wear and tear on internal components and doesn't drain your battery as fast because of that reduction in stress (including not having to power a fan).
We ran the laptops through a series of gaming tests measuring the surface temperature above the keyboard. The M1 chips appeared to run cooler than those in a 16-inch MacBook Pro with an Intel Core i7 processor and a 13-inch MacBook Air with an Intel Core i3. Those earlier models registered peak temperatures of 113° F. The new MacBook Air peaked at 107 and the MacBook Pro at 101.
And, sure enough, the new models took a leap forward in battery life, too. In our video playback test, which puts the processor under higher stress than, say, web browsing, the Air logged 10.75 hours per charge. The older model delivered just 7.
The Pro powered on for 15 hours—a full 8.25 more than its predecessor.
"What's notable," Asedillo says, "is that they got those additional hours with the same-sized batteries and same displays as the last-generation models."

The New MacOS Universe
For the moment at least, people who use the Mac operating system have two classes of apps: those rewritten for the M1 and those optimized for the earlier Intel processors.
Based on my experience with the new Mac, you're unlikely to notice much difference between the two options in your everyday use. At first launch, it might take a beat or two longer for an older app to open, but after that, it will behave just as you would expect.
And at the moment, many of the most popular Mac apps have been rewritten for the M1, including Google Chrome, Microsoft Word and Excel (though technically you have to opt in to the beta versions), and Slack. Adobe Photoshop is perhaps the most noteworthy omission, but it worked for me as well as it does on an Intel-based Mac.
You'll still get better gaming performance with a dedicated gaming laptop, but the MacBook Air does a good job in its own right. I was able to play Fortnite—another popular app that has yet to be rewritten for the M1 processor—and found that it ran smoothly. I also tried World of Warcraft, which has been rewritten for the M1, and once again the frame rates were smooth.
The iPhone/iPad Crossover
Thanks to the M1 processor, the Macs can now run apps designed for the iPhone and iPad, too. When you log in to the App Store, you can call up a list of the options you've previously downloaded.
I found a few that I use every day on my iPhone, including the excellent podcast app Overcast and the white-noise generator Dark Noise.
And while some Bluetooth headphones can be connected to multiple audio sources at once, mine can't. But now that those apps are accessible via my laptop, I don't have to fuss with pairing and unpairing the headphones as much because I no longer have to switch between my iPhone and Mac when I need to take a Zoom meeting or otherwise use the Mac's audio.
For now, though, the iPhone-app-on-your-computer idea feels a little undercooked. Because Apple has declined to install touch screens on its laptops—unlike other manufacturers—many mobile apps don't function as they would on a smartphone or a tablet.
And because Apple has allowed developers to opt out of having their iPhone and iPad apps available on the Mac, a host of popular choices are nowhere to be found, including Instagram, Netflix, and TikTok (though you can still access those on the web as before).
And sometimes, even though apps do run, they behave a little strangely. Until a recent software update, for example, the app for HBO Max didn't run full screen, which is a little odd for a streaming video app. But we expect little bugs like those to be ironed out over time as macOS and individual apps get updated.
Should You Buy a MacBook Air With the M1 Chip?
If you're looking to purchase a new Mac, the Air is a great option, according to our testers. It currently sits just one point behind the MacBook Pro at the top of our 13-inch laptop ratings (available to CR members).
That's not a big surprise. Apple laptops routinely score well in our tests, but to see that trend continue after the switch to the M1 is impressive. More important, it bodes well for consumers who want a laptop that delivers fast performance and good battery life without having to choose between the two.