When you shop through retailer links on our site, we may earn affiliate commissions. 100% of the fees we collect are used to support our nonprofit mission.
Learn more.
It was inevitable. Now Maserati is about to offer an SUV. Is nothing sacred? Evidently not, as other storied marques known for sports cars or sleek coupes have jumped on that fashionable SUV bandwagon as well, an unfathomable concept several years ago.
Often market pressures trump brand sensibilities. To wit, Bentley and Jaguar have recently introduced their first-ever SUVs. Heck, Porsche already has compact and midsized ones. As SUVs represent half of all luxury-vehicle purchases, it's a business necessity. But keeping the brand DNA intact while moving into new segments represents a challenge for automakers' engineers, designers, and marketers.
So is the new Maserati Levante still a Maserati? We've spent some time driving the new Levante on our turf, and we can say that it shamelessly packs the verve of this luxury Italian designer marque. It oozes performance and personality, as well as its fair share of imperfections. Yep, it's a Maserati all right.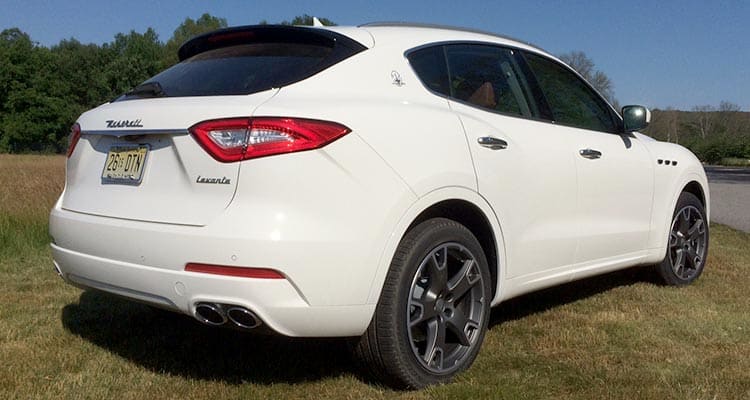 Based on the Ghibli and Quattroporte sedans, the Levante's long snout, wide stance, and coupe-like styling attempt to mask the fact that this is a large vehicle. At 197 inches, it's six inches longer than a Porsche Cayenne, its most direct competitor. Pricing starts at $72,000 for the base model with a 3.0-liter turbo V6, producing 345 horsepower. The uplevel S model starts at $83,000 and brings a 424-horsepower version of this Ferrari-developed engine. All-wheel drive is standard. The 2017 Maserati Levante S we rented from the manufacturer would hover around $90,000 when it goes on sale in September.
On the road, the powerful engine catapulted the 4,600-pound SUV to speed with virtually no turbo lag. Not only is the power delivery rich and muscular, but the accompanying sound effects are part of the experience. Ranging from a tingle to a snarl, then to a roar, the Levante emits the Maserati-trademark soundtrack, which, depending on your attitude, can be heartwarming, grin-inducing, or obnoxious. No matter what, remaining indifferent to the sound is not an option.
The eight-speed automatic transmission helps the orchestra with quick, smooth shifts. If your foot is planted into the gas pedal, upshifts come in with a blatty bark from the muffler pipes. In Sport mode, the maestro from Modena amplifies the symphony, but it might be over the top for you or your passengers' eardrums.
Handling also belies the size of this beast. The 2017 Maserati Levante feels planted and instills confidence in corners, whether on the road or on a track. It hugs the road with very little body lean. The sharp steering communicates actual feedback that's rare these days, making the Levante gobble corners quite enjoyably. But this SUV/coupe casts a large shadow, so in tight quarters and parking situations, given the broad stern and so-so rear visibility, you might need to have the skills of a Venetian gondolier.
Benefiting from the standard air suspension, the ride is commendably steady and composed. The suspension easily absorbs undulations and corrugations in the road, but the low-profile 20-inch tires transmit quite a bit of road texture and sharp bumps tend to be pronounced. Adjustable ride height comes courtesy of the air suspension. It can enable extra ground clearance for light off-road excursions, hunker down the SUV for a more aerodynamic high-speed cruise, or gracefully lower the body almost two inches for easier access.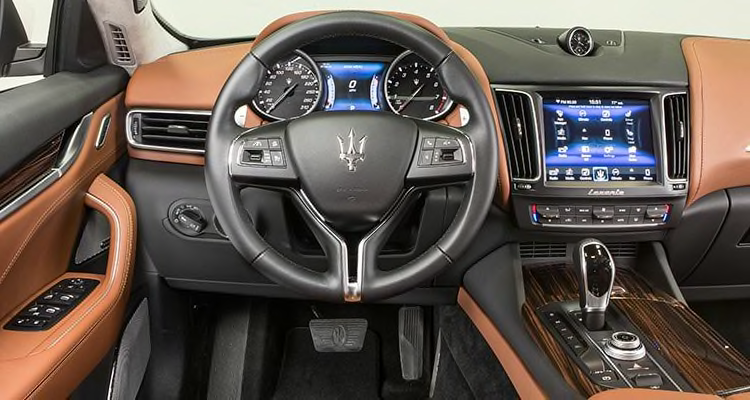 Upon entering the cabin, you may think you stepped into one of Milan's fashion houses. The stunning interior is another treat for the senses, with cappuccino-color leather, painstaking stitching, and touches of wood and chrome. As expected, a jewel-like analog Maserati clock sits atop the dashboard.
Since Maserati is now part of the Fiat-Chrysler corporate entity, some Chrysler switchgear is apparent. Most notably the UConnect infotainment touchscreen. Annoyingly, you have to press "Accept" after every start to get the screen to work, otherwise, it won't even show temperature or your chosen radio station. Chrysler models, by the way, no longer require you to go through this ridiculous step. Fortunately, Apple CarPlay and Android Auto compatibility is included. Some actions can be performed through a central knob rather than reaching the screen—a welcome addition.
The shifter, however, is nothing less than an ergonomic disaster—it's too easy to overshoot Reverse and end up in Park. From Reverse to Drive, you have to depress the lever's trigger instead of just slapping it into Drive as you normally would.
We appreciated the well-shaped, supportive seats and their buttery leather, but you'd think rear seat space would be more generous for such a large car. While it's livable there, the hunchback styling dictates a posture that's a bit low for taller passengers. A power liftgate reveals a decent cargo space.
Advanced safety features consist of active cruise control with autonomous braking and lane-departure warning but without lane keep assist. The latter requires electric power steering, which the Levante won't get until 2018.
In all, this big Maserati manages to keep the brand's DNA largely intact, meaning it offers exclusivity, brand cachet, and a unique, soulful sound. Yes, it is fast, loud, and ostentatious. But if any SUV ever came close to being sensuous, this is it.