Updated 2021 Chrysler Pacifica Gains All-Wheel Drive
A fresh face, next-gen infotainment, and a new high-end drive add appeal The Chrysler Pacifica is updated for 2021, with a fresh front appearance, next-generation Uconnect infotainment system, higher-end trim level, and the addition of all-wheel drive. These midlife changes should broaden the appeal of this already competitive minivan.
What it competes with: Honda Odyssey, Kia Sedona, Toyota Sienna
What it looks like: Pacifica with a larger grille and Dodge Charger taillamps
Powertrains: 3.6-liter V6 with a 9-speed automatic transmission; 3.6-liter V6 hybrid with a CVT; front- and all-wheel drive
Price: $34,000 to $50,000 (estimated)
On-sale date: Midyear 2020
These updates to the established Pacifica show that FCA is all-in on minivans, now offering a broad, feature-rich product line. We are impressed with the current Pacifica and Pacifica Hybrid, as they perform quite well in our road tests. However, reliability problems have soured the ownership experience for some CR members.
We hope that Chrysler has paid as much attention to improving quality as it has to expanding features.
The way to spot a 2021 Pacifica is to look for the revised grille. This changed from a restrained, horizontal opening to a larger, more dramatic maw. The fog lamp surrounds are likewise more visible, and there are new LED headlamps.
The rear of the minivan features an LED taillamp that spans the vehicle's width. This creates a look reminiscent of the Dodge Charger and Durango, making it readily identifiable, even at night. Several new wheels sized from 17 to 20 inches complete the exterior makeover.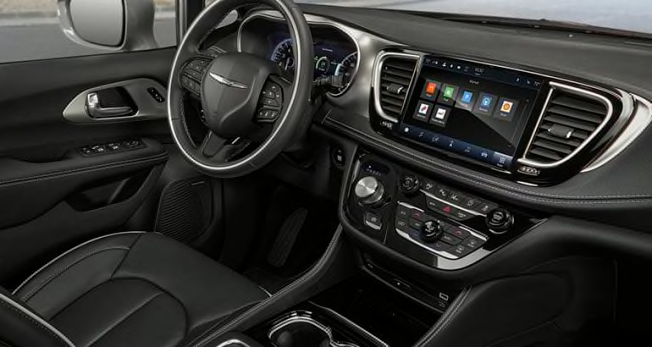 The Pacifica is the first FCA model to feature the new Uconnect 5 infotainment system. This adds more connected features over the impressive Uconnect 8.4 used in current Chrysler, Dodge, and Ram models.
Uconnect 5 uses the Android operating system and a larger 10-inch touch screen. It integrates the Amazon Alexa digital assistant, enabling occupants to use natural language to control music, podcasts, news, and more, as well as make other requests, just as they can with an in-home device. Owners can also control the minivan from home, performing tasks like locking/unlocking doors or remote starting.
Both Android Auto and Apple CarPlay work wirelessly, and they enable Google voice search and Siri Voice control for related services.
Uconnect 5 offers a 4G LTE WiFi hotspot, and the connectivity allows over-the-air updates.
The Pacifica has a dozen USB Type A and Type C ports for connecting and charging devices.
Another clever feature is the FamCam. This is an interior camera that allows front occupants to monitor rear passengers. It has a split display, the ability to zoom in, and provides an angle to see little ones in rear-facing car seats.
Chrysler says that its engineers worked to make the cabin quieter on all trim levels, aiding conversation and allowing passengers to better enjoy the available 19- and 20-speaker Harman Kardon stereos.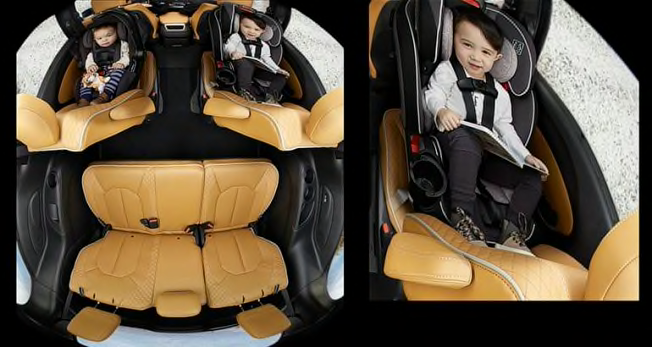 The Pacifica is powered by a 287-horsepower, 3.6-liter V6 engine mated to a nine-speed automatic transmission. In our tests, we found this to be a combination that provides quick acceleration and linear power delivery but the engine sounds a bit raspy when revved.
This is the only minivan on the market that is available as a hybrid. And not just a hybrid, but a plug-in hybrid. This enables the minivan to travel about 32 miles on electric-only power, then transition to gas-electric hybrid operation. Fuel economy is impressive for the class in hybrid mode. Including the electric range, the van can cover close to 500 miles before filling up.
The available, fully automatic all-wheel-drive system routes power as needed to the corners that have traction, and it can send all the torque to the back, if necessary. The drive shaft spins only when traction is needed to the back—a strategy used to aid fuel economy.
Safety & Driver Assist Systems
The suite of standard advanced safety systems is expanded for 2021 with the addition of Automatic Emergency Braking with pedestrian detection, a move that CR applauds.
Other standard equipment includes Forward Collision Warning, Blind Spot Warning, Lane Departure Warning, Rear Cross Traffic Warning, and Parking Obstruction Warning.