When you shop through retailer links on our site, we may earn affiliate commissions. 100% of the fees we collect are used to support our nonprofit mission.
Learn more.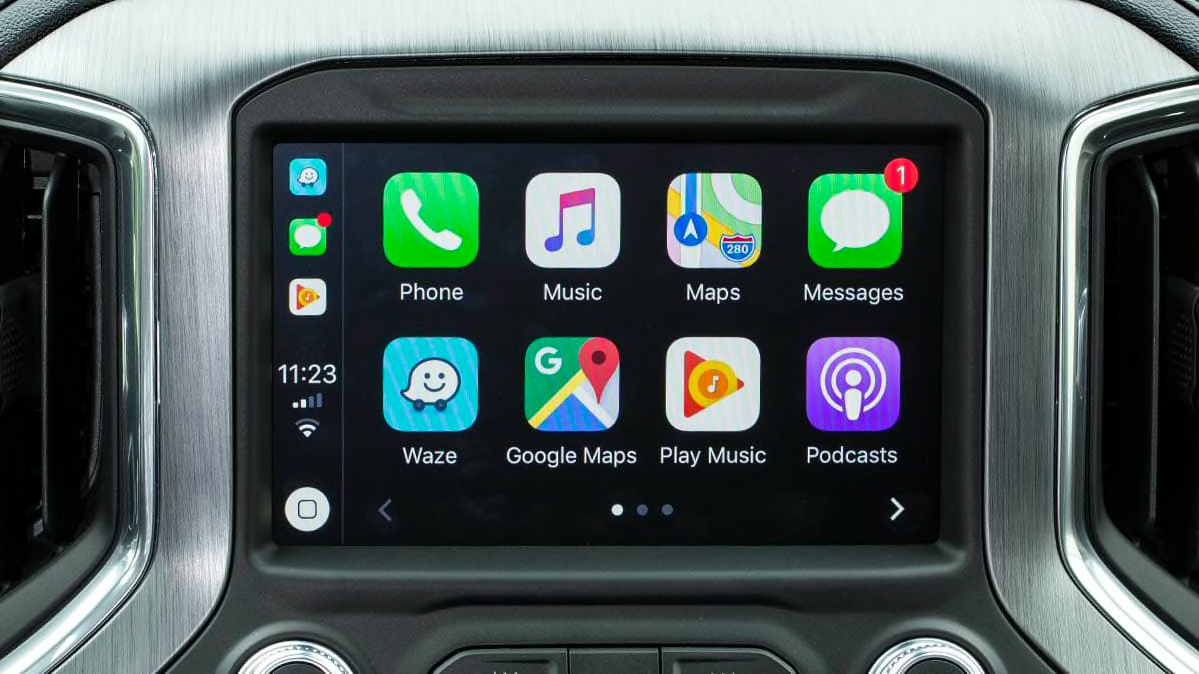 The widely used crowdsourced Waze navigation app now works with Apple CarPlay. CR took the new version of Waze, which rolled out just days after the smartphone maker's iOS 12 launch, for a spin in several CarPlay-equipped test cars from different brands. We found it to be helpful and quite easy to use.
The integrated interface for iPhone owners comes a year after Waze was added to Android Auto. Google Maps also became available to Apple CarPlay users earlier this month.
In using Waze through CarPlay, we found that this fun and functional nav app is neatly integrated into the car's built-in infotainment screen. That reduces the temptation for some drivers to use the app on their smartphone, which can be more distracting.
Some systems are able to display navigation information (next turn, etc.) even if the screen is showing CarPlay or other functions (such as music).
In addition, running Waze through the in-car system means verbal guidance can be heard through the car's stereo, overriding any music playing. When Waze is running on a driver's phone without a connection to the stereo, the sound from the car and the phone must compete for the driver's attention.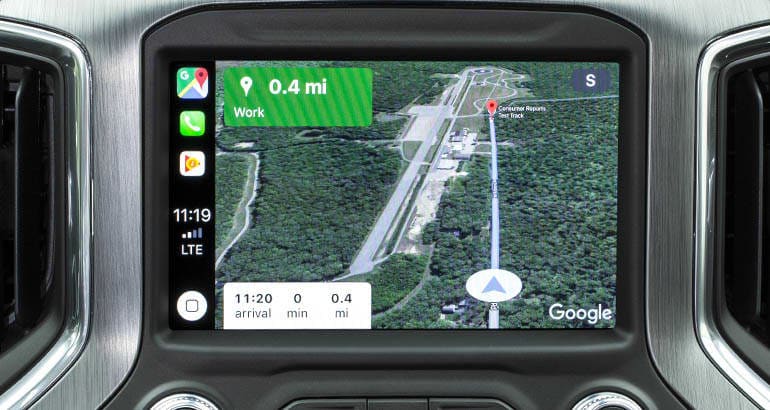 We tried the CarPlay version this week in several cars from different manufacturers, and the display and controls were all similar.
The biggest difference we encountered was with the infotainment control interface. Waze is easy to use on most touch-screen systems, but infotainment systems with only a rotary knob or touchpad can be more difficult to use.
Getting Waze on Android Auto and Apple CarPlay is a welcome advance, but it does have some inherent limitations because of its platform.
Waze on Apple CarPlay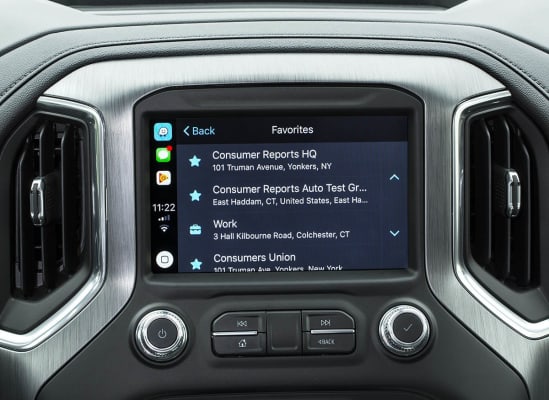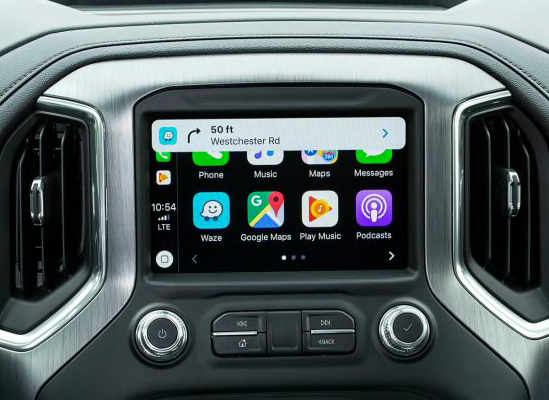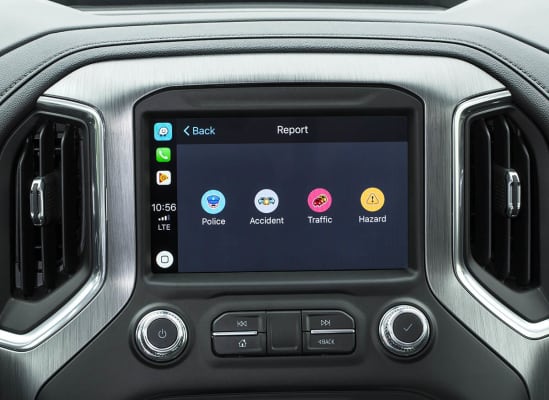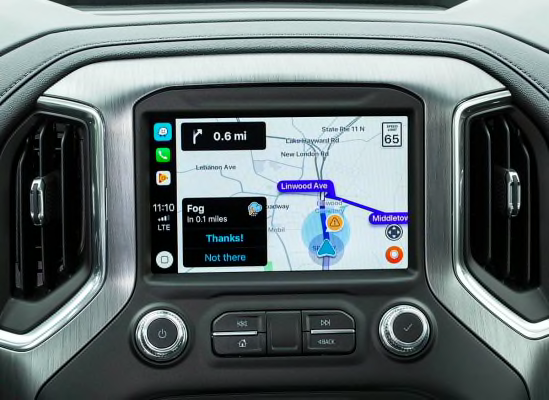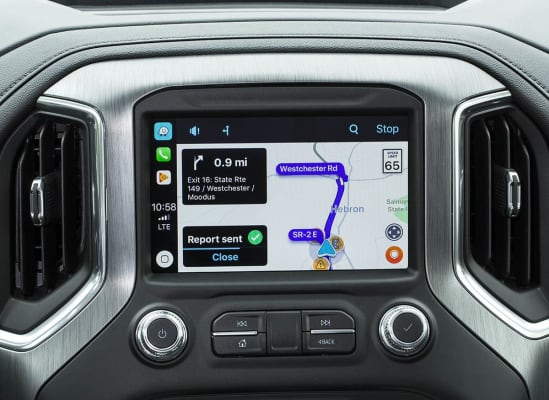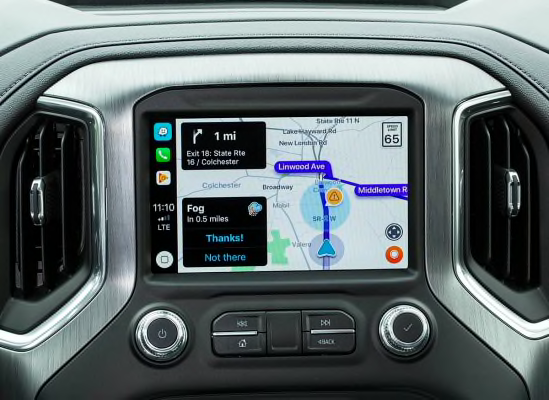 Waze has long been distinguished by the way it "gamifies" the collection of data: It encourages users to report road hazards, construction, and even police locations by awarding points, badges, and avatar upgrades to users.
Behind its simple, fun graphics, Waze is a data powerhouse, enabling the app to collect, process, and share information that can help you decide where to drive and reroute you based on traffic or other conditions.
Many industry observers consider Waze a precursor to true vehicle-to-vehicle communication. Collectively, Waze users empower each other and have even developed a sense of community; their efforts are helped by online editors who continually refine the maps and guidance.
But this is also a critical concern: Because of the way it's designed, Waze can be distracting to drivers on a phone who should be paying attention to what's going on around them. Moving the app to the built-in screen in a car lessens the distraction by limiting the possible interactions. The four choices that appear on screen noting police locations, accidents, traffic, or hazards are easy to select.
It isn't lost on us that many new phones today rival the screen size found in cars. But the advantage still goes to the integrated approach because of the screen location and simplified (ahem, less distracting) interactions.
It is worth noting that Waze on CarPlay is not as integrated into the iPhone as the Apple Maps navigation app. Waze uses its own voice recognition, rather than Siri, and it does not sync with the iPhone's address book. Waze can store Home, Work, and Favorites, but it cannot pull from the contacts you have within the iPhone or use Siri to program an address.
Current Waze users will find even fewer reasons to spend big bucks on buying an in-car navigation system from the factory. But, as with other phone-based nav apps, the dependability of the app relies on cell-phone service.
Built-in car navigation systems have an advantage in having all their maps stored onboard, whereas Waze and most phone-based nav apps—whether running on a phone alone or displayed in the car—depend on a cell connection to access those maps. For most travelers, this is not a problem, but it is a limitation for those heading to remote areas, especially if the route changes and maps need updating. Also, certain cars with a heated windshield or extra-insulated glass can make it difficult for a phone to receive a reliable GPS signal. (Factory systems have an external GPS antenna.)
Of course, Waze will consume a phone's data—whether it is used strictly on a phone or displayed on the car's infotainment screen. The company says its users, known as Wazers, average 10 hours of app use per month. Most data plans should be able to absorb such usage without requiring a more robust plan.
Waze is a fun, powerful tool, whether used strictly on the phone, or via Android Auto or Apple CarPlay. And it's a compelling free alternative to a portable navigation device or pricey in-car system.
Waze for Android Auto and Apple CarPlay is currently available free of charge through the Google Play and iTunes stores. If you already have the Waze app downloaded on your iPhone, you may need to update the operating system and the app to get it to work with CarPlay.
Waze on Android Auto