Streaming Face-Off: Spotify vs. Apple Music
The leading music streaming services have millions of songs and similar pricing, but they're not created equal
When you shop through retailer links on our site, we may earn affiliate commissions. 100% of the fees we collect are used to support our nonprofit mission. Learn more.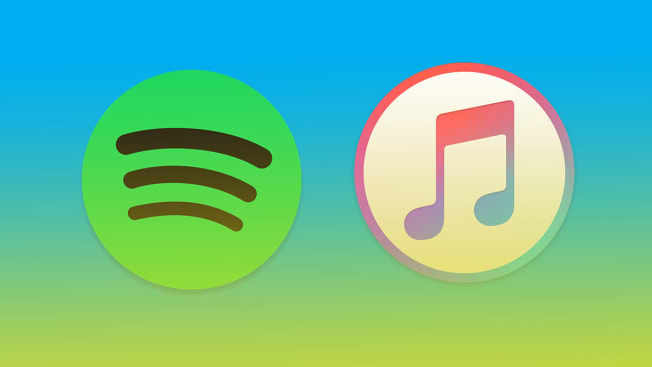 There are more than a dozen music streaming services vying for your attention. But the sharpest rivalry is probably that between Spotify and Apple Music, which together dominate the American market.

Apple Music has overtaken Spotify in paid U.S. subscriptions, with 28 million accounts compared with Spotify's 26 million, according to recent reporting by The Wall Street Journal. But Spotify leads Apple globally, industry analysts say, and it probably has more American users in total when you factor in the company's free ad-supported tier. (The companies have a heated rivalry. Spotify, which is based in Sweden, accused Apple of anti-competitive business practices in a complaint filed with European regulators in March 2019.)

Spotify and Apple Music offer nearly identical subscription packages. Both services cost $9.99 a month for individuals, $14.99 a month for families of up to six users, and $4.99 a month for students. The two also have free trial periods for new users.
Spotify launched a partnership with the video-streaming service Hulu last year, and that gives the music service a slight edge when it comes to value. A promotion scheduled to last until June grants new Spotify subscribers free access to Hulu's ad-supported plan.
Unlike Apple Music, Spotify also offers a free ad-supported option. Free users can stream songs on demand using Spotify's desktop and web apps. Through the mobile app, free users can listen to playlists and stations, and stream a small, rotating selection of songs on-demand.
The two services use different types of compression when transmitting music, but according to Elias Arias, Consumer Reports' project leader for audio testing, listeners are unlikely to hear a difference.
"Casual listeners will probably be happy with the sound quality of either service," Arias says. "If you're a highly critical listener with top-notch equipment, you may want to try both to see which you prefer, or try a service that will stream uncompressed files, like Tidal."
Like most major streaming services, Spotify and Apple Music grant users access to a large library of music. Apple Music says it has 50 million songs, and Spotify says it offers a selection of more than 35 million songs.
Apple Music's catalog may be larger, but after spending weeks with the two services, I found both nearly always had what I was looking for. If your musical interests fall outside the mainstream, it's worth taking both services for a trial run.
Exclusive content and early releases from popular artists used to set Apple Music apart, but today both services have some material you won't find elsewhere.
Spotify has also been investing heavily in podcasting and integrating podcasts into the core functions of the app. If you want to listen to music and podcasts using the same interface, Spotify will do that for you. On a phone, Apple Music users need to switch to a different app. Spotify promises that exclusive podcast content is coming in the future.
The biggest difference between the two services may be their recommendation engines. Spotify is famous for its "Discover Weekly" playlists, an algorithmically tailored list of tracks based on your listening habits that gets refreshed every Monday. Apple offers a similar selection of new tracks in its "For You" tab, which is updated on Fridays.
After spending a few months with each service, I thought Spotify did a better job and recommended a broader selection of tracks that seemed better tuned to my preferences. If finding new music is an important part of the experience you want out of a streaming service, Spotify may be the better choice.
Both services offer a wide selection of playlists and stations based on artists, genres, and moods and scenarios, such as relaxing at home or getting pumped up for the gym. In this respect, the services seem to be on a par, but it seems easier to find a wider variety of playlists using Spotify.
In most ways, Spotify and Apple Music's mobile apps are easy to navigate and are well-designed, but Spotify has some advantages.
Spotify shines is its ability to work seamlessly across devices. The desktop app is intuitive and pleasant to use. Using Spotify on your phone, you can control playback in the app on your computer and other devices.
In comparison, Apple Music's desktop app is built into iTunes, which can be a bit clunky, particularly on a Windows computer. And you need to use Apple's HomeKit to control the desktop app from your phone, even if you're using an iPhone and Macbook. Setup is a bit cumbersome.
If you have a HomePod, Apple's smart speaker, Apple Music is the only streaming service that you can control directly using your voice—though you can stream other music services using AirPlay. You can also control Apple Music using Alexa-powered devices. In contrast, Spotify is relatively agnostic, compatible with smart speakers made by Amazon, Google, Sony, Sonos, and more. There's also no official way to listen to Apple Music through a web browser, though there are some third-party websites you can go to as a workaround.
On the other hand, Apple Music has an advantage for users who have a library of their own music files that they'd like to listen to on the go. With Apple Music, users can sync files to the cloud and listen from other devices with a feature called iCloud Music Library. You can't upload music to Spotify's servers and listen to it elsewhere.
And last, fans of the night mode feature popping up in apps from Chrome to Facebook Messenger may prefer the darker Spotify interface over Apple's pink-on-white color scheme.
The differences between Apple Music and Spotify probably aren't significant enough to warrant a switch if you've already been using one of the two services and you have playlists and a history of saved tracks you don't want to leave behind.

In most respects, Apple Music works just as well as Spotify. It has a few perks of its own, and it's the obvious choice if you're already locked into the Apple ecosystem.
But overall, I found Spotify to have a slight edge. It often works better on non-Apple devices and at least as well on Apple products—excluding the HomePod smart speaker.
For people who want a service that transitions seamlessly among devices, operates as a hub for music and podcasts, and consistently serves up fresh recommendations for tunes, Spotify may be the best bet.
Whichever service you choose, you'll have a better time with your music if you play it on equipment that sounds great. Here are a few of the best-rated headphones and speakers from CR's ratings.