How to Crank Up the Heat Outdoors
Popular outdoor heat sources for your yard, patio, or deck keep cold-weather gatherings warm while you're social distancing Cooler weather across most of the country, in addition to social distancing during the coronavirus pandemic, is making it even harder to get together with family and friends. But installing an outdoor heat source is a quick way to add comfortable space so that you can entertain guests at a safe distance.
Amy Mironov of Princeton, N.J., had a fire pit installed in her yard. "We wanted to be able to spend time with family and friends in a safe environment, and adding usable square footage outside gave us this ability," Mironov says.
She checked sites including Houzz and Pinterest, went to stores, and talked to designers. She decided on a custom concrete paver fire pit tailored to fit her needs. "We love it and find it to be a great way to spend additional social time outside now that the weather is getting colder."
If you're interested in installing outdoor heating, read on for more information about three popular types, including how each operates and what to consider before you buy.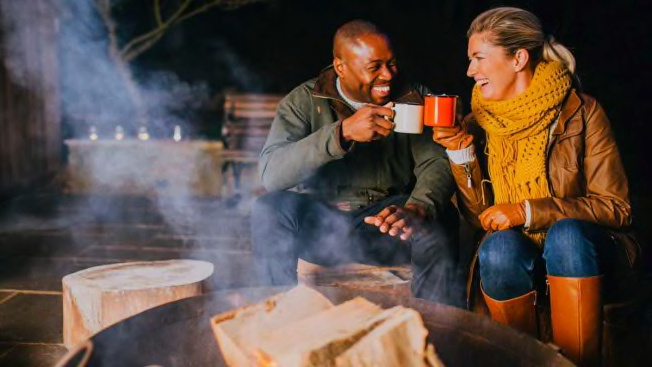 There is no centralized data source that tracks overall demand for backyard heating equipment, so Consumer Reports contacted major home stores to better understand how sales have changed. Some representatives we interviewed say they have noticed an increase in demand as the pandemic has pushed people outdoors to socialize at safer distances. Others say the trend already was on the rise for a few years before the pandemic. There are also more and different products to choose from.
Across the three most popular types of outdoor heating, some are budget-friendly and others are more elaborate, stylish, and pricey. Choosing the right one for you will depend on the aesthetic you're aiming for, but maybe more importantly, how much work you're willing to do to keep the flames going.
If you just want instant heat by turning a knob, patio heaters may be your best bet. They're as simple to use as a gas grill. If you want to see the flames as they're burning and enjoy tossing wood logs onto a fire and tending to it, there's a fire pit out there for you.
But regardless of style, location is key. You'll have to keep your fire pit, chiminea, or patio heater clear from anything that could catch fire or melt, and away from overhanging trees. Manufacturers usually offer guidance on how far away from these materials your heat source should be, so check your owner's manual.
Wood-burning fire pits, like those from Hampton Bays, Oldcastle, Landmann, and other brands, tend to have more designs to choose from than chimineas and patio heaters. They're usually made of metal, masonry-like concrete, ceramic, or even fiberglass-reinforced cement. You can choose small, lightweight steel rings or squares that you can easily move around the yard. For the ambitious, there are fire pit kits made from heavy concrete that can be assembled in an afternoon. Regardless of the form, they essentially burn wood the same way: exposing smoldering logs to plenty of oxygen in an open basin.
A downside of most wood-burning fire pits, though, is that anyone sitting downwind of the pit can end up with smoke blowing into their faces. Newer designs help prevent that problem by using a fan to push more air into the fire, so it burns hotter and cleaner. Some models, called smokeless fire pits, use a rechargeable fan mounted to the side to pull air in and force it into the burn chamber through holes running under and above the burning logs. Others have holes in sidewalls that introduce oxygen directly into the base of the fire.
A recent trend has been to bring fire pits onto decks, patios, and finished outdoor rooms. For those setups, there are liquid propane-burning fire pit tables designed for use on a deck or patio. Though it sounds risky, these fire pit tables—which include a ledge where you can put down food or a drink—usually have flames that are much smaller than you'd get with a wood-burning fire pit. That makes it more comfortable to sit closer to the heat source.
Shop: Amazon, Best Buy, Lowe's, Home Depot, Wayfair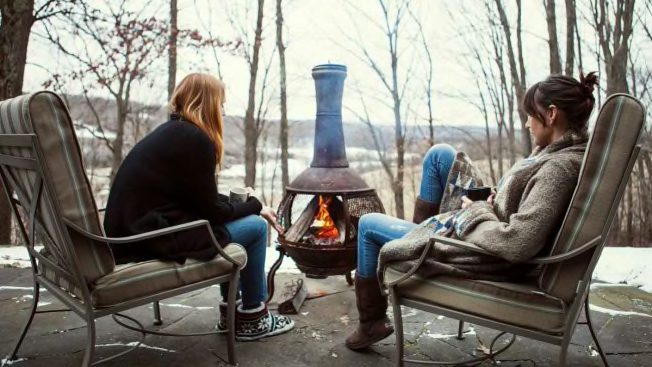 Chimineas, on the other hand, burn wood like a fire pit, but they're often taller. They're available in a wide range of metals and masonry-like clay, and are usually narrower than a pit and propped up on legs or a base. The footing, plus the chimney itself sitting on top of a firebox just above the legs, helps funnel the smoke up and out of the way. There are also lighter metal chimineas that can be easier to move around the yard or onto a deck. Those made out of clay can be much harder to move.

Wood is the most common fuel for a chiminea, but charcoal briquettes are also an option. They light quickly and may be easier to get a hold of. Like fire pits, all chimineas work the same way, by drawing air in through the large front opening. Because they're semi-enclosed, they do a better job of containing sparks than an open pit.
A downside to chimineas is that those gathered around a fire often want to see the flames, and most traditional chimineas don't offer a 360-degree view of the show. To solve that, some manufacturers, like Hampton Bays and Sunnydaze Decor, have designed chimineas that have a wire mesh on four sides, topped with a chimney. They're not the traditional, bulbous clay design; with these modern versions, which are usually made of metal, you'll be able to see the fire from any angle.
Shop: Amazon, Home Depot, Walmart, Wayfair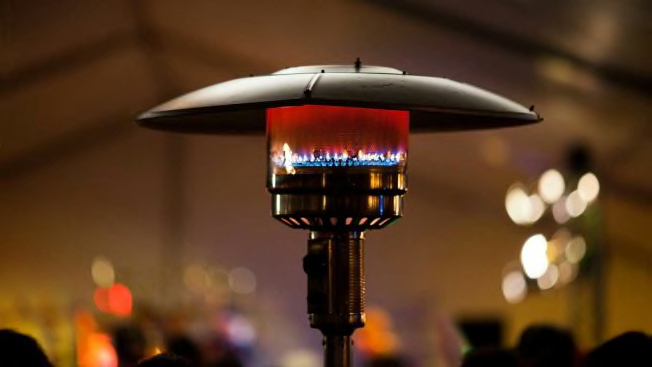 Both chimineas and fire pits involve some level of know-how to get a fire started, keep it going, and extinguish it before heading inside. The beauty of the patio heater is that it's set-it-and-forget-it easy to use. These heaters are made almost exclusively out of metal, are available in a wide range of heights, and either burn gas or use electricity.
Larger patio heaters use the same 20-pound liquid propane tank that a gas grill does, and smaller tabletop versions work with the fuel tanks typically used with camping stoves.
When you're shopping, you may see labels listing a range of BTU power, which is how much thermal energy a heat source produces. A more practical figure that some manufacturers list is how many square feet the unit will heat.
Like a fire pit, the patio heater spreads heat out in a circle so that a gathering can happen around a central location. They're easy to use—it takes little more than starting it and cranking a dial—but the orange glow it gives off isn't the same as burning wood. Though the traditional patio heater shape is tall and umbrella-like, with a cap that spreads the heat down and around, more modern versions mix in stone veneer bases or a central column with a burning flame.

Ideal for flat surfaces like a deck or patio, these heaters, from brands like Fire Sense, Dyna Glo, and Hanover, are often easier to use closer to the house, and the smaller ones can be used on side or coffee tables. These may be the best option if you want to add outdoor heat to a front porch, but they still require air gaps on all sides and above. You can also have a few of them spread out for a gathering outside. And because they require almost no maintenance once you start them, there will be no poking or prodding and no long extinguishing process.
If you have an outlet nearby, an electric patio heater is another option, and they're even easier to start. Though they have limited power—usually less than gas-burning versions—they can come in more discrete designs that look like a hanging lamp or floor lamp, which can be an attractive option under a pergola, gazebo, or covered porch.
Shop: Amazon, Home Depot, Lowe's, Walmart
With such a wide range of outdoor heating options, it can be confusing to pick the right one. So for a wide-open space away from the house, a deck, and overhead trees, a fire pit might be a good choice if you want a lot of heat. For a smaller fire without the risk of smoke blowing in someone's face, a chiminea is ideal but takes some maintenance. If you have space near the house and want a virtually maintenance-free source of heat, a gas-powered patio heater may be the right choice for you.
When you shop through retailer links on our site, we may earn affiliate commissions. 100% of the fees we collect are used to support our nonprofit mission. Learn more.