When you shop through retailer links on our site, we may earn affiliate commissions. 100% of the fees we collect are used to support our nonprofit mission.
Learn more.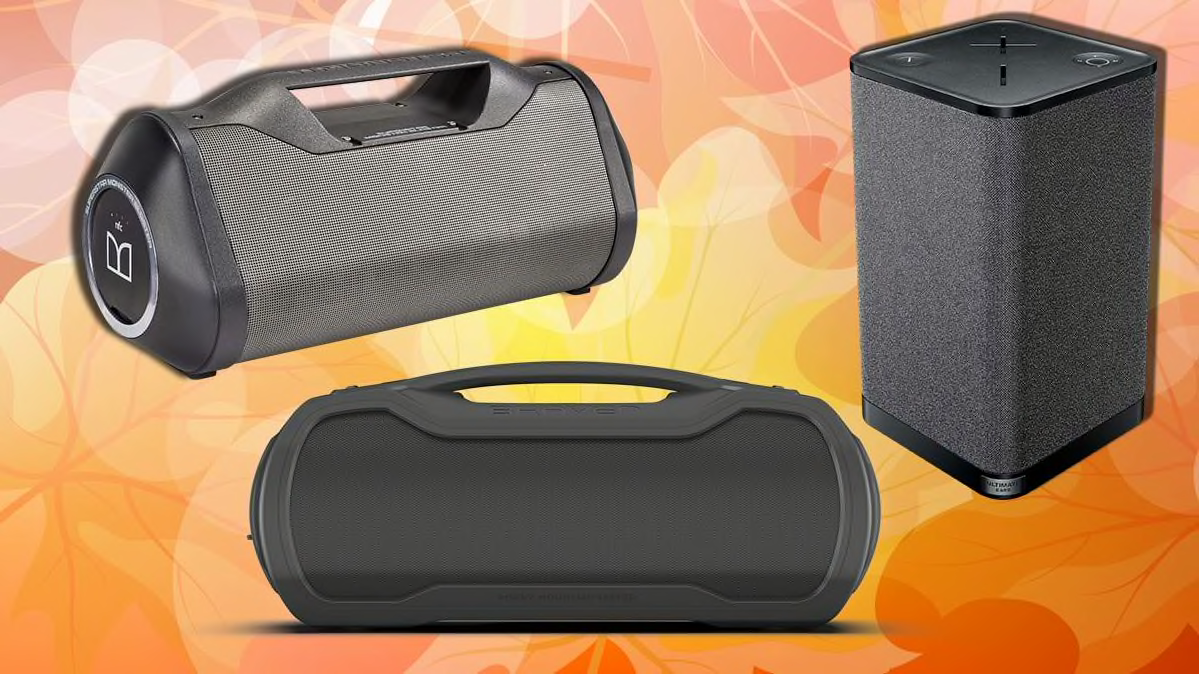 Ahhh, autumn. Turning leaves. Pumpkin spice everything. And music under blue skies or bright stars.

We all know this fall is going to be a little different because of the COVID-19 pandemic. If you're going to have a get-together with friends or family, it will probably be in your yard or on the deck, where you can visit more safely. And if you can't share hugs, at least you can share your favorite songs.
To make that easier, here's a collection of portable speakers ideally suited to the task of playing loudly, while still sounding great. All can do double duty indoors when the weather turns chilly.
The speakers receive high marks from our testers, who evaluate them for ease of use, versatility, and most of all, sound quality. Like all the products we put through the paces at Consumer Reports, the test samples were purchased through normal retail channels, just like the ones you use.

An Indoor-Outdoor Alternative
If you're looking for a great sounding speaker with low-key styling that blends into its surroundings, UE's Hyperboom should be on your shopping list.
Our testers report that the speaker is both loud and clear, with a robust bass and clean midrange, and enough volume for most situations, indoors or out. They find the large controls easy to use, so the model gets good grades for versatility.
The Hyperboom also features an optical input, which allows it to serve as a TV sound bar or a way to upgrade the sound of a game console.
While the Hyperboom isn't small—speaker size and sound quality tend to go hand in hand—the vertical orientation doesn't take up much space on a patio or a picnic table. And the styling is subdued, compared with other good sounding portables, which allows it to blend with most décor when you take it inside.
UE claims an IPX4 water-resistance rating for the Hyperboom, which means it's splashproof and spillproof but not designed to stand up to a full-fledged dunking.
Stellar Sound With a Side of Adventure
Want to get away from it all, deep in the backwoods? Or just at the far end of your backyard? The Braven XXL/2 channels that designed-for-adventure vibe, and, more importantly, the performance to back it up.
The device weighs 17 pounds, so you'll be glad it has a sturdy and comfortable carrying handle. Part of that weight is devoted to a robust rechargeable battery, which the manufacturers says can provide 18 hours of nonstop music, making the Braven ideal for listening far from outlets.
The claimed IPX5 water-resistance rating means the unit should be splashproof, too. The XXL/2 even features a magnetic bottle opener.
Like its predecessor, the highly rated XXL, the new XXL/2 sounds great. It delivers substantial bass and can supply volume aplenty without distortion, indoors or out. But unlike many speakers aimed at the outdoors, the Braven XXL/2 offers a refined midrange and extended top end, so it's equally at home rocking out or mellowing out, no matter the surroundings.
A Laid-Back Boombox
Call it the gentleperson's boombox. The Monster SuperStar Blaster may be big and beefy compared with those wireless speakers you throw in a beach bag, but the relatively low-key styling makes it a versatile music maker.
And a pleasant sounding one, too. Sonically, our testers found the Monster's bass a bit boomy, but they gave the overall sound a Good rating. And the Monster provides enough volume to fill a large room or the area around your firepit.
The speaker's controls are quite easy to use, but they're a little less flexible than those of some competitors. For example, instead of individual bass and treble controls, the Monster has indoor and outdoor modes that tailor the bass response to your surroundings without much opportunity for fine-tuning.
All About the Bass
The JBL Boombox is a stylish, modern update of the giant beatboxes the cool kids—and even LL Cool J—carried around in the 1980s and '90s.
But while those behemoths ate D-cell batteries the way competitive eaters down Nathan's hot dogs, this speaker features a huge 20,000-milliamp-hour rechargeable battery that JBL claims is good for 24 hours of music. And instead of those old-school cassettes that would warble and occasionally self-destruct, the device streams smoothly from your phone via Bluetooth, like all the other models in this roundup.
If there's common ground between the JBL and the music players you'd find on vintage MTV, it's the sheer volume of the bass. This speaker will rattle the walls. But that's not entirely a good thing.
While our testers give the Boombox a solid score for sound quality, they note that the bass can be overwhelming on certain music tracks. And while it might be nice for an impromptu (and socially distanced) dance party, it could be a little too much in a small bedroom or home office.