When you shop through retailer links on our site, we may earn affiliate commissions. 100% of the fees we collect are used to support our nonprofit mission.
Learn more.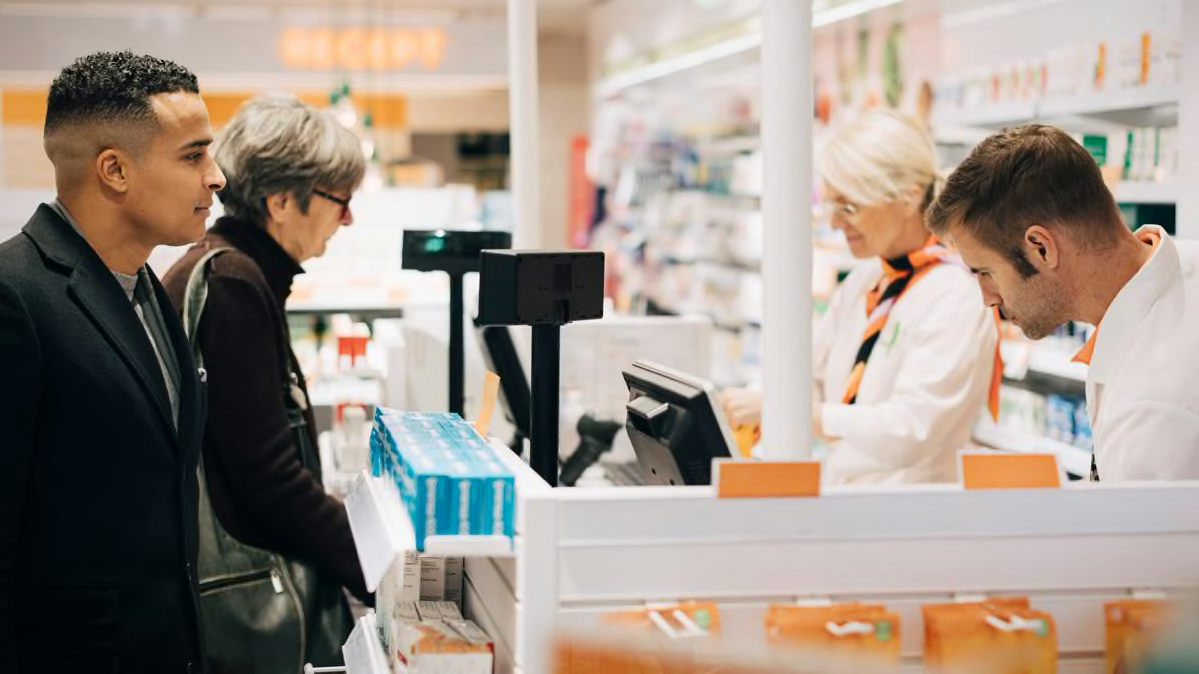 When it comes to filling prescriptions, consumers still prize the friendliness, courtesy, and expertise of the local drugstore.
That's according to Consumer Reports' most recent ratings of walk-in pharmacies based on survey responses from more than 78,000 CR members. Independent pharmacies earned high scores on such measures as courtesy, helpfulness, and speed of checkout and filling prescriptions, as well as pharmacists' knowledge and accuracy.
At the bottom: large nationnal chain pharmacies.

Daniel Holt, 53, a CR member from New York City, calls his local independent pharmacy a "neighborhood gem," and notes that "I'd rather give my money to small, local businesses who are part of my community."
But the big business of retail pharmacy is changing fast and could threaten some of the nation's 22,000 independent pharmacies. And that may make it more difficult—and expensive—for you to get medications at your neighborhood drugstore.
Take Amazon, which recently entered the $453 billion prescription drug business by purchasing PillPack, an online pharmacy, posing a new challenge to walk-in pharmacies.
And CVS Health and Aetna recently merged, combing the nation's largest retail drugstore and pharmacy benefits manager company (a "middleman" in the drug business that works behind the scenes) with one of the country's biggest health insurers.
The new combined company says that people insured through Aetna will still be able to fill prescriptions at other pharmacies, and that people with other insurance plans will continue to have access to CVS pharmacy and ther services.
But some experts remain worried that the mergers could make it harder for some people to fill prescriptions at independent pharmacies. People insured by Aetna may be steered—by lower copays, for example—to a CVS for their prescription drugs or even one of the chain's in-house clinics for vaccinations and other basic healthcare needs, says Douglas Hoey, president and CEO of the National Community Pharmacists Association.
A separate merger in the works, between the pharmacy middleman company Express Scripts and the insurer Cigna, could similarly restrict consumers' pharmacy options.
And there's another potential obstacle to finding an independent pharmacy: Last year some 4,000 of them refused to join "preferred networks" of pharmacies in Medicare Part D drug plans, says Adam Fein, CEO of the Drug Channels Institute, a market research and consulting firm.
That could be a problem because preferred pharmacies typically offer lower copay prices to consumers. And while independent drugstores have among the highest overall scores in CR's pharmacy ratings, they don't do best at cost, landing between Costco (with the lowest prices) and big chain drugstores (with the highest) on that measure.

Chris Antypas, Pharm.D., co-owner of independent Asti's South Hills Pharmacy in Pittsburgh, says his pharmacy was among those that opted out of being a preferred pharmacy. While he acknowledges that people on Medicare may now have to pay more for their drugs at his pharmacy, he hopes the personal care and extra services, including same-day home delivery and individualized prescription packaging service will still set him apart from the big chains.
"People want to be treated as individual as possible," he says, "so independent pharmacists are focused on the relationship."
That seems to be important for more than half of those CR members who fill their prescriptions at an independent and who said their pharmacists knew them by name. By contrast, only 14 percent of people said pharmacists at chain drugstores knew them by name.
Working with your pharmacist should never be a chore, says Antypas. "If your pharmacist doesn't know you, get a new one," he says. "Consumers should hold their healthcare providers accountable, and that includes pharmacists."