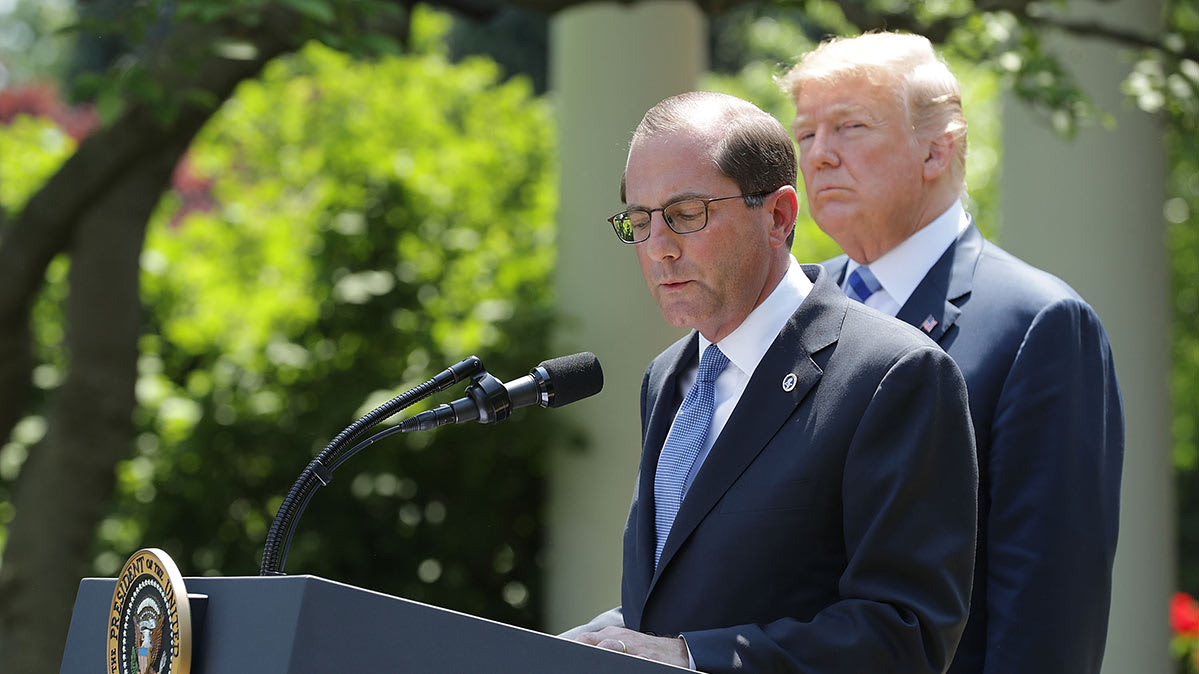 President Donald Trump today outlined a set of proposals that he hopes will lower the high and increasing cost of prescription drugs for millions of Americans.
If enacted, the most dramatic changes could alter how drugs are purchased and sold among drug companies, insurers, and industry middlemen, fundamentally restructuring a complex, decades-old system.
Several of the changes could potentially lower the out-of-pocket costs Americans pay at the pharmacy counter—especially those on Medicare or enrolled in high-deductible health plans. For example, one suggestion would end so-called gag clauses that can prevent pharmacists from discussing lower-cost drug alternatives with consumers.
But some argue the proposals don't go far enough.
Democratic lawmakers yesterday released their "Better Deal" proposal, which includes allowing the federal government to use its bargaining power to negotiate with drug companies for lower Medicare drug prices, stopping price gouging by drug companies, and calling for greater transparency in drug pricing. Other measures introduced by some Democrats in Congress would permit U.S. citizens to legally purchase medication from Canada, where drugs typically cost much less.
Foreign nations, however, drew particular ire from President Trump today. He believes that they take advantage of U.S. innovation to keep their own drug prices low. "When foreign governments extort unreasonably low prices from U.S. drugmakers, Americans have to pay more to subsidize the enormous cost of research and development," Trump said today. So he wants to require foreign governments to pay U.S. drug companies more.

Some experts say that while that particular step could help drug companies, it's unlikely to have much effect on how much U.S. consumers pay for drugs. However, several other proposals could have a more direct effect. Here's how.
Proposal: Limit Hidden Payments Between Drug Companies and Industry Middlemen
Drugmakers often cut deals with companies called pharmacy benefits managers, or PBMs. Those companies, including CVS/Caremark and Express Scripts, act as middlemen between drug and insurance companies. Such deals—which come in the form of rebates, or payments made from drug companies to PBMs to secure favorable coverage for their drugs—totaled $129 billion in 2017, according IQVIA, a firm that tracks the drug industry. Yet this system can lead to higher list prices for many prescription drugs, said Scott Gotlieb, the Food and Drug Administration Commissioner, in a speech last week.
If such payments were reduced, list prices for brand-name drugs could be cut by 25 to 40 percent, says Stephen W. Schondelmeyer, Ph.D., a pharmacoeconomics professor at the University of Minnesota, in Minneapolis. That could directly lower prices for consumers who must pay near full price for drugs either because they have a high-deductible insurance plan or their medication is not well covered by their insurer.
"Although it would be disruptive if we restructure the market this way, it would remove a lot of administrative waste out of the system," Schondelmeyer says.
Downside: It could take several years. This system of buying and selling medication is decades old and is the backbone of how business is done in the U.S. Undoing it would require Congress to pass clarifying legislation, and help from the Federal Trade Commission to unravel the rebate system. And, it's unclear what would replace it.
Proposal: Give Instant Rebates to People on Medicare Part D
Drug companies also make rebate payments to insurance companies that manage Medicare Part D drug plans, as a way to attract their business. In late 2017, the Centers for Medicare and Medicaid Services (CMS) proposed that drug companies give those discounts directly to consumers instead, at least for certain expensive, brand-name meds. People on Part D could get those discounts when they fill prescriptions at the pharmacy counter.
The Medicare Rights Center, a nonprofit organization that advocates for affordable healthcare access for seniors, said earlier this year that it supports giving rebates to people on Medicare Part D who are experiencing higher drug costs.
A 2018 report from the Pharmaceutical Research and Manufacturers of America (PhRMA), an industry group, estimates that these instant rebates could help seven out of every 10 people on Medicare Part D.
The approach could also help people not on Medicare. Aetna and UnitedHealth, for example, have said they will make similar changes to some plans they offer employers.
Downside: Rebate payments are typically pooled together, and companies that administer Part D plans say that helps keep monthly premiums low for everyone in a plan. CMS has said that giving rebates directly to consumers could make premiums go up for everyone, and also increase the total federal spending on Medicare Part D, by about $42 billion.
"Redirecting rebates and price concessions to enrollees can be a helpful way to reduce sticker shock at the counter," says Dena B. Mendelsohn, senior attorney and healthcare policy advocate for Consumers Union, the advocacy division of Consumer Reports. "But at the end of the day, it does not address the looming healthcare-cost crisis, which affects consumers from the price of individual prescriptions to their annual health insurance premiums."
Proposal: End Pharmacist "Gag" Clauses
Drugs can sometimes cost consumers less without their insurance than with it. But pharmacists are often bound by "gag clauses" in contracts with PBMs from sharing that information with consumers. While consumers can bypass that problem by simply asking the pharmacist how much they would pay without insurance, the new proposal would make such provisions illegal. Several states, including Arkansas, Connecticut, Georgia, Louisiana, Nevada, New York, North Dakota, and South Dakota, have already banned gag clauses.

Downside: Consumers need to know if they don't use their insurance, what they spend won't count toward the deductible or out-of-pocket maximum.
Proposal: Speed Approval of Generic Drugs
Changes already underway and recently proposed at the Food and Drug Administration would speed approvals for certain generic drugs, particularly those that are not yet available in generic form or only approved for one manufacturer. That could give consumers quicker access to low-cost generic drugs. And it could spur more competition among generic drug manufacturers, would could also help lower prices.
Downside: But "speed to market is not the only issue," says Aaron Kesselheim, M.D., associate professor of Medicine at Harvard Medical School, who has studied this issue. "We need to make sure there are sufficient numbers of competitors, and that there is adequate post-approval oversight of the safety of generic drugs." He notes that to keep FDA on the cutting edge, it requires resources, including funding and expertise.

Proposal: Give Free Generics to Low-Income Individuals on Medicare Part D
The Trump Administration has raised the possibility of providing certain generic drugs for free to people who earn less than 130 percent of the poverty level. That comes to about $1,300 a month for an individual and $1,760 for a couple.
Downside: Providing these drugs for free could increase the federal government's overall Part D costs.
Proposal: Loosen Medicare Part D Formulary Requirements
Medicare Part D plans must now include at least two drugs to treat a condition and, for some diseases, cover all available drugs. Insurers argue that limits their ability to negotiate with drug manufacturers because they can't drop a medication if they're not satisfied with the terms. Under the White House's new proposal, Part D plans could only cover a single medication for a condition, perhaps allowing insurers to negotiate better deals with drug companies.
Downside: Consumers could have less choice for drugs to treat some conditions, says the University of Minnesota's Schondelmeyer. And for some consumers, it could make it difficult to find any plan that covers all of the drugs they need.

Consumer Reports is an independent, non-profit organization dedicated to helping consumers. We make it easy to buy the right product from a variety of retailers. Clicking a retailer link will take you to that retailer's website to shop. When you shop through retailer links on our site, we may earn an affiliate commission – 100% of the fees we collect are used to support our mission.
Learn more.
Our service is unbiased: retailers can't influence placement. All prices are subject to change.