When you shop through retailer links on our site, we may earn affiliate commissions. 100% of the fees we collect are used to support our nonprofit mission.
Learn more.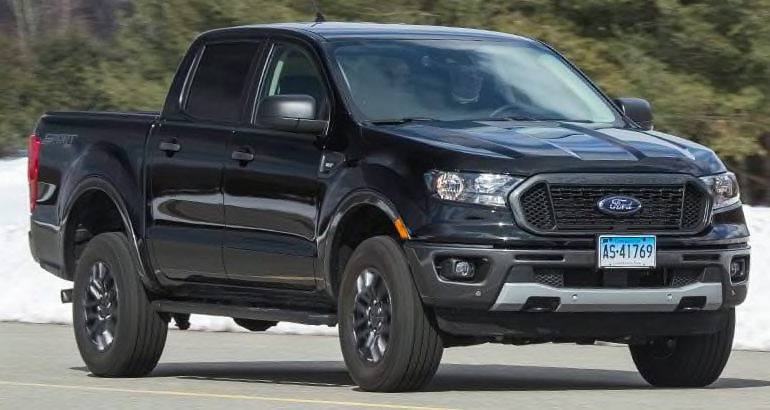 The Ford Ranger returns as an all-new, modern truck after being absent from the U.S. market since the 2011 model year.
The truck world has changed during that time, with midsized competitors from General Motors, Honda, and Toyota debuting or getting updates. All of these provide creature comforts and safety features that weren't available even just a decade ago.
Given the mammoth scale of the latest F-150 and Super Duty pickups, there is room in the Ford line for a modest-scale truck that can be both suburbia-friendly and ready for adventure. The Ranger fills that void in extended and crew cab configurations. There is a single powertrain offered, and a choice of two- or four-wheel drive.
Ford is marketing the Ranger to appeal to outdoorsy thrill-seekers. We recently bought one to find out how it measures up to its promises and established rivals. These are our first impressions.
What we bought: 2019 Ford Ranger SuperCrew XLT 4x4
Powertrain: 270-hp, 2.3-liter, four-cylinder turbocharged engine; 10-speed automatic transmission; four-wheel drive
MSRP: $34,115
Options: $5,145. XLT with dual-zone climate control, rear sliding window, and remote start ($2,800). Electronic locking differential, 17-inch wheels, and sport appearance ($420). Technology package with adaptive cruise control and Sync 3 infotainment system ($795). Running boards ($635). Trailer tow package ($495).
Destination fee: $1,095
Total cost: $40,355
What We Like . . . So Far
The Ranger has a tough, rugged appearance, with traditional truck proportions. It looks ready for action, be it a dirty adventure or a hauling task. It is relatively easy to get into, and most adults won't need the optional running boards. Its modest scale makes it easier to maneuver and park than a full-sized truck, which makes it well-suited for running errands.
The turbocharged engine delivers enough power to give the Ranger some verve. The 270 hp that the engine produces is competitive, but the 310 lb.-ft. of torque gives the truck more power than its rivals. The 10-speed automatic transmission delivers mostly smooth, timely shifts, which contributes well to the lively feel.
COMPACT PICKUP TRUCK ROAD TESTS
The front seat provides a natural, upright seating position, unlike the GM and Toyota trucks that position their seat bases lower to the floor, requiring drivers to stick their legs forward, more like a beach lounger than a dining room chair. The seat is wide enough for a large adult, there is good elbow room all around, and outward visibility is good.
The Sync 3 infotainment system is easy to operate, as it is in other Ford models. The USB ports for a phone are easy to see and access beneath the climate controls. There is a small bin to store the phone as well. The traditional automatic gear selector and pull-up parking brake handle are just what buyers would expect in a truck.
And the Ranger's cabin is quiet on the highway.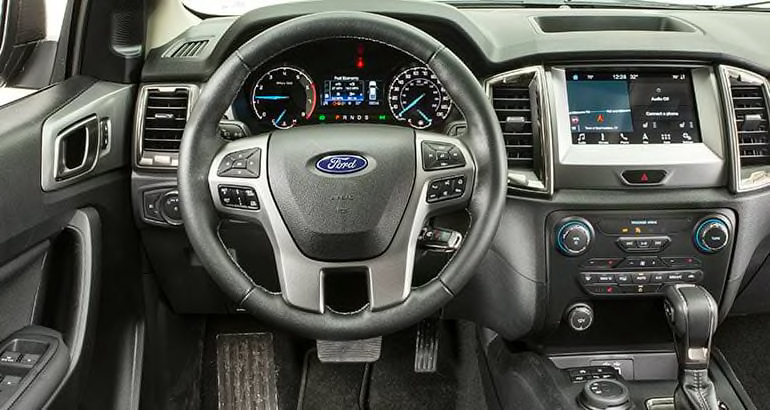 What We Don't Like
The front seat is a bit squishy, and the driver's power seat has a manual recline lever. The second-row seat is a bit tight, with limited legroom for taller passengers. That's okay for in-town errands, but adults wouldn't have room to stretch on road trips.
The cabin has a plain appearance, and the lack of a push-button start seems like an odd omission at this lofty price. (The more expensive Lariat trim gets a push-button start.) Turning a key in the ignition seems anachronistic in 2019.
The power mirror controls are mounted to the left of the instrument cluster, rather than on the door. They're hard to find and see because the steering wheel blocks the view of the switch.
The engine can sound a bit wheezy, especially when starting.
The rubbery ride is stiff and jumpy over bumps. The truck is more in its element on smooth surfaces. The handling is likewise clumsy, but these attributes are common for the segment, and in fact, some buyers may see a kind of charm in the trucky dynamics. Those who wouldn't see that would do well to consider a Honda Ridgeline.
The capabilities with our SuperCrew are limited by the short 61-inch bed. (The extended cab truck gets a 72.8-inch bed.) The tall bed height makes access from the sides a challenge—it's up to the shoulders for some drivers. The heavy tailgate isn't damped to prevent it from slamming down when dropped open.
Those running boards can be in the way when passengers get out, and they can coat pant legs with road grime or worse.
What We'll Keep Our Eyes On
The Ranger is a lifestyle choice, much like a Jeep Wrangler, whose image and off-road capabilities draw in tons of buyers. We get that, but we will be interested to see how the truck is to live with. The ride and handling, combined with a compromised rear seat, may limit the appeal for families.
The small bed may come in handy for weekend projects, but its short length and narrow width will limit what the truck can carry. The answer for some buyers will be either a larger F-150 or an SUV. Ford aims to supplement the Ranger with the upcoming Bronco SUV, which will reportedly share hardware with the Ranger.
It is a "small" truck, and buyers should expect some compromises as trade-offs for its parking-lot-friendly dimensions and promised fuel economy. But buyers undoubtedly will expect a lot for a compact pickup that costs more than $40,000.
The Ranger provides an interesting alternative to full-sized trucks. However, full-sized trucks are much more capable and are often heavily discounted. There may not be much space between the transaction price of a well-equipped Ranger and a modestly equipped F-150 in the real world.
We are still logging break-in miles before formal testing can begin. Look for our results in the weeks ahead.