What's a Power Snow Shovel—and Do You Need One?
These electric tools fill a niche between snow shovels and snow blowers
When you shop through retailer links on our site, we may earn affiliate commissions. 100% of the fees we collect are used to support our nonprofit mission. Learn more.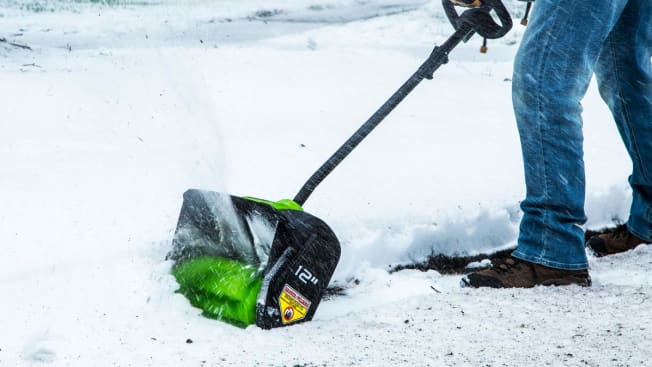 If you live in a snowy area, you're aware of your snow-clearing options: Hire a plow service. Ka-ching! Shell out hundreds of dollars for a snow blower. Ka-ching! Or spend hours out in the cold after each snowfall, fighting frostbite and shoveling the old-fashioned way.
But there's a DIY middle ground. Power snow shovels from brands such as GreenWorks, Ryobi, and Toro have been popping up at home centers for several years. Small, maneuverable, and relatively lightweight, the power snow shovel splits the difference between a $10 plastic snow shovel and a full-sized blower, which can cost up to $3,000.
Usually priced around $100 to $300, power snow shovels are electric, and as with snow blowers, you can find corded and battery-powered, cordless versions. You won't find versions that run on gas, as you will with snow blowers. The battery models we tested work better than the corded versions.
Power snow shovels resemble a smaller version of a single-stage electric snow blower without wheels. Most are only about 1 foot wide, while snow blowers usually have a width of 21 to 30 inches. Power snow shovels also have a single, long handle, much like you'd find on a string trimmer, as opposed to the dual handles on a snow blower.
They Work Best on Smooth Surfaces
Much like a single-stage snow blower, power snow shovels work best on smooth surfaces. That's because their augers are low to the ground—on two- or three-stage snow blowers, the auger is higher, allowing you to handle deeper snow piles.
The low auger on a power snow shovel helps these tools leave a nice clean path behind on a smooth asphalt driveway or a deck, but they'll stumble on uneven terrain, and they're definitely not suited for a gravel driveway, because they can scoop up pebbles and send them flying. And while most should work well on a smooth surface like a level deck, check the owner's manual to make sure your power snow shovel is safe for various surfaces before your first use.
They're Much Heavier Than a Snow Shovel
Most power snow shovels weigh 12 to 15 pounds. That's generally light enough that you can easily bring one up the steps to clear an elevated deck and readily store it on the wall of your garage.
Still, they are heavier than a standard snow shovel, which weighs a mere 3 pounds unladen with snow.
Those we tested ran about 60 minutes on a charge (without a snow load—they'd obviously run for a shorter time while moving snow). But you'd feel the weight of these tools after carting one around for 10 or 15 minutes.
They Discharge Snow Forward, not Sideways
A power snow shovel's auger spins front to back, so the tool picks up snow and shoots it directly out the front. None that we evaluated allow you to change the orientation. That's in contrast to a snow blower's discharge chute, which allows you to throw snow out either side of the tool.
So you should never use a power snow shovel while facing a house, a car, or a bystander, and you'll need to be strategic about where you shoot the snow. If you're clearing a driveway or sidewalk, you'll need to nail the angle to avoid sending snow into the road or back toward your house.
Should You Get a Power Snow Shovel?
A power snow shovel is a good choice if you're in an area with modest snowfall and live in a condo, townhome, or anywhere with a short, paved driveway. It's also a great option for city dwellers who are responsible for shoveling their own portion of a sidewalk, and one would even be a smart buy for anyone with a large, elevated deck—even if you already own a snow blower.
The battery models we've tested come from brands like GreenWorks or Toro. So if you already own a battery-powered yard tool, you can save as much as 50 percent by buying a power snow shovel without a separate battery and charger. For example, the GreenWorks 2600602 runs on the same 80-volt battery that powers the brand's lawn mower, string trimmer, and backpack leaf blower.
Best Power Snow Shovel From CR's Tests