When you shop through retailer links on our site, we may earn affiliate commissions. 100% of the fees we collect are used to support our nonprofit mission.
Learn more.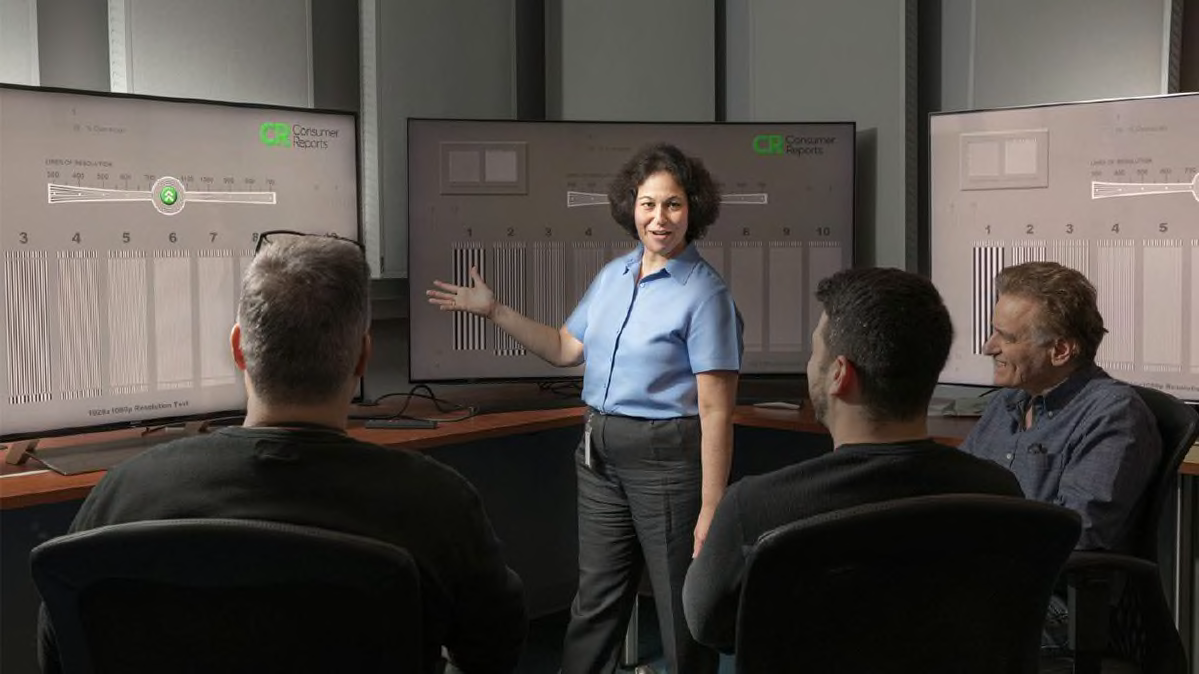 "I like to say, 'When it comes to the internet of things, we have all the things.'"
That, says Maria Rerecich, is one reason why Consumer Reports is ideally placed to develop new ways to evaluate internet-connected products for digital privacy and security.
Rerecich, CR's senior director of product testing, oversees the evaluation of thousands of items—from robotic vacuums to laptops to refrigerators to WiFi routers—that pass through CR's labs each year. Some of the most traditional and seemingly non-techy products have sprouted computer chips and gained the power to collect data about their users. In response, Rerecich is helping to drive the ongoing development of the Digital Standard, a set of principles and criteria to help evaluate how well digital products and services respect consumers' rights and expectations.
Consumer Reports' testing is constantly evolving to keep up with the changing functionality of consumer products, but Rerecich says CR's team of 58 testers is also focused on the fundamental performance that consumers are looking for—blenders that yield the smoothest smoothies, snow blowers that demolish the drifts at the end of the driveway, and headphones that deliver great sound. (A separate CR team evaluates cars, at our Auto Test Center in Connecticut.)
An MIT-trained electrical engineer, Rerecich worked in the computer chip industry before coming to CR eight years ago. She has a lot to say about what it's like to lead CR's eclectic mix of engineers.
CR: You spent years designing computer chips. Now, you head up test engineering for all kinds of products that are evaluated in 63 separate labs. What are the engineering skills that help you cover all that ground?
Rerecich: The common threads are handling data, being able to accurately analyze data, and attention to detail.
I'm the kind of person who can't have my checkbook be off by a penny. That's a similar mindset when you're debugging a problem in a chip or handling test data at Consumer Reports. Does the data make sense? Is it telling us something unexpected that we need to flag? That's really true in all kinds of engineering, regardless of the discipline.
You also need a troubleshooting mentality, where you can step through a problem, even if you don't know all the underlying details from a technical perspective. Obviously, I can't know everything and I don't need to. But I can help make sure the engineers who have the expertise on each product category get the support they need and that they're thinking about the problems properly.
CR: What's a Consumer Reports test all about?
Rerecich: We want to experience and evaluate each product from a consumer perspective. That means we treat the product as a black box—it's generally not about taking something apart to see how it's designed. It's about how well it will work for the consumer. And we want to focus on the factors that are most important in making a purchase decision, because we're trying to guide people to get the right product for them.
We work with CR's consumer experience group, which does research to gain knowledge about what's most important for consumers. And that information is combined with the deep expertise our test engineers have in their particular areas.
One example might be TV viewing angle, which most consumers might not think of on their own. But if you look at a TV straight on vs. at an angle, the picture can look very different, and that can matter quite a bit when you get the TV home. People don't always sit right in front of a TV. Providing that information for each set we test can be important in helping people decide which TV to buy.
CR: One of your big projects is to build privacy and security evaluations into CR's product ratings. How is product testing different now that even many appliances have computer chips?
Rerecich: A lot of the testing that we do is still based on classic measures of performance. You know, how well does the lawn mower cut the grass, how cold is the refrigerator, does a washing machine get the clothes clean?
That's all still important, but software has added new challenges, in three big ways.
First, a product can have different behavior depending on the conditions. In an older style of washing machine, when you push certain buttons—medium load, hot water, normal cycle, let's say—you'll always get the same amount of water usage and the same length of cycle. But if the machine has some smarts in it, and some sensors, it might adjust that cycle based on how much dirt there is or the weight of the load. And so we have to be careful to make sure the test is fair and consistent for every machine. This requires good data analysis.
That's one level. But we also need to think about whether the machine is collecting data about the consumer, what kind of data it's collecting, and what it's doing with that data. Is there a benefit to the consumer or is it only benefiting the manufacturers? We think it's important to illuminate what's happening, and to find out whether the consumer has any control over it.
The other aspect of a connected device is that it can get a firmware upgrade that can change the behavior of the product. And that's complicated because we need to test it at a certain point in time with a certain software version, but it could potentially change after that, even once it's in a consumer's home. We try to figure out what's essential that stays the same. And we have to decide when to revisit products to catch up on software changes, which is a challenge with the number of products we test.
CR: Engineers Week is going on right now. That's a program from the National Society of Professional Engineers to reach out to people who may be thinking about becoming engineers. Do you have any words of wisdom for people entering the field?
Rerecich: I really like what I do. And thinking over my career, the best piece of advice I can give is to do what you want to do. If you're in mechanical engineering and you realize you actually like chemical or electrical engineering better, switch to that. Because it's all hard work, and you get plunged into this stuff pretty deeply. It consumes a lot of your brain and your time. I couldn't see working in engineering if I didn't find it really interesting.
I also like people to understand that engineering can be very creative, as well as analytical.
People don't always think of it that way, but the essence of what we do is to see problems and figure out creative ways to solve them. Identifying the problem is often a creative challenge in itself. And then, whether you're designing something fresh or improving an existing product, every step along the way takes creativity. Then, of course, you also need the engineering skills to make the solution come to life.