When you shop through retailer links on our site, we may earn affiliate commissions. 100% of the fees we collect are used to support our nonprofit mission.
Learn more.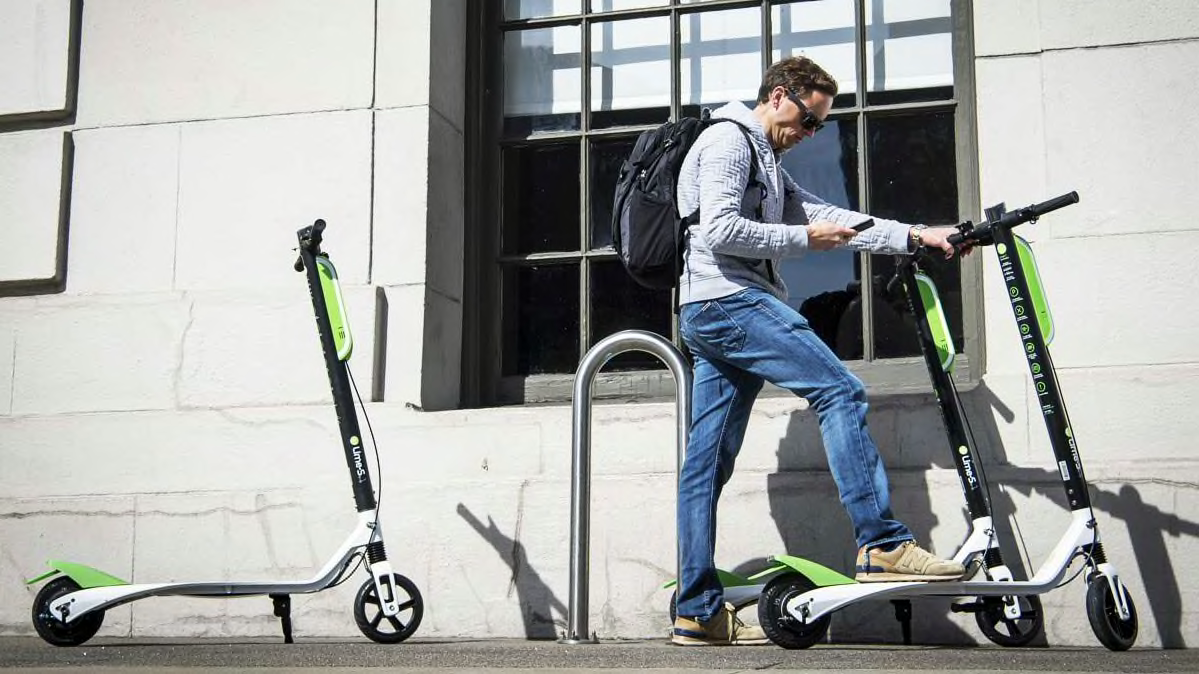 Electric scooter startup Lime urged riders to be extra cautious while using the company's scooters, after learning of a technical problem that can cause "sudden excessive braking" during rides.
Lime, one of the largest e-scooter startups in the fledgling industry, announced over the weekend that it had recently detected a bug in the firmware of its scooter fleet, which "under rare circumstances could cause sudden excessive braking during use."
The issue prompted the company to issue a series of updates for the firmware, the statement said, "which immediately results in a material reduction of occurrences." But riders should use scooters cautiously over the next few days, until a final update is released, the company says.
"A final update is now being dispatched to every Lime scooter in the market and will be complete shortly," the statement said. "We are also proactively working with consumer protection agencies around the world to ensure we meet their rigorous safety expectations."
Still, for now, the company is telling riders to first inspect their vehicle before riding to determine whether it's in good condition, and once the ride begins, to give the brake a "tight squeeze."
"If the brake does not engage properly and immediately stop the vehicle, dismount, end the trip, and notify Lime customer service," the statement says.
The warning from Lime follows an investigation published earlier this month by Consumer Reports, which found that an estimated 1,500 people have been injured as a result of e-scooter crashes. CR spot-checked hospitals across the U.S., and also obtained internal crash data from Lime and its main rival, Bird.
The battery-powered scooters have drawn attention from policymakers and regulators since arriving on public streets in late 2007. The vehicles are typically offered through a smartphone app at affordable rates. Bird, for example, usually charges about $1 plus 15 cents per minute of use, and its e-scooters can travel at speeds of up to 15 mph.
No official e-scooter crash data exists to date, but CR tabulated an injury count by contacting 110 hospitals in 47 cities across the U.S., as well as public agencies currently tasked with tracking crashes. To date, at least four people have been killed while riding an e-scooter, according to our report.
Lime isn't the only company to have been accused of renting out scooters with allegedly faulty brakes, as CR previously reported. A potential class-action suit filed by a Bird rider in January claims the company's scooters "contain defective electronics, brakes, battery charge indicators, wheels and tires, internal power tubes, and accelerators, and do not contain adequate instructions and/or warnings regarding these hazards and dangers."
Lime has faced scrutiny recently in New Zealand, where its scooters have been temporarily banned in two cities after reports of similar braking problems. In an op-ed published Monday in the New Zealand Herald, Lime's director for Government Affairs and Strategy, Mitchell Price, wrote that the company's team has been working "around the clock to rigorously assess our fleet" and the excessive braking issue that was discovered a few weeks back.
Price said "every single scooter" in New Zealand affected by the bug had been "immediately removed." When asked why Lime wasn't also pulling its scooters in the U.S., the company told CR that it was confident that its firmware update had fixed the problem.
Lime said in its statement on Saturday that the issue has affected "less than 0.0045 percent of all Lime rides." But Catherine Lerer, an attorney based in California who represents several e-scooter riders in personal injury cases, told CR that number is probably far higher, noting that many of her clients have yet to report the injuries directly to Lime.
"I've had many many people call me who were injured where their front tire locked up on Lime scooters," Lerer says. "I don't know if it's the same defect, but it sure could be. And that's very concerning to me."
Lime's statement also tells riders to comply with "any scooter audible or visual warnings to slow or adjust your speed." It also suggests riding "defensively" by wearing a "helmet and reflective or bright clothing." Medical experts who spoke with CR earlier this month say most of the injured riders they've treated were not wearing a helmet when they were injured.
Scooter Safety 101
Scooters are an affordable—and fun—means of transportation, but there are some important things you need to know. On the "Consumer 101" TV show, Consumer Reports expert Ryan Felton offers tips for keeping safe while using a scooter.