Honda vs. Toro: Who Makes the Best Push Mower?
CR pits two strong performers against each other in a head-to-head test
When you shop through retailer links on our site, we may earn affiliate commissions. 100% of the fees we collect are used to support our nonprofit mission. Learn more. Cub Cadet relinquished its long-held grip on the top slot in Consumer Reports' ratings for gas push mowers this year, yielding ground to both Honda and Toro.
Models from these two well-established brands now hold the No. 1 and No. 2 in our ratings, so we decided to do a head-to-head comparison: the Honda HRR216PKA, $430, vs. the Toro Recycler SmartStow 21329, $300. What do you get for your money, and which model offers the best cut with the least hassle?
"The first thing to understand about these mowers is that most people are going to be really happy with the cut they get from either model," says Frank Spinelli, who oversees CR's lawn mower tests.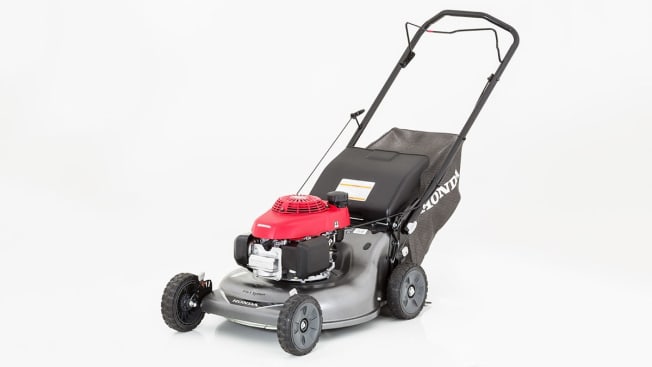 The Honda HRR216PKA has a dual-blade system, which Honda promises will provide better mulching performance than a single blade. It can mulch or bag clippings, or cut in side-discharge mode, although on this model, "side" discharge actually sends clippings out through the rear of the mower—right into the path of your feet.
It has a 160-cubic-centimeter Honda engine and a 21-inch cutting deck, but it lacks a washout port for cleaning the underside of the cutting deck with a garden hose, so you'll need to turn the mower on its side to clean it. It comes with a three-year engine warranty.

Toro Recycler SmartStow 21329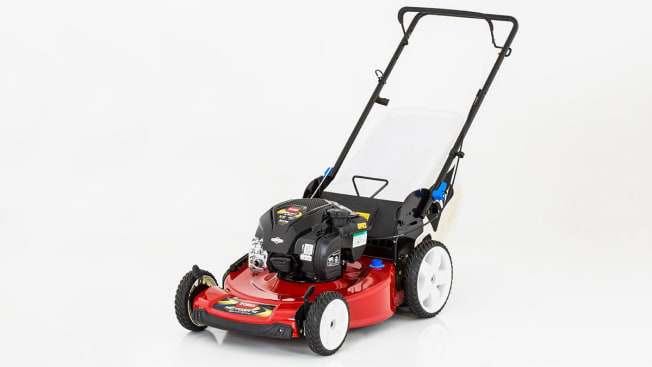 The Toro Recycler SmartStow 21329 has only a single cutting blade, but it can still mulch, bag, or side-discharge clippings. Its 150 cc engine is slightly smaller than the Honda's, but both sizes are typical for push mowers. The Toro engine has a two-year warranty.
Unlike the Honda, it has a washout port for connecting a hose to clean the underside of the cutting deck, and the deck itself is 22 inches wide, slightly larger than the Honda's. You can also collapse the mower's handle and stand the machine upright for storage without leaking gas or oil. That's a nice feature if you're tight on storage space.
When it comes to mulching and side-discharge cutting, the Honda and Toro models performed similarly—and admirably. Either could turn long blades of grass into fine clippings in mulch mode, and the Toro performed every bit as well as the Honda, despite having only a single cutting blade.
In side-discharge mode, each model earned a Very Good in our tests, but you should know that the Honda leaves its clippings in your path rather than discharging them to the side; keep that in mind if you don't like walking through a trail of freshly cut grass.
Bagging is where we found the biggest difference between the two push mowers. While both models filled their bags to capacity, the Honda held more clippings—25 pounds vs. 20 held by the Toro.

Because their wheels aren't powered, push mowers are usually more difficult to operate than self-propelled models. Push mowers also tend to have fewer features. Because self-propelled models cost more, a lot of brands reserve top-tier features such as electric start or a blade-brake clutch for those machines and leave them off push mowers.
The Toro does have some convenient features, and we also found it slightly easier to push, pull, and turn at our mowing test facility in Florida. The Honda was a little more difficult to maneuver, so here we gave the edge to the Toro.

Consumer Reports surveyed more than 9,000 owners who purchased a push mower between 2010 and 2016 about the reliability of their machines. Specifically, we ask whether the mowers stopped working as well as they should, or needed any repairs, by the fourth year of ownership.
Honda comes out on top for gas push mowers—it's the least repair-prone brand of the nine major manufacturers in our survey. Toro is more middle-of-the-pack. Honda also backs up its push mower with a three-year warranty on the engine; Toro provides a two-year warranty.

In the end, if you have a quarter-acre of grass or less to cut, you'll be well-served by either of these mowers. The Honda narrowly edged out the Toro, with an Overall Score two points higher. You can compare the two, test by test, in our ratings of push mowers.
If you bag your clippings and are concerned with reliability, we think that tips the balance in favor of the Honda. If you rarely bag and prefer a more maneuverable machine—or one that can be stored upright if space is tight in your garage—go for the Toro. Its performance was almost on a par, and you'll save $130.
More choices. To see whether you should consider a push mower, check our lawn mower buying guide. CR Members can also browse our full lawn mower ratings of more than 100 walk-behind and riding mowers.