Best Black Stainless Steel Refrigerators
CR reviews the top performers in this popular new finish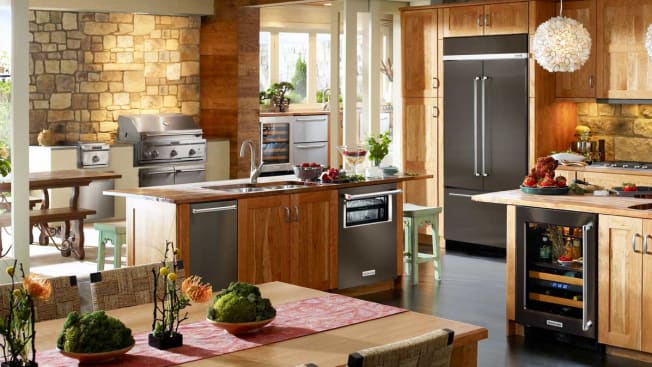 Black stainless steel is still rather new to the kitchen but seems to be here to stay. "It's the fastest growing appliance color," says Mark Allwood, CR's market analyst for large appliances. "According to Gap Intelligence, there's been a 1,000 percent increase in black stainless steel models on the market in the past two years."
While black stainless refrigerators may give new meaning to the word cool, ultimately what matters is performance. In CR's refrigerator lab, we wire up the models we test with temperature sensors and monitor them for more than a month.
The refrigerators live in a temperature-controlled chamber, where we challenge them in three different ambient temperatures (mimicking different times of year). This allows us to evaluate thermostat control and temperature uniformity in all possible home conditions.
We collect more than 5.4 million temperature readings for each model to detect warm and cold spots and determine which refrigerators will keep your food fresh longer.
Samsung RT21M6213SG Top-Freezer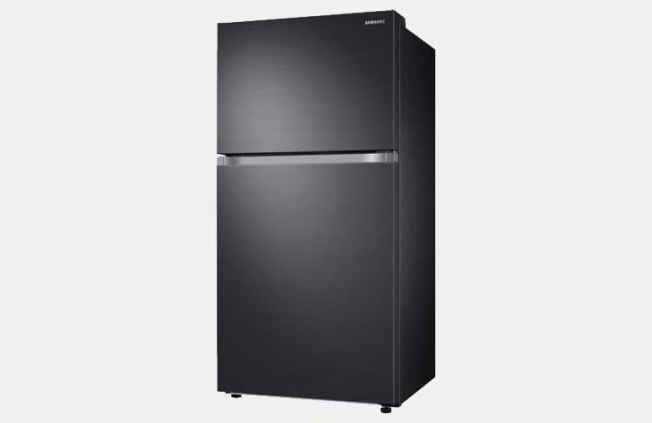 Price: $900
CR's take: One of the best top-freezer refrigerators in our ratings, the Samsung RT21M6213SG offers impeccable performance and an innovative flexible freezer compartment (it converts to extra fridge space when you need it). In our tests, this model scored well for energy efficiency, thermostat control, and low noise output. It doesn't offer much else in the way of features, but for $900, it offers great value.
Kenmore Elite 79049 Bottom-Freezer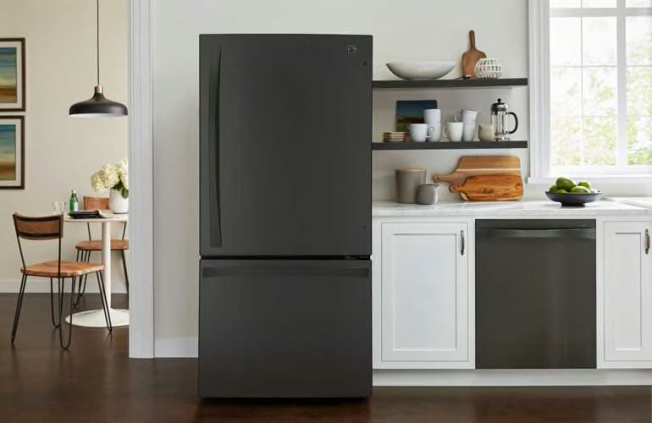 Price: $1,250
CR tested: Kenmore Elite 79043
CR's take: We've tested the Kenmore Elite 79043, which, aside from the finish, is identical to the 79049. The 79043 earned top marks across all our tests, so you can expect strong performance from the Kenmore Elite 79049. This fridge also features an icemaker, digital controls, and a full-width pantry drawer for snacks and platters—and for a bottom-freezer in black stainless, $1,250 is a great price.
Samsung RF28HFEDBSG Three-Door French-Door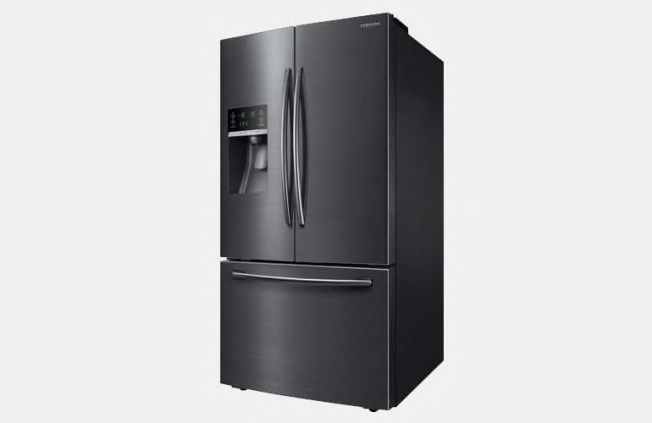 Price: $2,666
CR tested: Samsung RF28HFEDBSR
CR's take: Pining for a black stainless steel French-door fridge? Consider the Samsung RF28HFEDBSG. It features an external water/ice dispenser, a temperature-controlled meat/deli bin, dual evaporators to prevent air from mixing between fridge and freezer, adjustable spillproof shelving, and digital controls. The stainless Samsung RF28HFEDBSR earned strong scores across the board, falling short only in terms of energy efficiency.
LG LNXS30866D Four-Door French-Door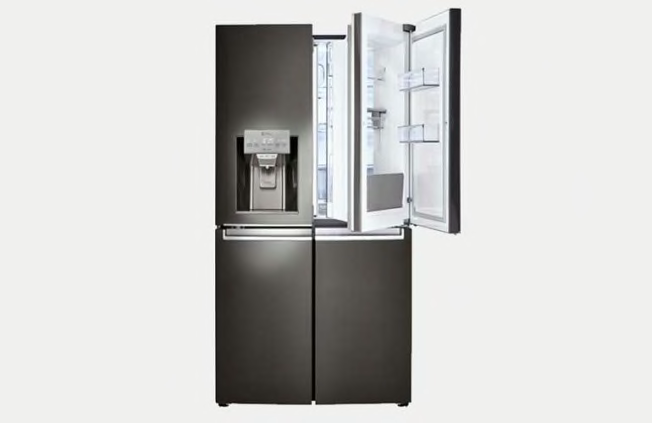 Price: $2,800
CR's take: For just a couple of hundred dollars more than the Samsung above, the LG LNXS30866D offers a black stainless finish in a four-door configuration. In our tests, this LG earned top marks for thermostat control and low noise output, as well as energy efficiency and temperature uniformity. In terms of features, you'll get a door-in-door design, a water/ice dispenser, adjustable and spillproof shelving, digital controls, smartphone control, and voice control via Google Assistant. With so many features, this premium refrigerator warrants a higher price.
GE Profile PSE25KBLTS Side-by-Side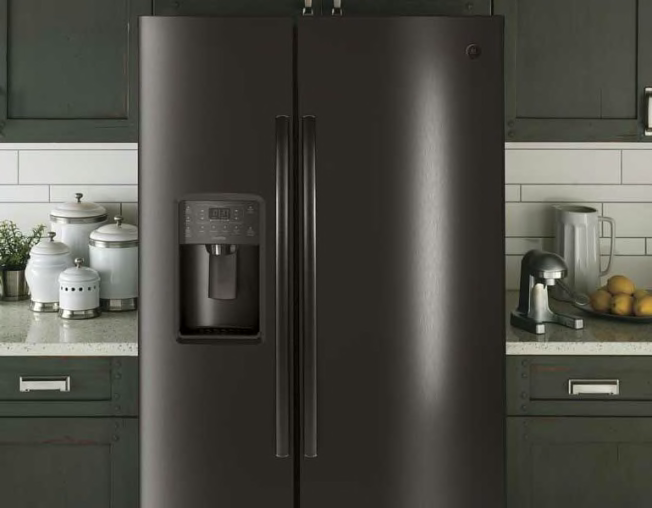 Price: $2,199
CR tested: GE Profile PSE25KSHSS
CR's take: If you prefer a side-by-side layout, check out the black stainless steel GE Profile PSE25KBLTS. It features a water/ice dispenser, digital controls, adjustable and spillproof shelving, and more. In our tests, the similar GE Profile PSE25KSHSS earned top scores for thermostat control and ease of use, as well as strong ratings for temperature uniformity and energy efficiency.
KitchenAid KBFN502EBS Built-In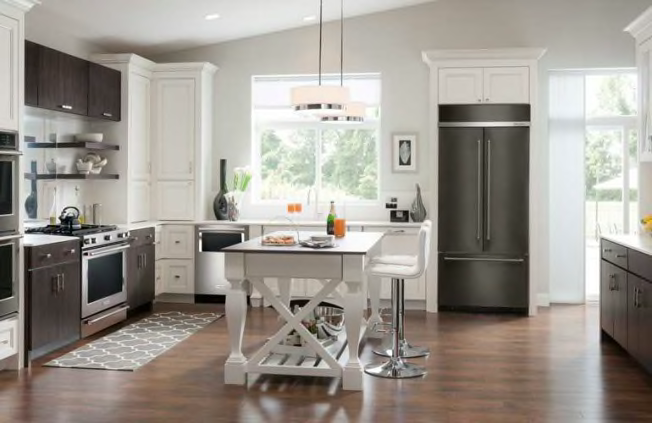 Price: $9,899
CR tested: KitchenAid KBFN502ESS
CR's take: The KitchenAid KBFN502EBS built-in offers striking visual contrast: black stainless steel finish with regular stainless steel handles. It features an icemaker, shelving with spill guards, dual compressors and evaporators, soft-close storage bins, and digital controls. We tested the stainless version and saw superb thermostat control, fantastic temperature uniformity, and low noise output. With a retail price of $9,899, the KitchenAid KBFN502EBS is meant for high-end kitchens—and it has the looks and specs to fit right in.