When you shop through retailer links on our site, we may earn affiliate commissions. 100% of the fees we collect are used to support our nonprofit mission.
Learn more.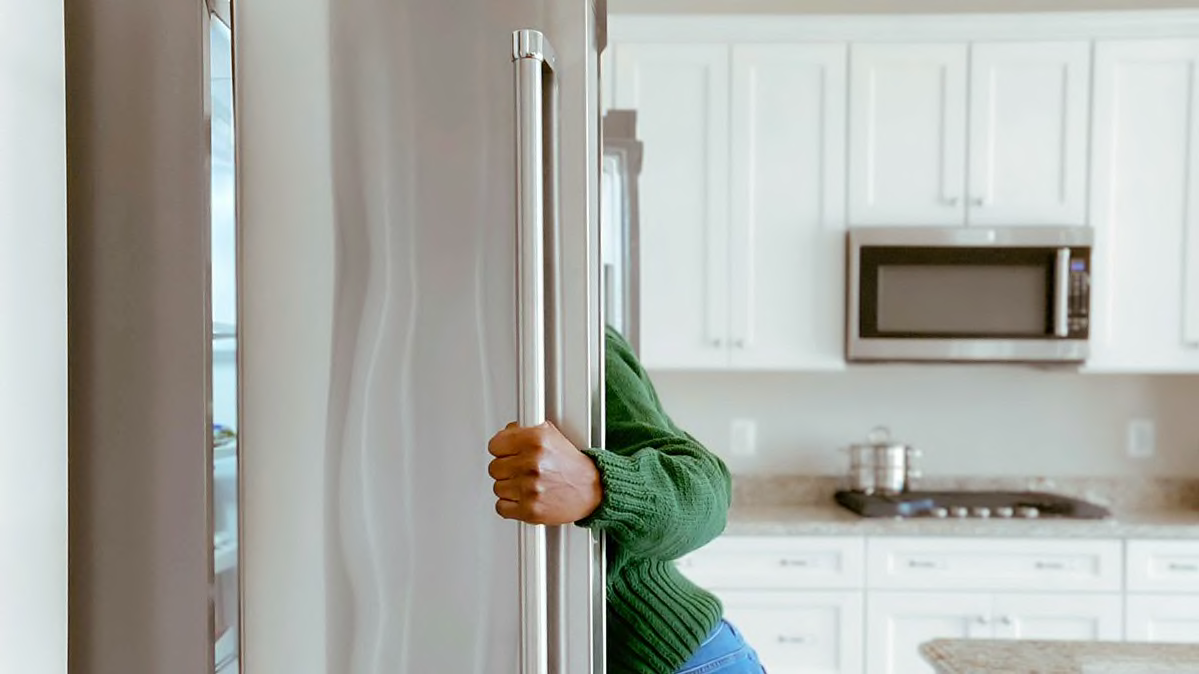 When your refrigerator dies, it can feel like you're in a race against time to find a replacement. Getting a new fridge delivered can take days, maybe even weeks.
For tips on cutting your waiting time, we went to Nish Suvarnakar, Consumer Reports' market analyst for refrigerators and hit up CR's secret shopper for refrigerators.
For more information on getting a refrigerator, check our refrigerator buying guide. And if you're a CR member, you can see how well more than 300 models of French-door, side-by-side, top-freezer, bottom-freezer, and built-in refrigerators perform in our tests, in our refrigerator ratings.
Measure Your Space
Before you start looking, measure the dimensions of the space where your new refrigerator will go to make sure it will fit. Refrigerators come in a wide range of sizes, so carefully measure the height, width, and depth. You'll also want to measure any doorways, hallways, and stairwells the fridge has to travel through to get to the kitchen.
Shop Local
Start your search on retailer websites, which should indicate whether a model is in stock—and ready to deliver. Suvarnakar also recommends adding the model to your shopping cart to make sure the delivery time is solid. "Occasionally, the delivery window on the model webpage is different from what appears in your cart," he says.

As you might expect, inventory varies between big-box stores and local independent retailers. Big-box stores tend to have a lot of newer models, while local shops tend to stock a broader selection that includes older models, but with fewer of each.
CR's secret shopper for refrigerators says that in his experience, independent retailers also tend to have more reliable delivery dates; the big-box stores might tell you one date and bump it. If you decide to shop at big-box stores, know that delivery times vary between them, so be sure to compare. When we looked, the same LG French-door refrigerator had delivery dates ranging from May 29 to June 8 at four different retailers.
Be Flexible With the Brand
It helps to be brand-agnostic since availability of a given refrigerator type can vary depending on the brand. Many companies make refrigerators in popular styles and with the same features, such as a black stainless steel finish or ice dispenser, so you should be able to find the kind of model you want from multiple brands.
Still, you want to check that the refrigerator you're getting is built to last. Check out how brands such as LG, Samsung, and Whirlpool rate in CR's refrigerator brand reliability ratings, based on more than 100,000 refrigerators CR members own.
Go for Stainless Steel
"There are some factors you might not think of that can affect delivery," Suvarnakar says. For instance, the finish you choose could impact how long it takes for you to receive the model. Suvarnakar recommends choosing a stainless steel finish, since those models have the most stock in warehouses. He adds: "I've found the older models tend to be available sooner so I search by the 'Best Sellers' filter." Models that launched a few years ago, but are still being made, tend to be best sellers.
Other Factors to Consider
• Be flexible with features, even the ones you think you really need, whether it is a spacious freezer compartment or a water/ice dispenser. With a shorter list of features, you'll have a bigger selection of models to choose from and a better chance of finding a model that's in stock.
• When you find a model you like, see how it performs in our refrigerator ratings. They cover more than 300 models and reveal, among other test results, how well each refrigerator maintains a set temperature, how efficient it is, and how reliable it's likely to be.
• And don't be afraid to haggle over the price, which you can do either in-store or online. Keep in mind there might be fees for delivery, installation, and haul away. For example, Home Depot charges $25 for haul away and $17.28 for parts if you choose to have them install your fridge (installation and delivery are free).
• If you go to the store for your purchase, be sure to maintain an appropriate social distance and take other safety precautions. On delivery day, follow safety steps to protect your family and the delivery people. And don't forget to clear the path to your kitchen so the delivery team has easy access.