When you shop through retailer links on our site, we may earn affiliate commissions. 100% of the fees we collect are used to support our nonprofit mission.
Learn more.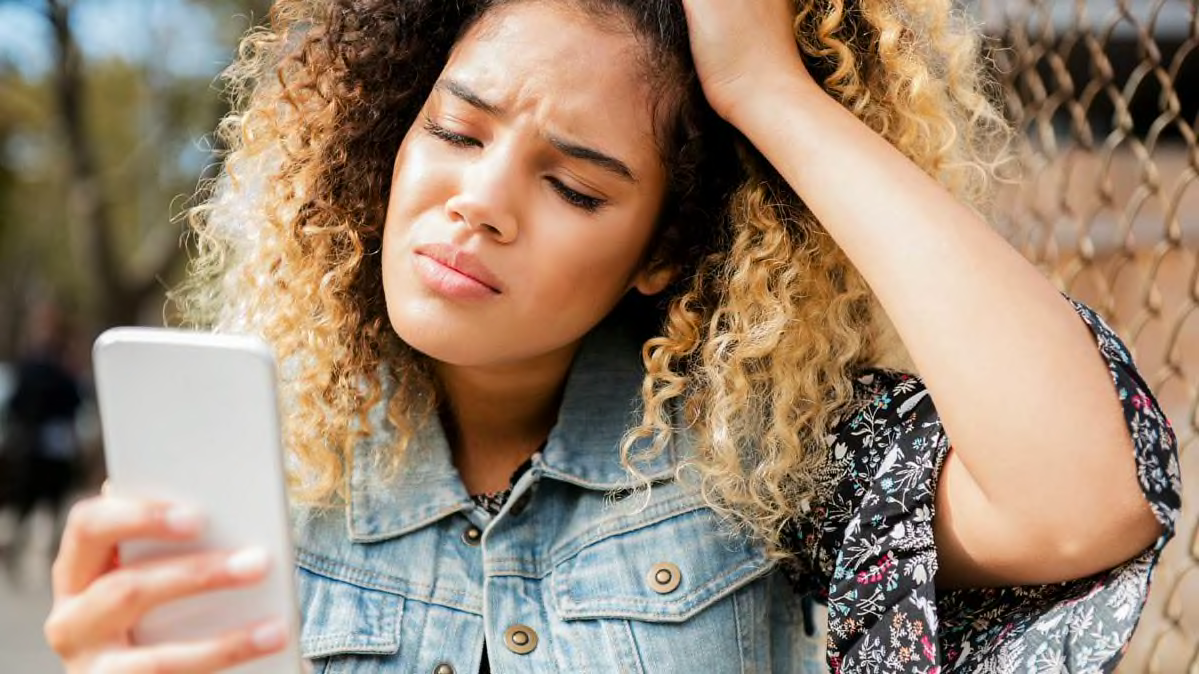 Robocallers responsible for the epidemic of illegal calls placed to Americans' cell phones and landlines could finally face stiffer penalties, if a bipartisan bill that was just introduced becomes law.
The Telephone Robocall Abuse Criminal Enforcement and Deterrence Act (TRACED) would strengthen the Federal Communications Commission and other regulators' ability to go after illegal robocallers.
More than 5 billion robocalls were placed in October, the equivalent of about 2,000 per second, according to YouMail, a robocall blocking and tracking company.
The bill would make civil forfeitures for intentional robocalling violations of the Telephone Consumer Protection Act easier to obtain, and also increase potential criminal fines for repeated violations. Under current law, there's a criminal fine up to $10,000 for a violation. Under the bill, for a continuing intentional violation, the fine could be three times that amount, for each day of the continuing violation.
Regulators have been getting tougher on robocallers who are breaking the existing law. Earlier this year, the Federal Trade Commission announced enforcement actions against robocallers, including a $120 million fine against a Florida-based timeshare marketing operation.
"The TRACED Act targets robocall scams and other intentional violations of telemarketing laws so that when authorities do catch violators, they can be held accountable," said Sen. John Thune, a Republican from South Dakota who introduced the bill with Sen. Ed Markey, a Democrat from Massachusetts.
"Existing civil penalty rules were designed to impose penalties on lawful telemarketers who make mistakes," said Thune in a statement announcing the bill. "This enforcement regime is totally inadequate for scam artists, and we need do more to separate enforcement of carelessness and other mistakes from more sinister actors."
The bill also would increase the time the FCC has to take civil enforcement action to three years after a robocall is placed from 1 year under current law.
One particular concern is when companies or individuals place spoofed calls—calls that hide the caller's true phone number, often displaying a familiar number instead. The bill would also require phone companies to adopt call authentication technologies, enabling a telephone carrier to verify that incoming calls are legitimate before they reach consumers' phones.
The bill also directs the FCC to initiate a rulemaking process to help protect telecom customers from receiving unwanted calls or texts from callers using unauthenticated numbers, as happens when you receive a spoofed call.
The CTIA, the wireless industry association, welcomed the new bill.
"We thank Senators Thune and Markey for their interest in protecting American consumers from illegal robocalls through the introduction of the TRACED Act. This bill underscores the importance of the wireless industry's efforts to adopt and implement call authentication. CTIA looks forward to continuing to work with the sponsors on this important measure," said Kelly Cole, Senior Vice President for Government Affairs for CTIA.
Stepped Up Efforts
Earlier this week, the telephone industry working group ATIS—the Alliance for Telecommunications Industry Solutions—announced that it would hire a compliance company to administer the Shaken/Stir program, a system expected to help telecoms sniff out spoofed robocalls. It would also certify telecoms that implement the program properly.
Certification is key, because all carriers need to subscribe to the SHAKEN/STIR technology for it to work. Otherwise, rogue robocallers who want to continue hiding their identity will simply hop onto a carrier that doesn't use the technology.
Last week, FCC Chairman Ajit Pai called on the industry to have the new technology measures in place by this time next year.
Pressure Has Been Mounting
Consumer advocates want more action from the industry and government. Following Friday's announcement, Consumer Reports, the National Consumer Law Center, and Consumer Federation of America expressed support for the proposed legislation.
"We commend Chairman Thune and Senator Markey for taking on the ever-growing scourge of intrusive robocalls that mislead consumers with spoofed phone numbers," said Maureen Mahoney, policy analyst for the advocacy division of Consumer Reports. "Spoofed robocalls have become a major intrusion into consumers' everyday lives, and an all-too-convenient vehicle for scammers. We look forward to working with Senators Thune and Markey to refine this bill and pass a law to strengthen robocall protections available to consumers."
Robocalls are much more than a nuisance, agrees Alex Quilici, CEO of YouMail. Because they involve something so critical to our day-to-day lives—our phones—they pose a more fundamental danger.
"You simply can no longer trust the caller ID, the caller name, or who the caller talking to you says they are," he explains. "And that makes the phone a much less useful way to communicate."
What To Do
As the technology to protect phone users slowly begins to come online and as the new legislation winds its way through Congress, consumers are still going to be bombarded with billions of robocalls. But there are a few steps they should take now to better protect themselves.
List Your Phone Number With the Do Not Call Registry
By signing up for the Do Not Call Registry, you can request that your landline or cellular phone number be removed from the call lists companies use. That should help reduce the number of calls you get from legitimate telemarketers and robocallers.
What you should know: You'll still get calls from organizations with which you have established a business relationship; calls that are not commercial, such as school closings, storm warnings, and other civic notices; and calls from nonprofit organizations, including political solicitations.
And you should realize that many dishonest robocallers ignore the laws and will call you anyway.
Sign Up for Your Carrier's Robocall Alert Service
Many companies, including AT&T, Sprint, T-Mobile, U.S. Cellular, and Verizon, have services that alert you that an incoming robocall may be from a scammer or spammer. In some cases, such services are free, but for a few dollars more per month you can get a more robust version that can block the robocalls from ringing on your phone.
AT&T, for example, offers a basic free service that customers must enable to use. But for $4 per month it offers Call Protect Plus, which the company says is more robust and includes automatic fraud blocking. Verizon offers a screening service called Premium Caller ID for $3 per month. T-Mobile offers a service for no additional charge.
What you should know: While the carriers' systems are able to successfully notify customers of calls that may be problematic, they are far from perfect. Scammers can still spoof legitimate numbers.
Download a Call-Blocking App
Instead of simply being alerted to incoming robocalls, a call-blocking app can intercept robocalls before they reach you, says Mahoney at Consumer Reports. Among the providers are Nomorobo, which charges $2 per month for its service (there is no cost for landlines), and free apps such as Hiya, Mr. Number, RoboKiller, and YouMail.
What you should know: Though some apps, such as Nomorobo, don't access your contact lists, some of the free apps do. If you're planning to download a robocall-blocking app, read the app's privacy policy first.
Reject Anonymous Calls
One option available from some phone companies is to automatically reject anonymous calls. If you turn this feature on, all anonymous calls are instantly rejected, preventing the caller from even leaving a message.
What you should know: This can help at the margins, but robocalls are not always anonymous. In addition, this may prevent you from receiving legitimate calls from friends, relatives, or others who, for privacy reasons, don't want their number and other information showing up on caller ID.
If you receive an unwanted call that you believe is spam or a scam, make sure to report it to the FTC (you can make a report online) or to your telecom provider. By reporting unwanted calls, you can help the regulator go after bad actors.
How to Deal With Robocalls and Robotexts
Annoyed by robocalls and spam text messages on your mobile phone? On the "Consumer 101" TV show, Consumer Reports expert Margot Gilman offers advice to host Jack Rico on how to deal with these spammers.