When you shop through retailer links on our site, we may earn affiliate commissions. 100% of the fees we collect are used to support our nonprofit mission.
Learn more.
Honda has taken a page from the past with its redesigned, 11th-generation Civic, giving it a clean, simplified interior and a streamlined exterior that is more in line with Civics of the 1980s and 1990s than those built post-millennium. In doing so, Honda appears to be bringing the Civic back to what it once was: a sporty, affordable, and fuel-efficient car that delivered much more than its plain exterior design suggested.
Of course, promises on paper are worthless if the product doesn't deliver; that's why Consumer Reports buys and tests every rated vehicle before we can recommend it.
With this redesign, the 2022 Honda Civic sports new performance, safety, and infotainment features, including a stronger engine, improvements to EPA fuel economy, revised suspension, innovative front airbags, available rear-side airbags, 7- and 9-inch touch screens, and wireless Android Auto and Apple CarPlay.
The Civic will come standard with forward collision warning and automatic emergency braking. While a true blind spot warning system has replaced the previous Honda Lane Watch system (which used a video feed to display only what was on the right side of the car), it isn't standard equipment across the Civic line. This is disappointing, and it means that when CR tests the Civic, it won't receive full points for safety equipment in our Overall Score.
The redesigned 2022 Honda Civic will be available in four trims—LX, Sport, EX, and Touring—when it goes on sale this summer. The sporty Si and Type R will follow in the future. Here is what we know so far.
CR's Take
With the next-generation 2022 Civic, Honda is focused on evolutionary improvements. The current Civic line spans from basic sedan to track-minded pocket rocket. Highlights include a spacious interior for a small car, impressive fuel economy, a healthy roster of standard safety equipment, and lively turbo engines.
There are a few areas we'd like to see improved with this new version:
The outgoing Civic is so low to the ground that it creates access challenges for some passengers. Any gains in height for the seat base, or in door opening size, would help.
Hopefully, more seat adjustments will be available, including lumbar support.
And despite Honda's reputation for building dependable vehicles, reliability for the current Civic has been mostly average—since the last redesign in 2016.
But we are disappointed that blind spot warning is not standard on the Civic. We hope Honda makes a change as soon as possible to include this important safety feature on every trim as standard equipment.
Outside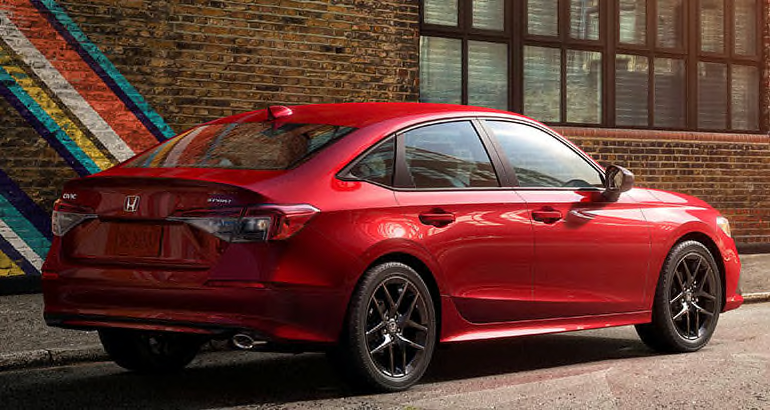 In profile the new Honda Civic looks as if it could almost be the baby brother of the Acura TLX luxury sports sedan that went on sale in 2020. The Civic has a long hood, a cabin pushed toward the rear, and a sloping roofline that ends in a small, ducktail spoiler. Overall the styling is more reserved than the current generation Civic. It isn't hard to envision the car in its future hatchback form.
Refreshingly, the beltline of the car is horizontal and doesn't end up pinching the rear window much at all. This, combined with the thin-looking roof pillars, expansive windshield, and large front-side windows, indicates that the visibility to the front and sides should be pretty good.
The front of the Civic features a big honeycomb grille, aggressive cutouts on either side, and wide LED headlights. At the rear are LED tail lights that extend into the trunk lid, which has a wide opening.
Buyers will have a choice of eight exterior colors, including two new hues of gray and a new, Civic-exclusive, metallic blue.
Inside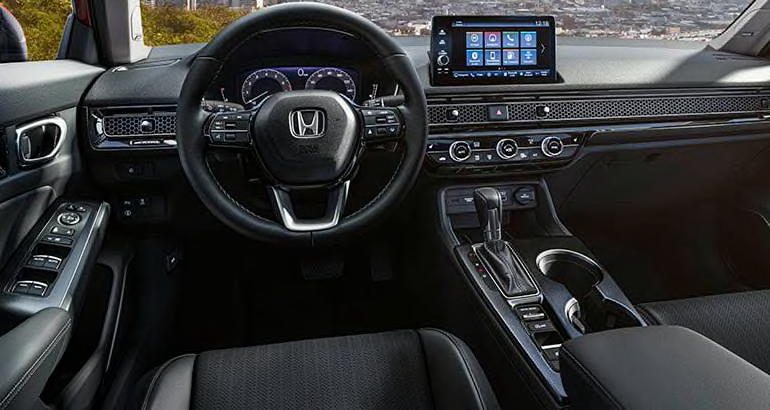 In its announcement of the 2022 Honda Civic, the automaker highlighted the work done to make the interior spacious and to provide good outward visibility. From the looks of the images provided, it seems that the goals were achieved.
Honda pointed out the low hood and cowl (where the dashboard meets the windshield), along with hidden windshield wipers, which all combine to improve visibility. The dashboard is low and flat, and doesn't have many seams or cut lines in it, which should help prevent odd reflections on the inside of the windshield. There is a prominent space between the side mirrors and the front windshield pillar, which will help drivers when having to look for traffic coming at a 90-degree or sharper angle from either side, such as at an intersection.
Following current styling trends, the standard 7-inch touch screen sits prominently above the center of the dash, no longer embedded in a housing. This base unit has knobs for both power/volume and tuning/selecting, along with physical buttons for moving between media types and phone connection, navigating audio menus, and skipping audio tracks.
The 9-inch screen in the Touring is like the system in other Honda vehicles. This larger touch screen has a physical volume knob and hard buttons for Home and Back functions, but all other controls—including tuning—are onscreen icons.
Both systems have standard wireless Android Auto and Apple CarPlay integration; the Touring adds standard Qi wireless charging.
The long mesh strip running the width of the dash houses the air vents while also making a styling statement, a trendy look shared with recent redesigns from other manufacturers. Sitting directly below the infotainment screen but separated by the mesh are conventional climate control knobs and buttons.
In the LX, Sport, and EX trims, the driver sits behind a partially digital instrument cluster and a three-spoke steering wheel. This standard screen is a 7-inch color LCD display with an all-digital speedometer and tachometer on the left side of the display; a physical speedometer dial is on the right side. This is similar to what is in the larger Accord.
Touring trims get an all-digital 10.2-inch color LCD panel that is customizable via steering-wheel controls. The center of the display houses information such as audio selection, status of the Honda Sensing safety systems, and a trip computer.
We're quite happy to see that the Civic retains a conventional gear selector, not the confusing push-button design seen in most of Honda's vehicle lineup.

What Drives It
There will be two powertrains offered when the 2022 Honda Civic goes on sale.
The LX and Sport trims will get a 158-hp, 2.0-liter four-cylinder engine that is mated to a continuously variable transmission (CVT). Revisions to the transmission include work done to reduce friction, all in an effort to improve fuel efficiency. The transmission also features changes to the programming that simulates gear shifts.
Meanwhile, EX and Touring trims are powered by a 180-hp, 1.5-liter turbocharged four-cylinder, also paired with a CVT that has the same programming updates to the gear-shift simulation.
Each trim has its own EPA fuel economy figures:
LX: 31 mpg city/40 mpg highway/35 mpg combined
Sport: 30 mpg city/37 mpg highway/33 mpg combined
EX: 33 mpg city/42 mpg highway/36 mpg combined
Touring: 31 mpg city/38 mpg highway/34 mpg combined
All figures either match or improve upon the 2021 Civics of the same trim.
According to the initial announcement of the Civic, the sporty Si and Type R versions will arrive at a later date, likely using a turbocharged four-cylinder engine. The Civic Si we last tested used a 205-hp, 1.5-liter turbocharged four-cylinder and six-speed manual transmission that made the car quick and returned better fuel economy than the base engine—a winning combination.
Under the Skin
Honda has given the new Civic a longer wheelbase (1.4 inches greater), which is claimed to contribute to smoothing out the car's ride quality along with improving handling.
The automaker made improvements to the front suspension, which remains a MacPherson strut setup, along with updates to the electronic power steering system.
The rear track—the distance between the center of the two wheels where they mount to the hub—has been increased by a half-inch to improve handling, and new suspension bushings have been used to reduce ride harshness.
Safety and Driver Assist Systems
All 2022 Honda Civics will come standard with the Honda Sensing suite of active safety and driver assist systems. This package includes FCW, AEB with pedestrian and cyclist detection, lane departure warning, lane keeping assistance, adaptive cruise control, and a traffic jam assist feature. The system uses a single-camera system rather than the camera-and-radar-based system in the last Civic.
Unfortunately, BSW is not available on the LX and Sport trims; it comes standard on the EX and Touring. This is disappointing because competitors, such as the Hyundai Elantra and Nissan Sentra, include BSW on all trims of their compact sedans.
The Civic will feature a new airbag design, first unveiled on the Acura TLX, that is engineered to reduce head rotation and brain injuries in some types of crashes. Both the driver and front-passenger seating positions will feature these airbags.