11 Products on Deep Discount in October
You'll find deals on mattresses, smart speakers, chainsaws, and more this month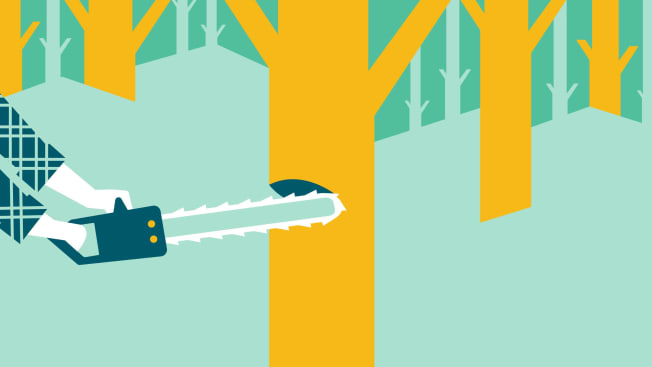 With autumn underway, it's a great opportunity to make sure your home and yard are prepped for colder weather.

During October you can often find good deals on chainsaws, leaf blowers, and snow blowers, as well as tech devices like smart speakers and smartphones. There also tend to be discounts on mattresses and large appliances around the mid-month holiday weekend.
Consumer Reports tracks the prices of all the products we test month by month to pinpoint when they tend to go on sale. This month can be a good time to buy these items, but keep in mind that you may find more and bigger discounts next month when retailers begin to roll out their holiday savings.
To see more of what gets deeply discounted the rest of the year, check out our calendar of deals.
Need to tackle some tree work? Look for sales on chainsaws in October. A top-rated model can help you clear out brush too thick for electric loppers, fell a tree that's threatening a roof, slice off dangerous broken tree limbs, or cut a tree into logs for your fireplace this winter.
Smart speakers enable a lot of entertainment and smart home options, and if you've wanted one, October is a great time to get it on sale. Amazon just announced its latest Alexa devices, including the new Echo Show 15, so look for discounts on the company's older smart speakers and possibly promotional offers for the new one.
There are three virtual assistants: Amazon Alexa, Apple's Siri, and Google Assistant. Siri is available only in the Apple HomePod, whereas you can find a variety of brands offering smart speakers that rely on Alexa or Google.
These assistants can set reminders and timers, call an Uber, order pizza, answer trivia questions, share news and weather updates, and so much more. Smart speakers can also be useful if you have any smart devices in your home, providing voice control for things like lights, thermostats, and your TV. Just make sure to check compatibility, because not every device works with every smart speaker.
CR has tested 42 different smart speakers for sound quality, versatility, and ease of use, among other factors, to help you choose the best option for your home.
Check out the following smart speaker deal.
Amazon Echo Show (2nd Generation)
The deal: $113 at Best Buy
CR's test results: Amazon Echo Show (2nd gen.) smart speaker
This Alexa-enabled Echo Show has been supplanted by the Show 10, which has an electric motor that allows the screen to follow you around the kitchen. If you're cool with passing up the swiveling display, though, the second-generation Show, which also features a 10-inch touch screen, is well worth a look, delivering robust bass and smooth treble. It's also very easy to set up; just follow the directions on the touch screen. And because the model, which originally cost over $200, has been replaced, you can get it for a great clearance price at Best Buy.
October is one of the best months to shop if you're in the market for a new mattress. The holiday in the middle of the month, whether you know it as Columbus Day or Indigenous Peoples Day, brings deals from popular mattress brands like Casper, Avocado, and Charles P. Rogers, as well as from retailers like Mattress Firm and US-Mattress.
There's a lot to consider when buying a new mattress, and your decision will depend mostly on your body type and sleeping habits. Some mattresses are made with organic materials, some incorporate coils and memory foam, and some have special materials like cooling gels. And they range from a few hundred dollars to well over $1,000, so your budget will affect your choices as well.
You can find out more about mattress options by reading CR's buying guide and reviewing our mattress ratings. A good mattress should last you eight to 10 years, so do the research and invest in one that will suit your sleeping style for years to come.
Check out the following deals on mattresses.
Avocado Latex Mattress (Queen)
The deal: $2,099 at Avocado
Avocado, the maker of our top-rated innerspring mattress, is offering $100 off its new all-latex mattress (as well as its hybrid mattresses) through Oct. 18 with the code AUTUMN. (CR hasn't tested this model yet.) The queen-size Avocado Green innerspring mattress is good for average-sized side and back sleepers, large/tall side and back sleepers, and petite back sleepers, according to CR's tests. And it's almost as good for petite side sleepers, making it an all-around solid choice for many mattress shoppers.
Bear Mattress (Queen)
The deal: $745 at Bear Mattress
CR's test results: Bear Original mattress
You can save $250 on a Bear mattress and get a free sheet set and two free Cloud pillows with the code FALL250, a sale price that matches the best we've seen this year. The original mattress from Bear performed well in our tests, and it's a good choice for back and side sleepers who are petite or of average height. (Tall folks may want to look elsewhere.) CR's tests found that it tends to retain heat, so it may be best for those who sleep cooler.
GhostBed The GhostBed Mattress (Queen)
The deal: $907 at GhostBed
CR's test results: GhostBed the GhostBed mattress
This online-only mattress-in-a-box retailer is offering a discount on its namesake mattress, the GhostBed. The currently listed listed full price is higher than we've seen—it used to sell for $1,095—so the discount isn't as large as it appears but is still worth it if this mattress is a good fit for your needs.
The queen-size GhostBed does well in our tests for supporting petites who sleep on their back, and it earns top marks for durability, which means it shows little change in performance after eight to 10 years of simulated use in our tests.
For more discounts: The Best Mattress Deals Right Now
Smoke & Carbon Monoxide Detectors
Smoke and carbon monoxide detectors are simple to install and inexpensive—plus they can save your life. So make sure yours are installed and working.
If you want or need to upgrade your devices, you may find new ones on sale this month. Basic smoke detectors typically start at $10, with carbon monoxide alarms costing $20 and up. Newer models offer more features that may be beneficial, such as WiFi-connectivity.
Smoke detectors are a must in all homes, and carbon monoxide detectors are needed for any home with fuel-burning appliances, such as a furnace, water heater, range, cooktop, or grill.
Before you shop, check regulations in your region because what you need, including types of detectors and their placement, can vary. Also, some insurance companies offer a discount for homes with smoke detectors. For more details, you can read our buying guide.
In general, avoid combination smoke and carbon monoxide detectors and purchase them separately. One exception in our tests is this model by Universal Security Instruments, which earned strong scores for detecting both smoke and carbon monoxide.
Check out the following deal on a smoke and CO detector.
First Alert Onelink Smart Smoke and Carbon Monoxide Detector
The deal: $81 at Amazon
CR's test results: First Alert Onelink Smart 1042135 smoke and CO detector
This smart smoke and CO detector has been on sale for a few weeks now but is nearly $15 lower than we saw it last week, an impressive discount. It connects directly to WiFi and receives strong scores in all our tests with the exception of flaming fires, because it lacks an ionization sensor. If you go with this detector, you may want to also consider purchasing a battery-powered ionization smoke detector, such as the Kidde RF-SM-DC. This First Alert comes in both battery-powered and hardwired versions, can interconnect with other compatible detectors, and works with Amazon Alexa and Apple HomeKit/Siri for voice control.
If your current smartphone isn't that current anymore and you're finally ready to get your hands on something newer, October may be your chance to find a recent model at a discount. While you'll find the widest variety of phones on sale next month, especially as Black Friday draws nearer, you may be able to score early discounts as carriers and retailers prepare for new phones.
You're especially in luck if you're an Apple fan, because the brand unveiled its new devices in September. As a result, you may be able to find deals on new and older models.
Not sure which phone is right for you? Our smartphone buying guide can help you find the perfect option to suit your lifestyle.
Even though winter is still a few months away, this month is perfect to start preparing for the next season, and snow blowers are among the most deeply discounted products in October. You can pick one up now and be ready for the first big winter storm.
There are many types of snow blowers, and Consumer Reports' testing has found that size doesn't always matter. You don't necessarily need the most powerful model to get the job done; choose the model that will work best in your climate and for your property. You can spend as little as $200 for one that will handle light dustings or well over $1,000 for a model that removes heavier snow.
When choosing a snow blower, look for one that blends competent clearing ability with a smooth, single-lever chute control that sends snow in any direction you want it to go.
For more details, check out our snow blower buying guide and recommendations.
Leaf blowers are a great time saver in the fall if you have trees on or near your property. They will make quick work of corralling fallen leaves, grass clippings, weeds, and other debris all year. So you may want to invest in one this month while you can score a good deal.
Consumer Reports has put more than 50 models, including gas-powered, battery-powered, and corded electrics, through rigorous tests to help you find one that suits your needs. CR's buying guide will help you learn more so that you can shop with confidence.
A new thermostat can give you better control over your home's heating and cooling. Consumer Reports tests both programmable and smart thermostats, both of which can help you save on your utility bills, and our data shows they tend to go on sale in October.
Smart thermostats allow users to control the devices from their smartphones or via voice commands to virtual assistants like Amazon Alexa and Google Assistant. Many even use technology called geofencing that can automatically lower temperatures when the house is empty. Programmable models may not be as feature-heavy but still allow you to set schedules right on the device, so Consumer Reports tests how easy it is to do so.
If you're not sure which would be the better option, check out CR's buying guide to learn more about the advantages of each.
Check out the following deals on smart thermostats.
Google Nest Learning Thermostat
The deal: $199 at Amazon, Best Buy, Home Depot, Staples, Walmart
CR's test results: Google Nest Learning thermostat
This is one of the best smart thermostats in our ratings, and it's on sale from its usual $250 in select finishes right now. The Nest thermostat aces CR's test for automating heating and cooling, and offers a wealth of smart features to enhance its functionality, including an occupancy sensor (it can adjust the temperature based on whether people are present in a room) and geofencing to turn the temperature up or down when you leave and return home. One caveat: Our testers found that the manual controls aren't the easiest to use. Google also makes wireless, remote Nest Temperature Sensors for the thermostat, which are sold separately for $39 each at Amazon, Best Buy, Google, and Home Depot
Honeywell Home Smart Thermostat
The deal: $169 at Amazon and Home Depot; $173 at Best Buy
CR's test results: Honeywell Home T9 RCHT9510WF smart thermostat
The sleek Honeywell Home thermostat that typically costs $200 earns high marks in our test for manual operation and does a great job of automating a home's heating and cooling. This thermostat comes with a wireless remote temperature sensor for more precise temperature control throughout your home and offers a number of other features, including geofencing, a built-in occupancy sensor, a touch screen, vacation scheduling, and voice and app control via Amazon Alexa, Google Assistant, and Samsung SmartThings, but not Apple HomeKit. Additional temperature sensors cost $40 each, or $75 for a two-pack, and are available at Amazon, Best Buy, and Honeywell Home.
Whether you're looking to upgrade your appliances for a kitchen renovation or suddenly find yourself in need of a new oven, October is often an excellent time opportunity be on the lookout for sales. You may also find decent sales on ranges this month, thanks to holiday weekend promotions. If you're replacing your existing range, you may want to stick with a similar make and model because it will mean less hassle. Switching from electric to gas or vice versa requires more prep work and a more intensive installation and removal process. Even if you find a good deal this month, a new range may be a purchase to consider putting off unless absolutely necessary.
To learn more about the different kinds of ranges, read CR's buying guide, which will help you determine which options will work in your kitchen.
Check out the following deal on a range.
Frigidaire Electric Smoothtop Single-Oven Range
The deal: $898-$900 at Best Buy and Home Depot
CR's test results: Frigidaire FFEH3054US range
This Frigidaire is on sale for about $400 off the regular price. It has chunky, pro-style knobs, a cooktop warming element, and a storage drawer beneath the oven cavity. One thing you'll give up is convection, which you won't find at this price in a slide-in.
If you're remodeling, a new cooktop can be perfect for your kitchen island, especially if you plan to install an in-wall oven. Cooktops tend to drop in price around the holiday weekend, making this month an ideal shopping opportunity.
You'll find gas, electric, and induction cooktops ranging from 21 to 48 inches. Many have five or six burners, but that doesn't mean you'll have room to use them all at once. In general, most 30-inch cooktops have four or five burners, and most 36-inch cooktops have five or six.
Learn more about the advantages of each cooktop in our buying guide to determine which is the best fit for your home before you start shopping around. Then start your search with CR's recommended models, which passed our rigorous tests with flying colors.
Check out the following deal on a cooktop.
Samsung Electric Cooktop
The deal: $1,300 at Appliances Connection
CR's test results: Samsung NZ30K7570RG Cooktop
This cooktop scores well in CR's tests when it comes to both high- and low-heat cooking. It also has a WiFi connectivity feature that lets you set and monitor your heat from your phone for even more precise cooking. Typically, you'll see this cooktop sell for nearly $1,500.
If you're considering upgrading to a wall oven, which offers lots of flexibility that you won't find in a range, the model you want may be available at significant discount this month. Because most wall ovens are electric, they can be installed on just about any wall in your kitchen and at any height, so you won't have to bend over when pulling out hot, heavy dishes.
Spend a lot of time cooking? You may want to look into getting a double oven. Or perhaps you're in the market for one with a convection mode to reduce cook times or variable broil to cook with even more precision. All of these options are out there, making it paramount to research before you buy. Purchasing any major appliance, especially an oven, is a big decision, and we recommend reading our buying guide and exploring our ratings and recommendations before you choose a model. Doing the research is essential to ensuring you're satisfied with your new wall oven.
Wall ovens typically range from $850 to upward of $6,000, but keep an eye out for sales at major retailers like Lowe's, Home Depot, Best Buy, Appliances Connection, AJ Madison, Sears, and Walmart.
When you shop through retailer links on our site, we may earn affiliate commissions. 100% of the fees we collect are used to support our nonprofit mission. Learn more.