When you shop through retailer links on our site, we may earn affiliate commissions. 100% of the fees we collect are used to support our nonprofit mission.
Learn more.
When you shop through retailer links on our site, we may earn affiliate commissions. 100% of the fees we collect are used to support our nonprofit mission. Learn more.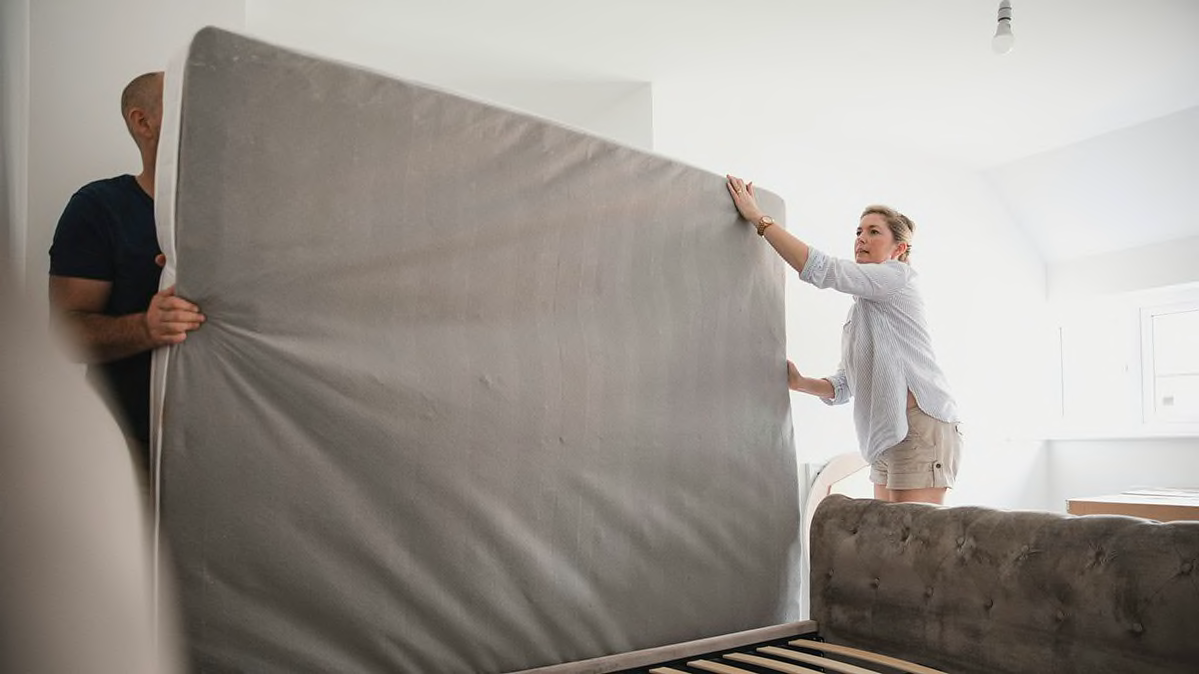 With autumn underway, it's a great time to make sure your home and yard are prepped for colder weather.

During October you can often find good deals on mattresses, leaf blowers, chainsaws, snow blowers, smoke and carbon monoxide detectors, and smart speakers.
Consumer Reports tracks the prices of all the products we test month by month to pinpoint the times they tend to go on sale. This October, thanks to a delayed Amazon Prime Day and early holiday sales, there will also be ample sales on a wide variety of products all month.
To see more of what gets deeply discounted the rest of the year, check out our calendar of deals.

Mattresses
October is one of the best months to shop if you're in the market for a new mattress. The holiday in the middle of the month, whether you know it as Columbus Day or Indigenous Peoples Day, will bring deals from popular mattress brands like Casper, Avocado, and Charles P. Rogers, as well as from retailers like Mattress Firm and US-Mattress.

There's a lot to consider when buying a new mattress, and your decision will depend mostly on your body type and sleeping habits. Some mattresses are made with organic materials, some incorporate coils and memory foam, and some have special materials like cooling gels. And they range from a few hundred dollars to well over $1,000, so your budget will affect your choices as well.
You can find out more about mattress options by reading CR's buying guide and reviewing our mattress ratings. A good mattress should last you eight to 10 years, so do the research and invest in one that will suit your sleeping style for years to come.
Helix Luxe Mattress (Queen)
The deal: $1,649 at Helix Sleep
CR's test results: Helix Sleep Midnight Luxe mattress
Finding the right mattress for how you sleep can be tricky, but in our tests the Midnight Luxe was a great choice for people of all sizes, whether they sleep on their back or side.
When you use the code FALLINBED200, you'll actually save only $150 on this mattress (which originally cost $1,799) despite what the website says, but it's still a good discount. Plus, this deal includes two free pillows. One other thing to note is that this mattress is 14 inches high, meaning you'll need to use deep-pocket sheets.
Sealy Response Performance Elm Avenue Mattress (Queen)
The deal: $649 at US-Mattress
CR's test results: Sealy Response Performance Elm Avenue Firm 11 innerspring mattress
This innerspring mattress is an especially great option for small and average-sized back sleepers. Side sleepers and large/tall back sleepers might not enjoy quite the same comfort, based on CR's test results. But if you find yourself in the first group, this mattress, especially at this impressive sale price, is worth considering. US-Mattress is offering an additional $100 off if you buy two Sealy mattresses with the code BUY2SAVE.
Chainsaws
Need to tackle some tree work? Look for sales on chainsaws in October. A top-rated model can help you clear out brush too thick for electric loppers, fell a tree that's threatening a roof, slice off dangerous broken tree limbs, or cut a tree into logs for your fireplace this winter.
Chainsaws come in a range of sizes, from small electric models (some with cords, some without) to hefty gas-powered models intended for heavier work. Prices often correlate with engine size for gas saws and voltage for electric saws, along with the length of the cutting bar, the arm of flat metal that guides the chain.
Finding the right model depends on how—and how often—you plan to use your chainsaw. Check out CR's chainsaw buying guide and ratings to learn more about the various models.
DeWalt Battery-Powered Chainsaw
The deal: $649 at Amazon
CR's test results: DeWalt DCCS670X1 Chainsaw
DeWalt is one of the few brands offering early Prime Day deals on Amazon, and this top-tested battery-powered chainsaw is among the deals. It's only $20 less than usual, but if you need a lightweight chainsaw to make quick work of any big project, this may do the trick.
Smart Speakers
Smart speakers enable a lot of entertainment and smart home options, and if you've wanted one, October is a great time to get it on sale, especially because Amazon is already running early Prime Day deals on its Alexa devices.
There are three virtual assistants: Amazon Alexa, Apple's Siri, and Google Assistant. Siri is available only in the Apple HomePod, whereas you can find a variety of brands offering smart speakers that rely on Alexa or Google. These assistants can set reminders and timers, call an Uber, order pizza, answer trivia questions, share news and weather updates, and so much more.
Smart speakers can be especially useful if you have any smart devices in your home, providing voice control for things like lights, thermostats, and your TV. Just make sure to check compatibility, because not every device works with every smart speaker.
CR has tested 52 different smart speakers for sound quality, versatility, and ease of use, among other factors, to help you choose the best option for your home.
Amazon Echo Dot Smart Speaker
The deal: $40 for two at Amazon
CR's test results: Amazon Echo Dot (3rd-generation)
The Echo Dot is a great low-cost option that's very versatile, small enough to fit anywhere, and easy to use. Its music playback doesn't sound the best, but you can use the AUX jack to connect it to a better speaker for your tunes. Right now Amazon is running an early Prime Day promotion where you can get two for less than the price of one, which usually costs $50. Just use the code DOTPRIME2PK at checkout.
Marshall Stanmore II Smart Speaker
The deal: $250 at Amazon and Best Buy
CR's test results: Marshall Stanmore II Voice smart speaker
This Amazon Alexa-powered smart speaker is a great choice if you want something to enhance your décor, and it recently dropped an extra $70. It's designed to resemble Marshall's iconic guitar amplifiers. Our testers found the knobs to be well-placed, clearly labeled, and easy to use. The sound quality is less refined than that of rival speakers, with a somewhat boomy bass and a midrange that's slightly congested, but the unit provides enough volume to fill a large room.
Snow Blowers
Even though winter is still a few months away, this month is a great time to start preparing for the next season, and snow blowers are among the most deeply discounted products in October. You can pick one up now and be ready for the first big winter storm.
There are many types of snow blowers, and Consumer Reports' testing has found that size doesn't always matter. You don't necessarily need the most powerful model to get the job done; choose the model that will work best in your climate and for your property. You can spend as little as $200 for one that will handle light dustings or well over $1,000 for a model that removes heavier snow.
When choosing a snow blower, look for one that blends competent clearing ability with a smooth, single-lever chute control that sends snow in any direction you want it to go.
For more details, check out our snow blower buying guide and recommendations.
Leaf Blowers
Leaf blowers are a great time saver in the fall if you have trees on or near your property. They will make quick work of corralling fallen leaves, grass clippings, weeds, and other debris all year. So you may want to invest in one this month while you can score a good deal.
Consumer Reports has put more than 50 models, including gas-powered, battery-powered, and corded electrics, through rigorous tests to help you find one that suits your needs. CR's buying guide will help you learn more so that you can shop with confidence.
Smoke & Carbon Monoxide Detectors
Smoke and carbon monoxide detectors are simple to install and inexpensive—plus they can save your life. So make sure yours are installed and working.
If you want or need to upgrade your devices, you may find new ones on sale this month. Basic smoke detectors typically start at $10, with carbon monoxide alarms costing $20 and up. Newer models offer more features that may be beneficial, such as WiFi-connectivity.
Smoke detectors are a must in all homes, and carbon monoxide detectors are needed for any home with fuel-burning appliances, such as a furnace, water heater, range, cooktop, or grill.
Before you shop, check regulations in your region because what you need, including types of detectors and their placement, can vary. Also, some insurance companies offer a discount for homes with smoke detectors. For more details, you can read our buying guide.
Avoid combination smoke and carbon monoxide detectors. Currently no single smoke or carbon monoxide detector on the market does a good enough job at detecting both. You're better off installing a smoke detector and a carbon monoxide detector.