When you shop through retailer links on our site, we may earn affiliate commissions. 100% of the fees we collect are used to support our nonprofit mission.
Learn more.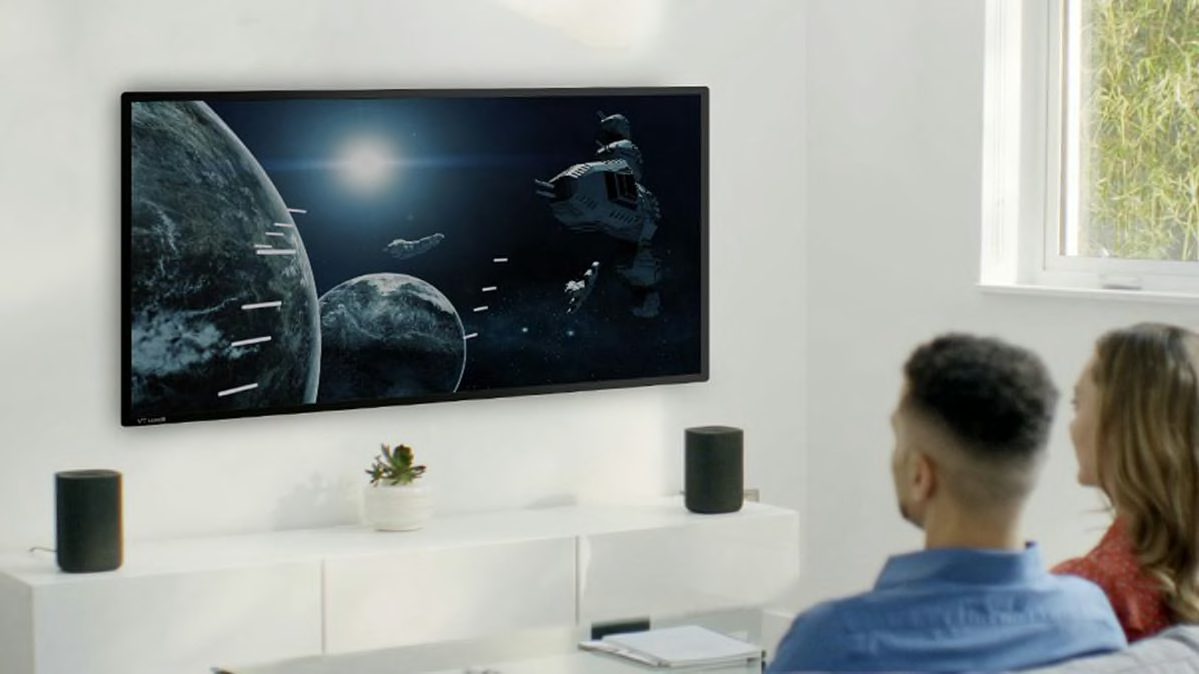 If you own a Roku TV, you'll soon have a new option for improving its sound quality: Roku Wireless Speakers, which are the company's first smart TV speaker system.
The speakers, which will arrive this fall, are a bit unusual. For one, while they look like a regular stereo pair of wireless bookshelf-style speakers, they're designed to work more like a sound bar to help improve the audio quality of Roku TVs. But the other, more important distinction is that they'll really work only with Roku TVs.
The Roku Wireless Speakers could be a boon for Roku TV owners, since all the Roku TVs we've tested have had only middling or fair sound quality. You can add any sound bar to a Roku TV to improve the sound, but there are a few advantages to using this new speaker system. (Check our buying guide and reviews of smart speakers.)
One is simplified setup: There's no need to run cables because the speakers connect to the TV wirelessly, and setup is done right from the TV screen. Another is that you can control the speakers and any Roku TV using the two included voice remotes, which you can also use with older Roku TVs, giving them voice capability. The remote controls will also work with future devices, such as sound bars and multiroom speakers—that could be built using the Roku platform. (See more details on the remote controls, below.)
The speakers also have automatic volume leveling—they will lower the volume on loud scenes and boost the volume on quieter ones—as well as a dialogue-enhancement feature that purportedly makes speech more intelligible.
The Roku Wireless Speakers will cost $200 per pair when they become available in October, but for one week starting today, you can get the speakers for $150; the price will be $180 if you buy from July 24 through October 15.
Roku's announcement was a bit of a surprise, because during CES 2018, TCL—the biggest seller of Roku TVs in the U.S.—announced it would be the first company to offer a Roku-compatible audio product, a smart sound bar speaker.
But TCL says that development of the product has taken longer than expected, and the sound bar has been delayed until 2019, when TCL plans to launch a family of Roku-based smart products under the "Alto" banner.
The underlying technology that powers the Roku Wireless Speakers is called Roku Connect. It's a software platform designed to let other companies build audio products that connect wirelessly to Roku-enabled devices, so you can control them using voice commands from a Roku TV remote. Roku Connect will be a part of a larger software update coming later this year, the company tells us.
Also on the horizon is the Roku Entertainment Assistant, basically the company's answer to voice-powered digital assistants such as Amazon Alexa and Google Assistant. However, as its name suggests, the Roku Entertainment Assistant—which will also be rolled out to Roku TVs, streaming players, and speakers later this year—is focused strictly on entertainment. So you'll be able to use voice commands to control other Roku-enabled devices such as streaming media players, but you won't get the broader range of skills offered by Alexa, Google Assistant, or Apple Siri.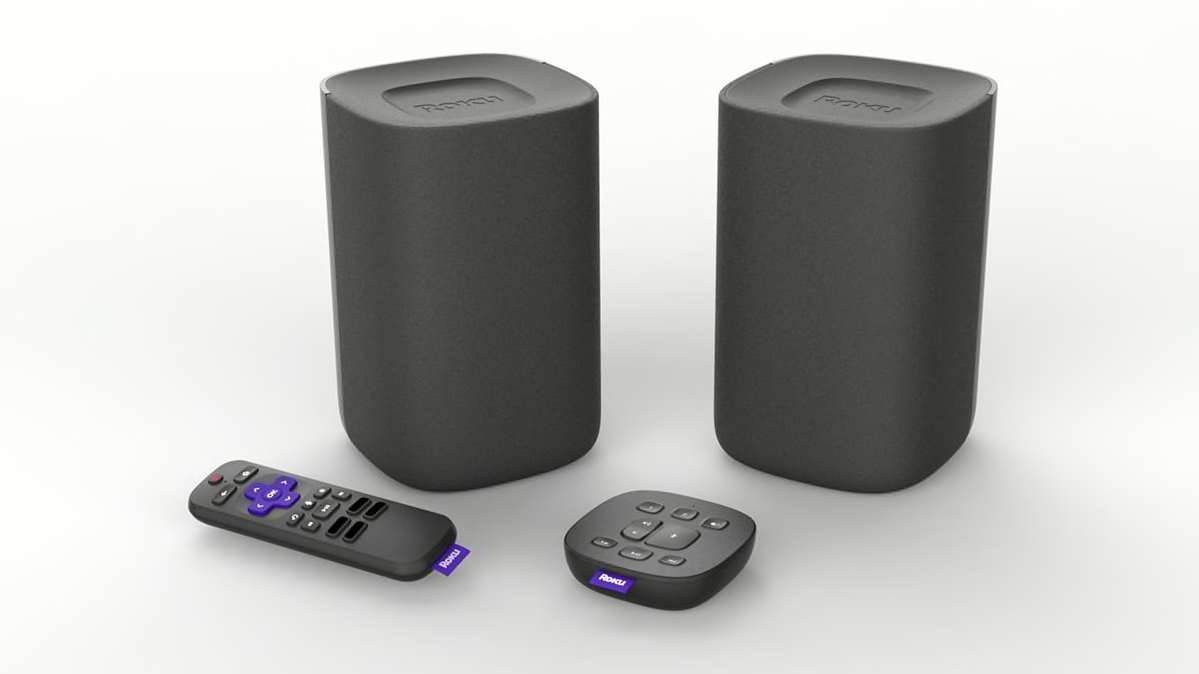 Two Remotes: WiFi and Bluetooth
One cool element of the Roku Wireless Speakers is that the system comes with two voice remotes: a conventional-looking RF Roku remote, plus a puck-shaped tabletop remote (shown, above.) The company says the latter can be placed in nearby rooms when you're not sitting in front of the TV. So, for example, you could adjust the TV's volume if you're in the kitchen, or start a playlist from your home's entryway.
In addition to voice control, there are volume, play or pause, and skip forward and/or back buttons on the remote; two buttons can be programmed to save favorite voice commands as presets.
The Roku Wireless Speaker pairs to your Roku TV using WiFi, but they also include Bluetooth technology so you can stream music or soundtracks from your phone to the speakers. The speakers are designed to work exclusively as a stereo pair in one room, so you can't split them up to act as a multiroom speaker setup in two rooms, as you can with Sonos speakers.
Although the speaker system will work only with Roku TVs, the roster of those models is growing. There are now nine Roku TV brands: Element, Hisense, Hitachi, Insignia, Magnavox, Philips, RCA, Sharp, and TCL.
We were able to check out a preproduction set of Roku Wireless Speakers during a short demonstration last week, and they seemed capable of greatly improving the sound of a TCL TV with both music and movie soundtracks. As always, we'll do a full evaluation of these new speakers as soon as they're available for purchase.
What Makes a Great Speaker?
Do you know the difference between good speakers and excellent speakers? On the "Consumer 101" TV show, Consumer Reports' expert Elias Arias explains to host Jack Rico the art of identifying quality devices.