Four New iPhone 13 Models Promise Modest Upgrades in Power and Performance
Apple will also launch the Watch Series 7 and updated iPad and iPad Mini tablets Apple unveiled four new iPhones on Tuesday, touting a list of improvements including redesigned cameras, bigger batteries, faster processors, and higher-refresh-rate displays that could greatly improve scrolling smoothness and gaming performance, the company says.
Overall, the new phones—the iPhone 13 Mini, iPhone 13, iPhone 13 Pro, and iPhone 13 Pro Max—include just incremental improvements from the previous generation of iPhones.
The company also introduced the new Apple Watch Series 7, a new iPad, and a new iPad Mini.
Like last year's iPhone 12 models, the iPhone 13 and 13 Mini are close siblings, differentiated mainly by screen size. The iPhone 13 has a larger battery, though, which could make it the better pick for those who need a phone with a bigger fuel tank. How much better? We'll know more once we run the two models through our battery-life test protocol.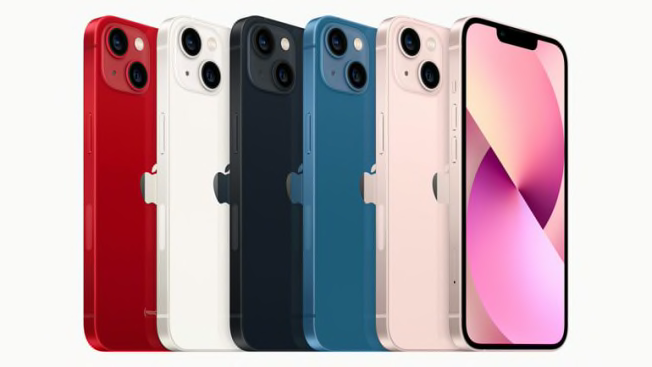 Eagle-eyed consumers may also notice that the notch above the display on this year's models is slightly smaller.
New processor: Apple says the A15 Bionic chip in all four phones is faster and more efficient, designed to provide the power needed for high-speed applications, such as gaming and machine learning.
New cameras: The new rear setup still features two cameras: one wide-angle and one ultrawide-angle. But both use the larger sensor introduced on the 12 Pro Max, which could yield better low-light images.
They also offer a new Cinematic Mode that Apple says will allow you to create "rack focus" video effects, essentially shifting the focus from the foreground to the background and then back again—even after the footage has been shot.
Think of it like the blurred-background bokeh effect you get when you use Portrait Mode for still photography.
Displays: With the exception of the smaller notch, the OLED displays are largely unchanged from the iPhone 12 and 12 Mini. That's not a bad thing, considering how well those models performed in our tests, producing vibrant colors, great contrast, and deep blacks. Unlike the 13 Pro and Pro Max (details below), the display remains at 60 hertz. That's a measurement of how fast the screen refreshes; in this case, it's 60 times per second, which has been the smartphone standard since the days of the original iPhone in 2007.
New colors: The iPhone 13 Mini and iPhone 13 will be available in red, midnight (black), starlight (gray), blue, and pink.
iPhone 13 Pro and Pro Max
Here again, the chief difference between the two models is screen size: The smaller 13 Pro measures 6.1 inches and the 13 Pro Max stretches to 6.7 inches.
Compared with the less expensive models, the 13 Pro and 13 Pro Max have a faster, more responsive display; more storage space; and better camera tech.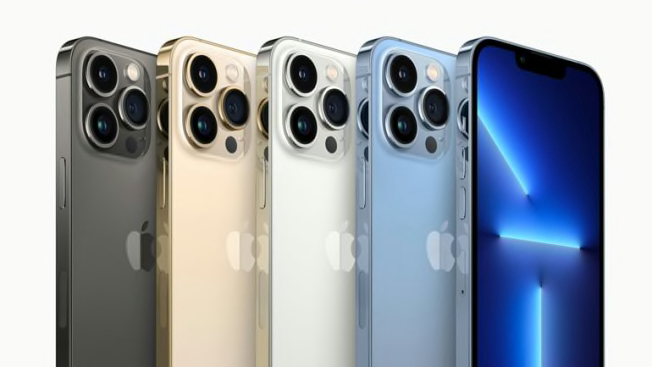 They're available in four colors: graphite (gray), gold, silver, and sierra blue.
Displays: The Pro models offer a new display technology, dubbed ProMotion by Apple.
It uses a dynamic 120-hertz refresh rate, twice that of the iPhone 13 and earlier iPhone models. In practice, that means animations, such as scrolling through apps, hopping between apps, and playing games, will appear more smooth and responsive. Until now, ProMotion displays were available only on the iPad Pro.
Cameras: As with the iPhone 12 Pro models, the new iPhone 13 Pro phones have three rear-facing cameras this time around: a wide-angle, ultrawide-angle, and telephoto. The new twist is the ability to shoot video in a file format called ProRes, which is used in professional settings (chiefly Apple's own Final Cut Pro video editing app) for editing high-quality, high-resolution video. Video can be recorded up to a resolution of 4K at 30 frames per second.
The Pros also have a new macrophotography mode that helps highlight the details of very close objects (as near as 2 centimeters away, according to Apple), such as flowers and jewelry.
Storage: The iPhone 13 Pro and Pro Max start at 128 gigabytes of storage, but now increase at the top end from 512GB found in last year's model to a whopping 1 terabyte. This added storage space may come in handy if you shoot a lot of high-res video. An iPhone 13 Pro with 1TB of storage costs $1,500, while a 13 Pro Max with 1TB of storage costs $1,600.
The new Watch features a softer profile with more rounded contours and edges. The screen sizes grow slightly to 41 and 45 mm, up from the 40 and 44 mm sizes on the Apple Watch Series 6. Apple says it achieved this by trimming the Watch's bezels to 1.7 mm in width.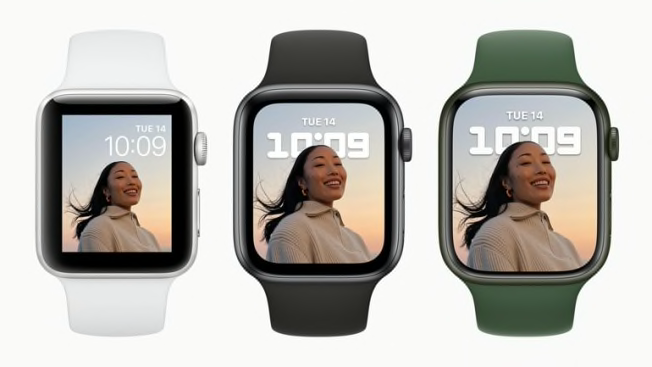 Despite the change in size, bands from the previous-gen watches will still be compatible with the Watch. Colors include blue, red, black, and silver (called midnight and starlight) as well as a striking new deep green. The Series 7 will also be available in silver, graphite, and gold stainless steel.
Apple says the larger OLED screen will be much brighter indoors and allow for more text on the screen. To take advantage of this increased acreage, there are redesigned buttons as well as a new QWERTY keyboard for entering text. Apple will also introduce new watch faces.
Apple claims the new USB-C charger is 33 percent faster than the one that came with the previous-generation watch, although the device's claimed 18-hour battery life remains unchanged. A new crystal is thicker and more crack-resistant, the company says. The Series 7 adds an IPX6 dustproof certification to its WR50 water-resistance rating.
The Watch runs Apple's OS8 operating system, which adds a variety of new features, including a meditation app, tai chi and Pilates workouts, and enhanced cycling features designed to better accommodate e-bikes.
Apple Fitness+, the exercise program designed around the Apple Watch, now includes a Get Ready for Snow Season program with Olympic gold-medal winning skier Ted Ligety and a Peloton-like group exercise program that allows you to sweat—and, yes, compete—with up to 32 of your closest friends.
The Series 7 starts at $400, the same as the Series 6. The budget-priced SE remains in the line at $280, along with the older Series 3 watch for $200. Apple didn't give a firm on-sale date for the Series 7 Watch, saying only that it will be available later this fall.
Apple opened its Tuesday media event with the entry-level iPad, which maintains its $330 starting price but doubles the starting storage space from earlier models, to 64 gigabytes. The design is largely unchanged, which helps maintain compatibility with accessories like the first-generation Apple Pencil stylus.
The iPad is on sale today and shipping next week.
The new iPad uses the A13 Bionic chip (a chip that made its debut with the 2019 iPhone Pro), which Apple claims is significantly faster than the processor found in last year's iPad. The display remains 10.2 inches but adds a few tricks compared with last year's model, including True Tone technology, which automatically adjusts the color temperature depending on ambient light, making it easier to see the display in different environments.
The 12-megapixel front-facing camera now supports the Center Stage mode found on the iPad Pro, which automatically detects people in the frame and keeps the camera centered on them as they move about during, say, a video call.
Apple CEO Tim Cook called this year's iPad Mini the device's "biggest upgrade ever," marking the first major redesign since the tablet's 2012 introduction.
The Mini now has an 8.3-inch edge-to-edge display (up from 7.9 inches on its predecessor), a faster processor, and optional 5G wireless connectivity. The model also uses USB-C, instead of Apple's Lightning connector, which should make it more convenient to connect to third-party accessories like digital cameras.
The iPad Mini starts at $500 with 64 gigabytes of storage. It goes on sale today and ships Sept. 24.