When you shop through retailer links on our site, we may earn affiliate commissions. 100% of the fees we collect are used to support our nonprofit mission.
Learn more.
Apple's newest smartphones, the iPhone 8 and 8 Plus, look and act a lot like last year's models. But upgrades to the cameras, longer battery life, and wireless charging do give the new models a performance edge over the iPhone 7, placing them among the highest rated phones in Consumer Reports testing.
The cameras got the biggest improvements, with testers reporting that the phones' rear cameras were among the best they'd ever evaluated. Strong points include juiced-up 4K video recording capabilities and a best-in-the-industry slow-motion feature.
But that may not be enough to convince iPhone 7 owners to upgrade, says Richard Fisco, Consumer Reports' head of smartphone testing. "This is basically an incremental update," he says, adding that anyone shopping for a truly revamped iPhone should wait a few weeks for the higher-end iPhone X to debut—assuming you can stomach the $1,000 price tag.
Not that these phones are cheap: The iPhone 8 starts at $699, while the iPhone 8 Plus costs $799 and up.
Here's a deeper look at our test results:
High-Scoring Cameras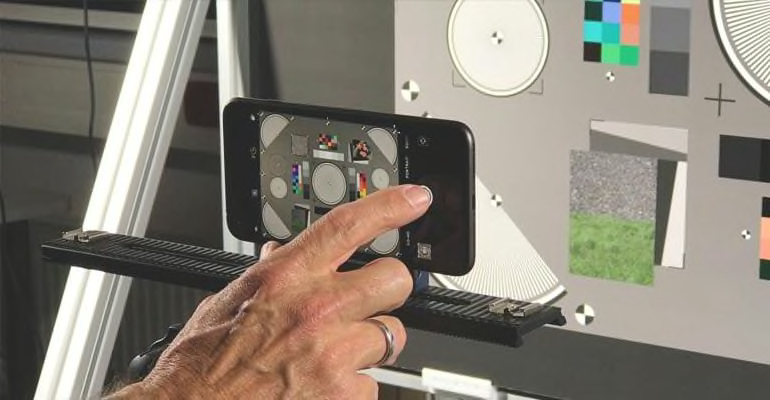 This is where the iPhone 8 and 8 Plus really shine. Testers say the cameras on these models are among the best you can find in a smartphone right now.
These are the first smartphones to shoot 4K ultra HD video at a rapid 60 frames per second, up from 30 fps in the iPhone 7. This enables the new models to do a better job of capturing fast-moving action such as sports. The difference was easily noticeable.
Apple also doubled the maximum frame rate used for shooting in slow motion. The new rate of 240 fps—which is available in regular 1080 HD, not 4K—lets you really slow the action, allowing for elegant videos.
Still photography is improved, too. Both phones have a 12-megapixel rear camera, but in the 8 Plus you get a model with dual lenses: one wide-angle and one zoom. The 2x optical zoom of the second lens makes it easier to take pictures of something far away while keeping the image sharp. Single-lens cameras use software to enlarge the picture, but that reduces image quality.
The second lens also allows for a feature Apple calls Portrait Mode, allowing a photographer to introduce effects such as focus in on a subject while blurring the background—a common photography effect known as bokeh.
To evaluate the cameras, the testers took pictures outdoors on a sunny day and in a lab with bright and low light, then evaluated the resulting images on a high-quality 24-inch screen and on color laser printouts. They found the images from both of the phones to be "among the best" for color quality, exposure level, sharpness, and low noise.
Testers also evaluated the front-facing, or selfie, cameras on the phones and found their quality to be very good.
Water- and Drop-Resistant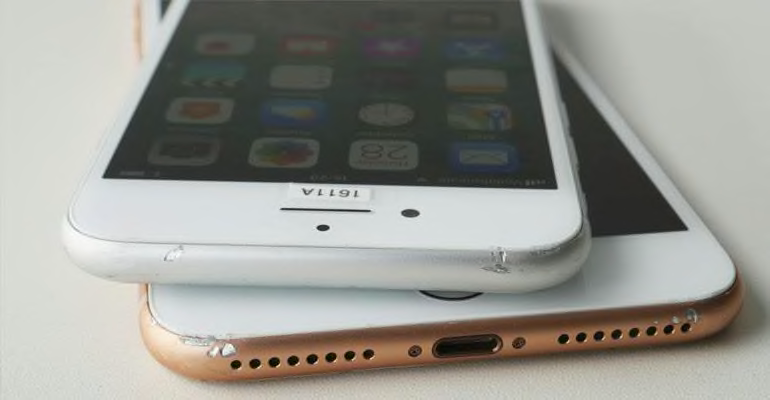 Like other phones that offer wireless charging, the iPhone 8 and 8 Plus have glass backs, which could make them more vulnerable to getting damaged in a fall.
To evaluate that, smartphones tested by Consumer Reports take a ride in a specialized tumbler that drops them about 2.5 feet onto a hard surface—and then, for good measure, repeats that 99 more times. Both phones survived with just minor scrapes. (They didn't fare quite as well in a test we conducted in September, which included a drop onto concrete from a height of 5 feet.)
Both phones also survived a dunk test to evaluate Apple's claims for water resistance. The test involves lowering the phones to a depth of about 3 feet, where they sit for 30 minutes. They're examined right afterward to see if they're still working, as well as one, two, and three days later.
Should you go swimming with your iPhone 8? No. But there's no need to panic if you drop it in the kitchen sink.
Improved Battery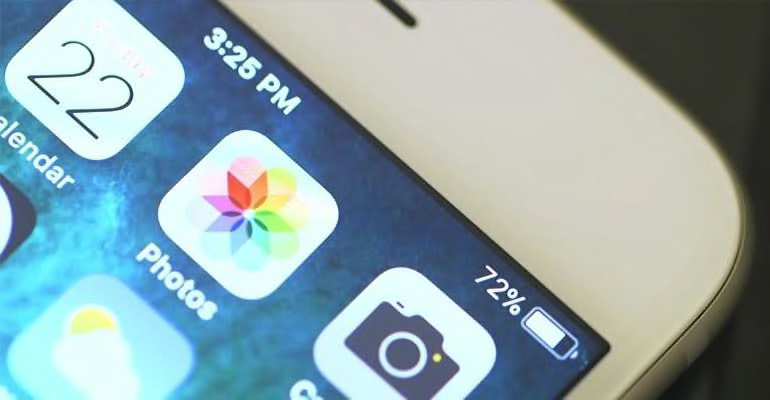 Battery life tops the list of priorities for many smartphone users, and our testing shows that while the new iPhones don't lead the field, they do run slightly longer on a charge than the iPhone 7 models.
To find out exactly how long a battery can go, a robotic arm is programmed to repeatedly put a phone through a range of tasks designed to simulate a consumer's average day.
In our testing, the iPhone 8's battery lasted 19 hours, while the 8 Plus made it to 21 hours—both decent stretches, in line with other highly rated phones. In comparison, the iPhone 7 and 7 Plus clocked in at 18.5 and 20.5 hours, respectively.
The 8 and 8 Plus also mark the introduction of wireless charging to the iPhone. This is a convenient feature—you just drop the phone on a charging pad rather than plugging it in. It will work with Qi-compatible chargers already on the market, so you don't have to wait to buy an Apple-branded model, which the company is promising for next year. Note that wireless charging is typically slower than charging with a conventional plug.
Easy-to-Read Display
Many high-end phones are built with OLED displays, which can save energy while boosting contrast. Like a number of Android phones, Apple's upcoming iPhone X will come with an OLED display, but the iPhone 8 and 8 Plus use a more conventional LCD screen.
Would a typical consumer like an OLED better? Maybe—it really depends on the entire package of hardware and software in a particular model.
Does the use of LCDs mean the iPhone 8 models are sub-par? Not at all: Testers gave these "smooth, crisp displays" excellent marks. The screens were bright, effective at minimizing reflective glare, and easy to read both inside and out.
One twist is that Apple added True Tone to the new phones, a technology that's already used on iPads. It automatically adjusts the display's white balance depending on the lighting conditions around you, with the goal of making colors look consistent. (Consumer Reports has found it useful on the iPad, depending on what you're doing.)
Game-Worthy Performance
Apple says the new Bionic A11 processor included in both the 8 and 8 Plus is the fastest ever on a smartphone. Our benchmark tests, which are designed to stress and evaluate the phone's processor, memory, and graphics capability proved that to be true.
That's good news for people who like to play processor-intensive games, or who want to take advantage of the growing number of augmented reality apps being produced. And the same processor is being used in the iPhone X.
But, if you have an iPhone 7 or 7 Plus, don't worry that you're missing out: Their A10 processor is no slouch either and should be able to handle many of the same tasks.