When you shop through retailer links on our site, we may earn affiliate commissions. 100% of the fees we collect are used to support our nonprofit mission.
Learn more.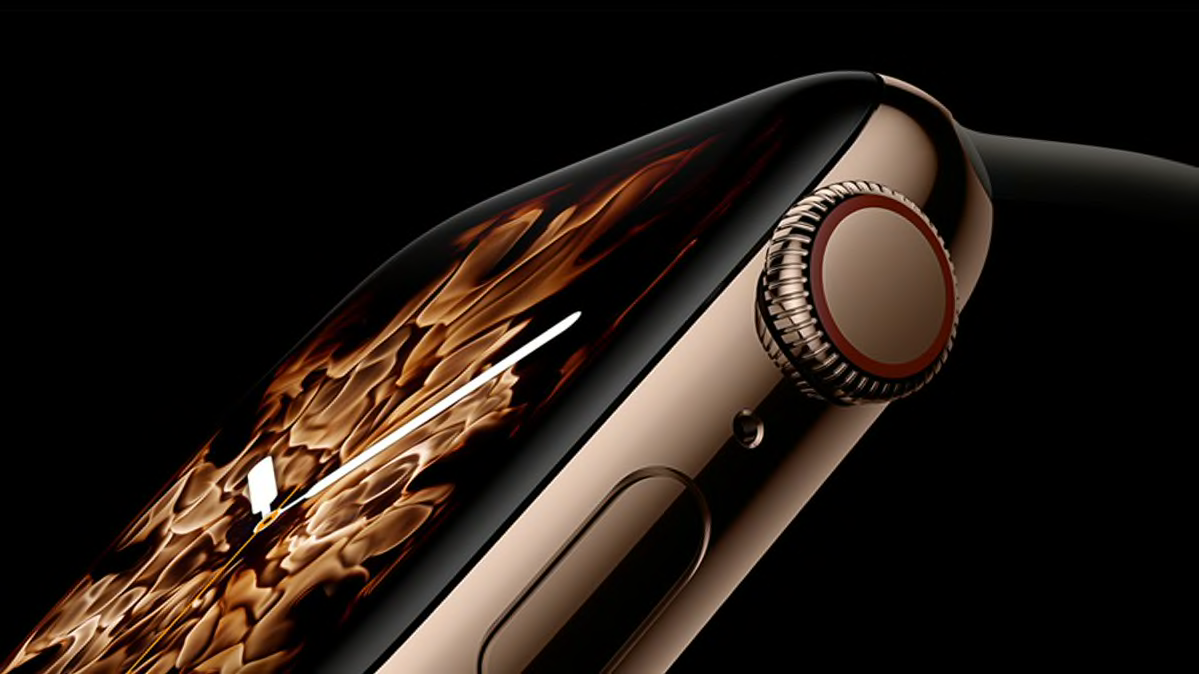 Apple is doubling down on its focus on health and fitness tracking.
The company, on Wednesday, unveiled a new Apple Watch that includes a new sensor that lets users take their own electrocardiogram, along with other new health-focused features.
According to the company, the Apple Watch Series 4 also will automatically detect if the person wearing it has fallen and can call for help if need be.
Meanwhile, the watch has gotten a sleek redesign. It has a bigger, easier-to-read screen on a thinner, less-bulky face. There's a louder speaker and a faster processor too.
Here's a look at some of the watch's new features.
Keeping Your Heart Healthy
Heart health on the go. Previous Apple Watches let users track their heart rates using a built-in optical heart sensor and Apple's Health App that runs on iPhones. The sensor monitors heart rate both during workouts and over long periods of time. Apple Watches can alert wearers if their heart rate spikes when they're not active.
The Series 4 builds upon those features with new electrocardiogram (ECG) feature. When the wearer presses a dial on the side of the watch that Apple calls the Digital Crown, a new sensor can take an ECG and tell that person if they have a normal heart rate or if there are signs of atrial fibrillation, which could indicate a heart condition. The recordings are stored in the Health App and can be shared with a user's doctor. Apple says the ECG app will come out later this year.
Ivor Benjamin, M.D., a cardiologist and president of the American Heart Association, said during Apple's presentation that the ability to collect data like this could be helpful for doctors, since patients often report symptoms that don't show up during medical exams.
In addition to still alerting a user if their heart rate spikes, the new watches will also alert them if it drops too low, Apple says.
Fall detection. The new watch uses a new accelerometer and gyroscope, combined with custom algorithms to sense if the person wearing the watch has fallen. If that happens, the watch will send an alert asking the user if they need to call for help.
And, if the watch senses that the person hasn't moved for more than one minute after a fall, it can automatically call for emergency services and send a notification to the user's emergency contact, Apple says.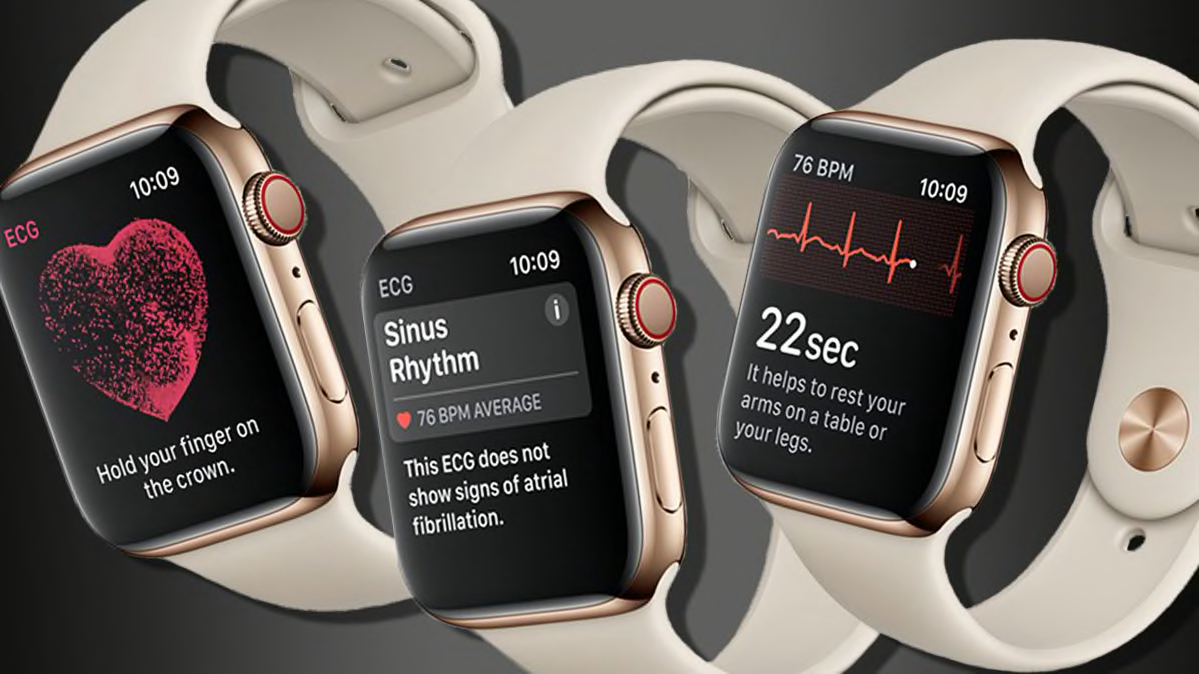 New Look
Apple restyled its watches to have slightly larger faces. Previous Apple Watches have come with 38mm and 42mm cases—the new Series 4 watches have 40mm and 42mm cases.
In addition to the bigger surface, Apple is stretching the displays further toward the edges of the watch. The end result is a display that the company claims is more than 30 percent bigger, which should make it much easier to read messages or view maps and photos.
Apple says the extra space also allows for more detailed watch faces that integrate more information from your apps, such as live scores from baseball games or boarding information for your next flight.
At the same time, the watch is thinner; 10.7mm to be exact, down from the previous 11.4mm. And, despite the changes, Apple says the watch's battery should still get you through the day.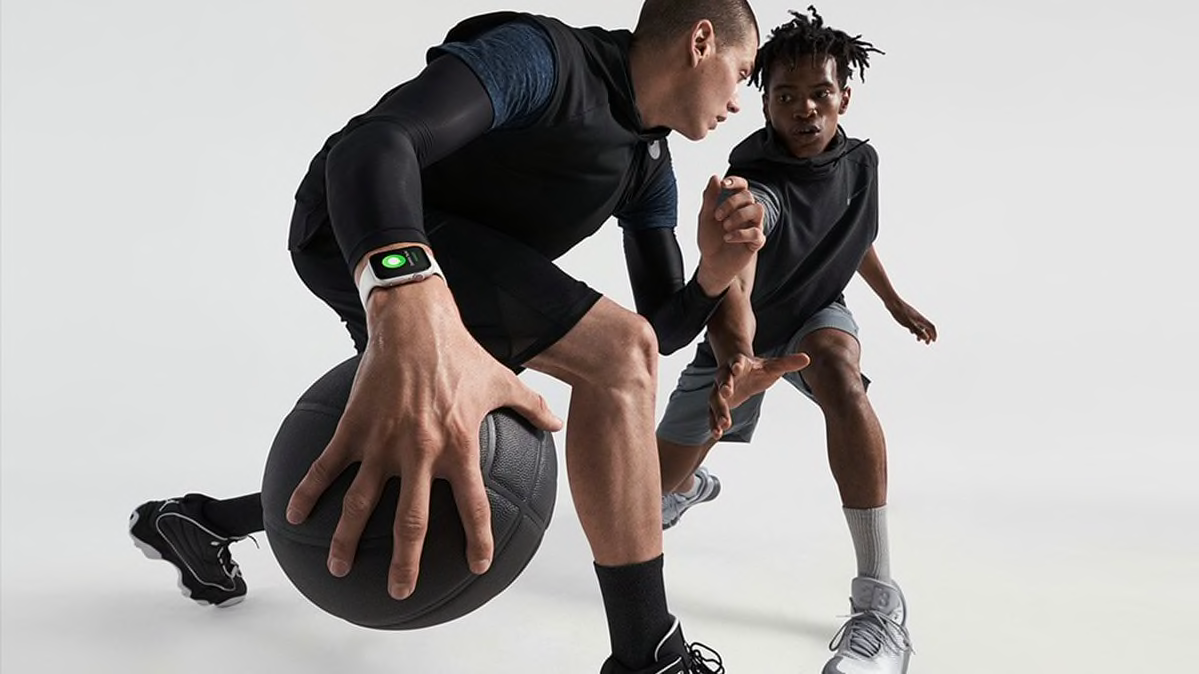 Other New Features
Can you hear me now? Apple says the speaker on the Series 4 will be 50 percent louder and that its microphone will be moved away from the speaker to reduce echo and make calls more clear.
Faster processor. The watch includes the new S4 chip, which has a custom 64-bit dual-core processor. Apple says that should deliver twice the speed without significantly affecting battery life.
Pricing and Timing
Unfortunately, with the new design and features comes a higher price tag. The new Series 4 starts at $399 for a 40mm model with GPS (the Series 3 launched with a starting price of $329). A Series 4 with a cellular antenna will set you back $499.
If that's too rich for your blood, Apple is cutting the starting price of the Apple Watch Series 3 to $279 for a GPS model.
The new watches can be preordered starting Sept. 14 and will hit stores a week later. The price cut on the Apple Watch Series 3 is effective immediately.
How CR Tests Smartwatches
From tracking workouts to keeping an eye on texts and emails, people are using smartwatches for everything. On the "Consumer 101" TV show, Consumer Reports' expert Bree Fowler explains to host Jack Rico the scientific methods CR uses to test these popular devices.