When you shop through retailer links on our site, we may earn affiliate commissions. 100% of the fees we collect are used to support our nonprofit mission.
Learn more.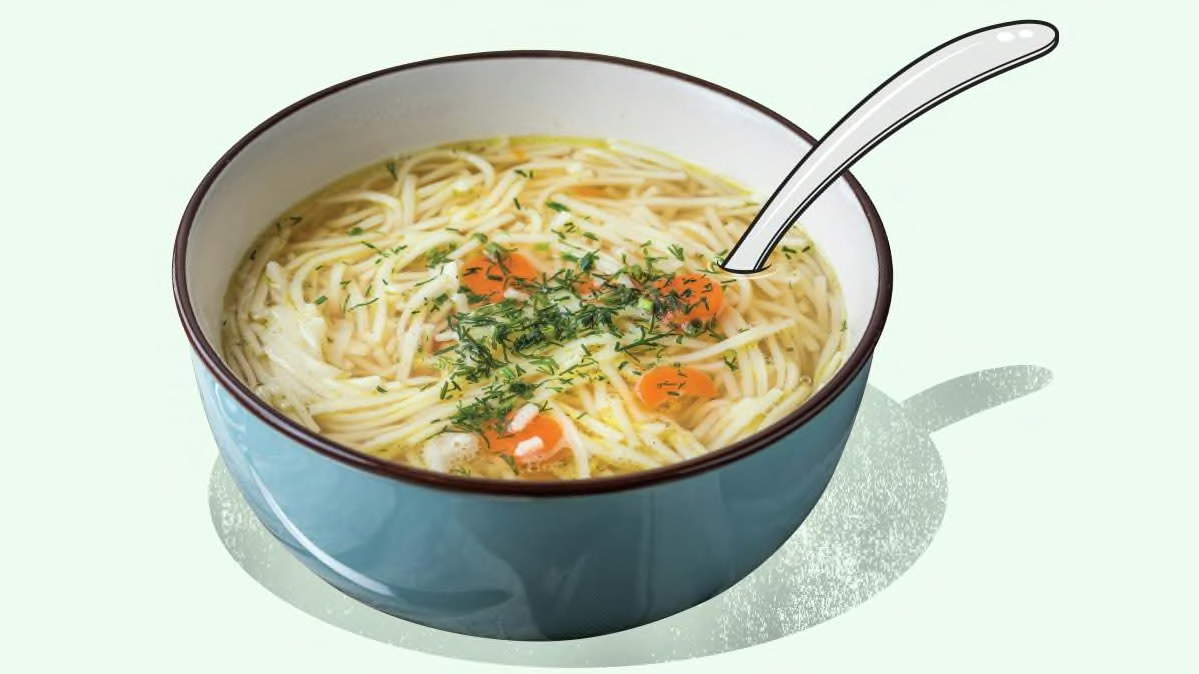 Illustration: Chris Philpot
You head to the supermarket to pick up some chicken broth to use in a recipe, but once you're standing in the soup aisle, you're stumped. There are so many options—broth, bone broth, stock, not to mention low-sodium and organic. What's the difference and which should you choose?
Both stock and broth can be made from a mix of chicken meat and bones (along with vegetables and seasonings), but stock and bone broth usually use more bones, and regular broth uses more meat, says Amy Keating, R.D., a CR nutritionist.
The more bones used, the higher the protein content, which comes from collagen in the bones that's released during cooking; this slightly boosts calories, too.
Stock tends to have less sodium than broth because it's often used as a base in recipes that call for added seasoning. A product that says "low sodium" means it has 140 mg or less of sodium per serving, and "lower" or "reduced" sodium means it has at least 25 percent less sodium compared with the brand's regular product.
To help you choose, CR's food testing team assessed the nutrition and taste of six choices from Swanson, listed from highest sodium to lowest.
Note: For all of the broths below, the serving size is 1 cup. They have no fat and 1 gram or less of carbohydrates per cup.
Swanson Chicken Broth
Calories: 15
Protein: 1 g
Sodium: 860 mg
The most heavily seasoned and saltiest in our tests. Chicken bouillon-like flavor, with onion, celery, and other seasonings. CR says: Skip.
Swanson Natural Goodness Chicken Broth 33% Less Sodium
Calories: 15
Protein: 2 g
Sodium: 570 mg
Well-seasoned broth with moderate chicken and salty flavors. Better flavor than Swanson's regular broth (above) but still relatively high in sodium. CR says: Pick.
Swanson Organic Broth Free-Range Chicken
Calories: 15
Protein: 1 g
Sodium: 550 mg
Moderate chicken flavor and mild seasonings. Moderately salty. Organic, so it's made with no-antibiotic chicken. CR says: Pick.
Swanson Cooking Stock, Chicken
Calories: 20
Protein: 4 g
Sodium: 510 mg
Bigger, more natural chicken flavor compared with Swanson's regular chicken broth with 350 mg less sodium per cup. Has some roasted notes, moderate salt, and slight vegetable and herb flavors. Slightly viscous. CR says: Pick.
Swanson Chicken Bone Broth
Calories: 35
Protein: 8 g
Sodium: 350 mg
Rich roasted flavors of chicken and vegetables. Mild seasoning, slightly salty, slightly viscous. Made with no-antibiotic chicken. CR says: Pick.
Swanson Organic Low Sodium Free-Range Chicken Broth
Calories: 10
Protein: 1 g
Sodium: 140 mg
Healthy but bland watered-down broth with little seasoning or salt flavor. Plus: It's organic, so it's made with no-antibiotic chicken. CR says: Skip.
Best Slow Cookers
In the mood for soup? Try cooking with one of these top-performing slow cookers from CR's tests.
Editor's Note: This article also appeared in the March 2019 issue of Consumer Reports magazine.
Shop Like a Nutritionist
Eating well isn't always easy—or fun. On the 'Consumer 101' TV show, Consumer Reports' expert, Amy Keating, heads into the grocery store to show you how to make healthy decisions when it comes to food.