When you shop through retailer links on our site, we may earn affiliate commissions. 100% of the fees we collect are used to support our nonprofit mission.
Learn more.
The answer to whether the just-announced Apple TV is right for you may come down to one thing: Are you already part of Apple's ecosystem?

After all, consumers who want to plug in a streaming player to watch 4K videos with high dynamic range (HDR)—an exciting technology that can make pictures look more realistic—already have good choices. Those include Google's Chromecast Ultra and two Roku devices, the Roku Premiere + and Roku Ultra.
And most new 4K TVs are already smart TVs with built-in access to streaming 4K content with HDR, from services such as Amazon Prime and Netflix.
But if you already live in Apple's world, buying this fifth-generation Apple TV 4K, as it's being called, may make sense.
Apple TV has always had a unique appeal for those invested in the iTunes ecosystem, mainly because it's been the best—and often only—way to get Apple iTunes content onto a TV. (Also, Apple TV's Siri voice remote has been one of the better ways to search for content using voice commands.)
"It's a completely different product than a Roku," says Dan Rayburn, principal analyst at Frost & Sullivan and executive vice president at streamingmedia.com. "The main reason people get Apple TV is because they already have iTunes content, often for their mobile devices, and want to be able share it on a larger screen."
The Apple TV 4K will be available on Sept. 22 for $179 with 32GB of internal storage, or $199 with 64GB. Preorders start Sept. 15. The new player will use an updated version of the tvOS TV app, which will include live sports as well as live news feeds later this year.
Apple is also keeping the current fourth-generation 1080p Apple TV (32GB) in its lineup. But you won't save much money if you choose that device. So far it's still $149.
Here are a few additional reasons why you might want to consider an Apple TV 4K.
Apple Promises Faster, Better Performance
From what Apple executives showed Tuesday during a presentation streamed from the company's new headquarters, the new Apple TV 4K looks similar to the earlier model. The Siri remote has undergone a subtle redesign; for instance the "menu" button is outlined with a white circle to make it more visible.
But under the hood the Apple TV 4K will be powered by a new three-core processor, called the A10X Fusion, which is what's being used in the new iPad Pro. According to Apple, that brings twice the processing power, and four times the graphics prowess, of the A8 processor found in the previous Apple TV. This should not only help improve your streaming experience with 4K videos, but also make operations such as fast-forwarding and rewinding feel a lot snappier.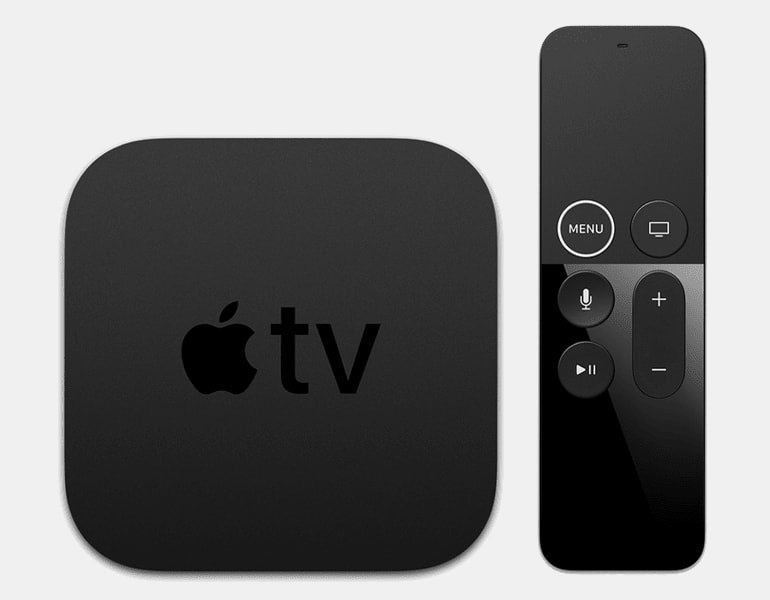 New Gaming Credibility
The added performance could also make the new Apple TV a more credible gaming device. ThatGameCompany, a noted developer of social adventure games, previewed a new game it's creating for the Apple TV 4K at the event.
Apple has also upped the onboard memory from 2GB to 3GB of RAM, so the system can cache—or locally store—more video, which should help prevent buffering or pixelation of streaming video. Of course, video quality will also be affected by the quality of your broadband service: Apple says that you'll need at least a 15Mbps connection to stream 4K shows and movies.
HDR10 and Dolby Vision HDR
HDR is the TV's industry's newest buzzword. The technology is being built into new, brighter 4K TVs, helping them display greater contrast and a wider range of colors than regular TVs as long as they are playing content that supports HDR. Apple says that the Apple TV 4K, and iTunes, will support movies and TV shows in two different HDR formats: HDR10 and Dolby Vision. It will be the first streaming player to do that.
Here's what that means. HDR10 is a baseline HDR standard supported by all 4K TVs with HDR; Dolby Vision is an enhanced version of HDR that's available with some content and on some TVs, from brands including LG, Sony, and Vizio. (When done well, top-performing TVs can produce vivid, lifelike images with HDR content of either stripe.)
To take advantage of its 4K capability, the Apple TV 4K interface, as well as the various screensavers, have been redone in 4K. You'll be able to locate content across the various services using the TV app, simply by asking Siri to find 4K shows and movies.
More 4K Content
During its event, Apple indicated that major Hollywood studios including 20th Century Fox, Lionsgate, Paramount, Sony Pictures, Universal, and Warner Bros., would offer 4K titles with HDR in iTunes.
One nice perk: If you've already purchased an eligible film in regular HD in iTunes, Apple will automatically upgrade it to the 4K HDR version at no extra cost. Also, unlike Netflix, which requires you to pay $2 a month extra for a tier that includes 4K, Apple's 4K HDR titles are the same price as the HD versions.
Apple has previously announced its intention to more aggressively develop or acquire original content to compete with Netflix and Amazon, pledging to spend $1 billion on original programming this year alone.
One big drawback to Apple TV has been that it has never offered direct access to Amazon's streaming video services. In June, Apple announced it would end its stalemate with Amazon later this year. The company reiterated that the new Apple TV 4K will support Amazon Prime, but didn't provide a firm timeline. It's also working with Netflix to support that service's 4K HDR titles.
So at some point in the near future you should be able to watch 4K videos with HDR—both HDR10 and Dolby Vision—from iTunes, Netflix, and Amazon, and possibly other services using your Apple TV 4K.
Apple TV App
Apple said that later this year you'll be able to use the TV app to watch live sports and news on services where they're available. (ESPN's app was shown during the event.) You'll be able to track your favorite teams, and get notifications when they're playing via a dedicated Sports tab. The app also features an option to post real-time scores which can help you select the closest game already in progress.
In all, Apple says, the TV app supports more than 60 services, with more to be added in the future.