When you shop through retailer links on our site, we may earn affiliate commissions. 100% of the fees we collect are used to support our nonprofit mission.
Learn more.
The updated 2019 Cherokee Limited, which features a new turbocharged four-cylinder engine, left us underwhelmed by its poor acceleration and handling, and also suffering from hearing an engine that sounds more like a piece of loud farm equipment.
Jeep added more creature comforts, and it jettisoned the headlight design that was so controversial among Jeep Cherokee purists. But overall, this redesigned version is a clear example of a vehicle that looks great on paper but doesn't do so well on the road.
We think the Cherokee's original V6 engine is better in every way (including being quieter). In addition, the new turbo engine costs $400 more than the V6, making it a pretty poor value.
We'll have more detailed results to share once we put the compact SUV through our series of tests at CR's test track in Colchester, Conn., and out on the road.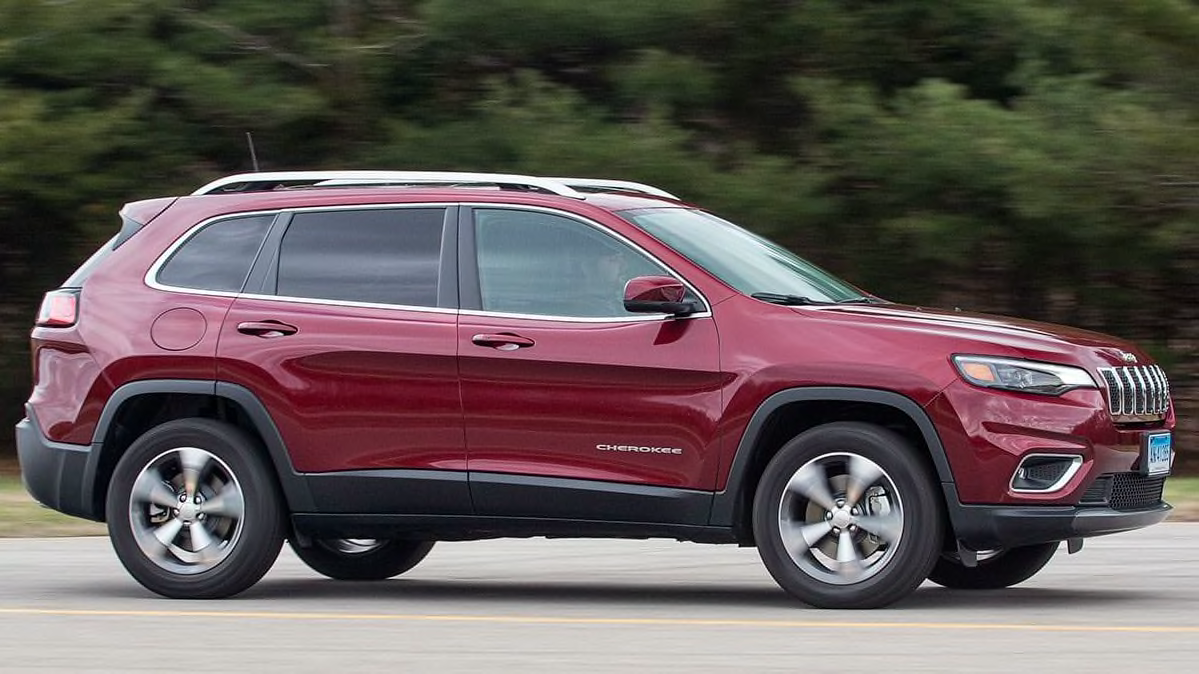 What we bought: 2019 Jeep Cherokee Limited 4x4 trim, which added the Uconnect 4 system with the 8.4-inch screen, heated leather seats and steering wheel, and a power rear liftgate.
Drivetrain: 270-hp, 2.0-liter turbocharged four-cylinder engine; 9-speed automatic transmission; all-wheel drive
MSRP: $33,620
Destination fee: $1,445
Options: Our tested car includes the turbo engine, a dual-pane panoramic sunroof, and the Uconnect navigation package. Cost: $2,590
Total cost: $37,655
How It Drives
The 270-hp, 2.0-liter turbocharged four-cylinder engine is brand-new, and it will also be available on the revamped Jeep Wrangler at a later date. (Read our test of the new Jeep Wrangler.) This engine has almost the same horsepower as the 271-hp, 3.2-liter V6, but it has considerably more power, with a torque advantage of 295 lb.-ft. vs. 239 lb.-ft. The Cherokee continues to use a nine-speed automatic transmission, but Jeep says that it has been tuned specially for this new engine.
The transmission isn't responsive or smooth, and it's slow to react to a driver's demands for more power. It often leaves the SUV flat-footed when taking off, which we found frustrating. Our testers felt that the turbo lag and the slow-witted transmission left them hanging initially. But when we pushed down harder on the accelerator, the Cherokee abruptly lurched forward.
The engine performs adequately in most other driving situations—it just doesn't feel like all of those 270 horses are being used. We've been averaging around 25 mpg according to the Cherokee's trip computer, which is on par for the class. We'll know more when we do our own fuel economy tests.
Jeep says its engineers adjusted the suspension, and the changes have eliminated the jittery ride that plagued the last version of the Cherokee. Unfortunately, this updated one still doesn't soften bumps, and riders still will feel some harsh impacts.
The new Cherokee's handling left our drivers feeling secure, but it wasn't particularly responsive, which is unchanged from the last version. It is slow to respond to steering wheel inputs, and there isn't much feedback transmitted to the driver. The Cherokee lacks the driving involvement found in the Ford Escape or Mazda CX-5.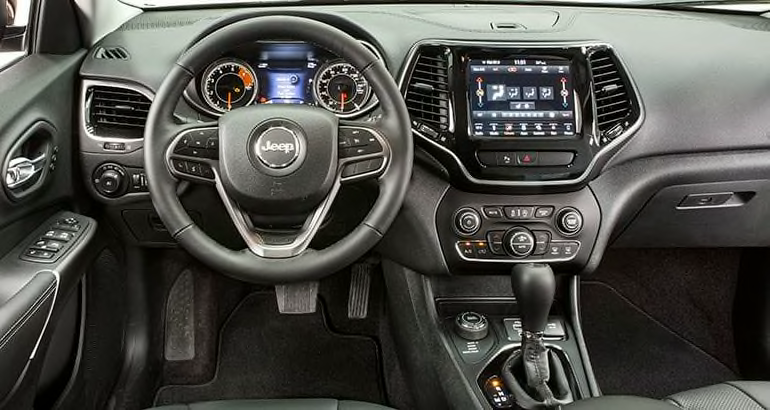 Inside
More premium materials and additional trim accent pieces have been added to the cabin. In addition, changes to the center console open up more storage space for a smartphone and other travel essentials.
However, these changes are subtle. Our Limited trim Cherokee has plenty of soft materials on the dash, door armrests, and the cover of the center console storage compartment.
The controls are easy to use, with large buttons and knobs for the climate control and Uconnect infotainment system.
That system is a bright spot in the Cherokee. We bought the larger, 8.4-inch screen configuration (a 7-inch version is standard), and added navigation. All versions include Android Auto and Apple CarPlay compatibility. The text is large and clear, and the system is easy to navigate. The steering wheel and seat heater controls are available as soon as the Cherokee starts—a nice touch on cold mornings.
Passengers will find plenty of room to stretch out. There is more front- and rear-seat room than in the Toyota RAV4, but the Cherokee trails the Honda CR-V when it comes to space. Cargo is another issue; the Cherokee trails the Honda and Toyota, as well as the Hyundai Santa Fe Sport and Subaru Forester, in our measurements.
The Cherokee now offers a convenience feature that can be found on other SUVs: Drivers can open the rear hatch by swiping their foot under the bumper, as long as the key fob is nearby. A new dual-pane sunroof with a motorized shade brings an open feel that's often associated with Jeeps.
Safety & Driver Assist Systems
Available safety technology includes automatic emergency braking, forward-collision warning, lane-departure warning, blind-spot warning, and rear cross-traffic warning. These are now available on more versions of the Cherokee, but shoppers still need to invest in an options package or step up a couple of trim levels in order to get this important protection.
CR's Take
The updated Cherokee, like the version we first tested, sounds like a good idea, but on the road it's less than the sum of its parts. The way the noisy, unrefined engine and automatic transmission work together mars the driving experience. The Cherokee also gets expensive quickly. Jeep has proved it can slap its logo on a product and charge a premium price. Consequently, the Cherokee is more expensive than many of its peers, such as the CR-V, Escape, CX-5, and RAV4. Our $37,655 Limited is priced closely to the bigger and better Ford Edge, Hyundai Santa Fe, and Nissan Murano.