When you shop through retailer links on our site, we may earn affiliate commissions. 100% of the fees we collect are used to support our nonprofit mission.
Learn more.
In redesigning the Forester for 2019, Subaru wisely focused on refining it and bolstering its safety credentials, while keeping its defining traits intact.
Subaru has had a winning formula with the Forester: The current version of the popular small SUV delivers a unique combination of roomy packaging, excellent visibility, great fuel economy, simple controls, and solid reliability.
The 2019 version gets an updated engine that's quieter and adds the automaker's EyeSight safety system as standard. This new edition may look similar to the previous version, but the Forester has moved to a new platform shared with the larger Ascent SUV, subcompact Crosstrek SUV, and Impreza sedan, as well as future models, including the next Legacy sedan and Outback SUV. This move gives the Forester a more solid feel and several structural advances that the company says will contribute to better passenger protection in a crash.
The outgoing 2018 Forester had the highest road-test score in its class. And based on our time with a 2019 rented from Subaru, the new Forester makes several evolutionary improvements that should add to the model's appeal. These are our first impressions.
What we drove: 2019 Subaru Forester Touring
Powertrain: 182-hp, 2.5-liter four-cylinder engine; continuously variable transmission; all-wheel drive
MSRP: $34,295
Destination fee: $975
Total cost: $35,270
How It Drives
This new Forester benefits from powertrain and suspension refinements. The latest 2.5-liter four-cylinder engine has more power at 182 horses, compared with the previous version's 170 hp. (A turbocharged engine and manual transmission are no longer being offered.) Once again, the Forester uses a continuously variable transmission (CVT).
The Environmental Protection Agency shows this combination nets 1 more mpg on the highway, for a 29 mpg combined rating. Our observed mileage met or exceeded that figure, depending on where it was driven. Fuel economy has long been a Forester hallmark, and the 2018 model stands out among its peers with 26 mpg overall in Consumer Reports' testing.
The flat-four "boxer" engine design used in all Subarus has a distinctive sound that isn't to everyone's taste. Among the improvements, the sound from the engine is less intrusive now. The CVT has faux shifts to simulate the gear changes that occur in a conventional automatic. We found them noticeable but not objectionable. The CVT does lead the engine to rev out of sync with the act of stepping on the gas pedal when quick acceleration is called for—a common trait with this type of transmission. Every Forester comes with all-wheel drive.
Ride and handling have improved, based on our experience with this Touring model. The Forester is better at absorbing road imperfections, in fact better than virtually any of its direct competitors. It also benefits from less body roll through turns, and the steering feels quicker.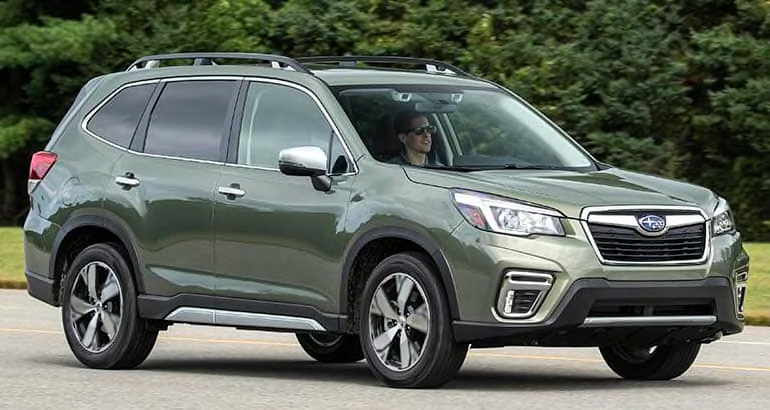 Inside
The cabin is roomy for a small SUV, and that impression is helped by the generous glass space and moonroof. It's very easy to climb in, thanks to wide-opening doors, large footwells, hip-height seats, and small step-in height, given its tall, 8.7-inch ground clearance.
Subaru created more space by stretching the wheelbase and height slightly. As a result, there is truly generous headroom upfront, even with the moonroof. The eight-way adjustable, perforated-leather seats are comfortable and supportive in the Touring, though the right-knee space was snug for some drivers and the dead-pedal for resting the left foot was a bit short.
The cabin of our Forester Touring is visually attractive, with soft surfaces all around, nice textures, and contrasting stitches conveying an upscale feel to this top trim level.
As is often true for Subaru, the controls are simple to reach and use. The latest infotainment system is intuitive and responds quickly, and it has knobs for volume and tuning. The system has a CD player, which is a rare sight these days. It is also compatible with Android Auto and Apple CarPlay. Our feature-laden Touring has multiple controls on the steering wheel, and those can take some time to master.
The console between the front seats houses two cup holders positioned far enough back that they're awkward to reach. Storage within the armrest requires drivers to perform some contortion to reach into it while driving.
The rear seat is also easy to get into. There is generous legroom, though headroom is less than what the front passengers enjoy. The split seats fold nearly flat, leaving a slightly inclined surface for cargo.
Opening the power liftgate exposes a wide, square-shaped space that can swallow a fair amount of bulky warehouse-store items. One convenient touch: The rolled cargo cover can be stored under the floor.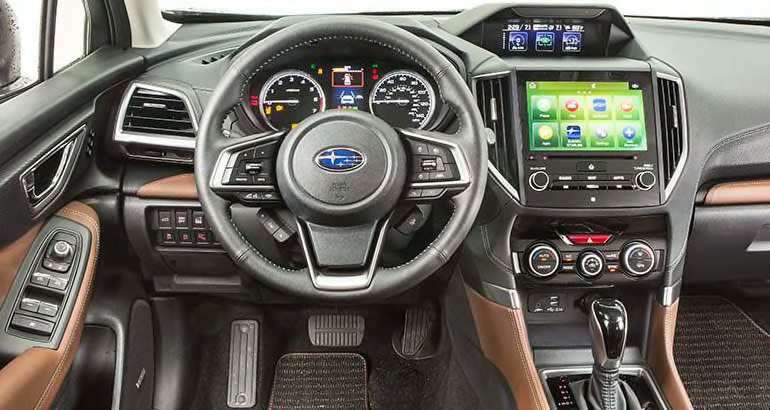 Safety and Driver-Assist Systems
Safety has long been a Forester selling point, and the new version steps it up by making the EyeSight system standard. It's a suite of features that includes forward-collision warning, automatic emergency braking, lane-departure and sway warning, lane-keeping assist, and adaptive cruise control.
The Touring trim introduces DriverFocus, a system that can recognize drivers' faces and automatically adjust settings. It also is billed as a monitoring system that can identify signs of driver fatigue or distraction.
If it detects that the driver is not paying attention, the SUV chimes and displays a warning in the center of the instrument cluster. This technology has great promise, however, we would prefer a system that could more accurately track eyes. With our sample car, we tried a variety of scenarios and found that it could detect head movement, such as turning away from the road, but it could not discern some risky behavior that occurred while the driver's head faced forward.
CR's Take
It is clear that Subaru has not messed with success. All the ingredients that made the outgoing model best in class carry forward, along with numerous refinements throughout. The Forester continues as a sensible choice in the white-hot small SUV segment.
We will find out how it compares against the latest competitive crop after it goes on sale in October. Although the Touring we rented had many comforts that we appreciated, we will purchase the more popular and less expensive Premium trim for testing because it best represents the typical model that consumers buy.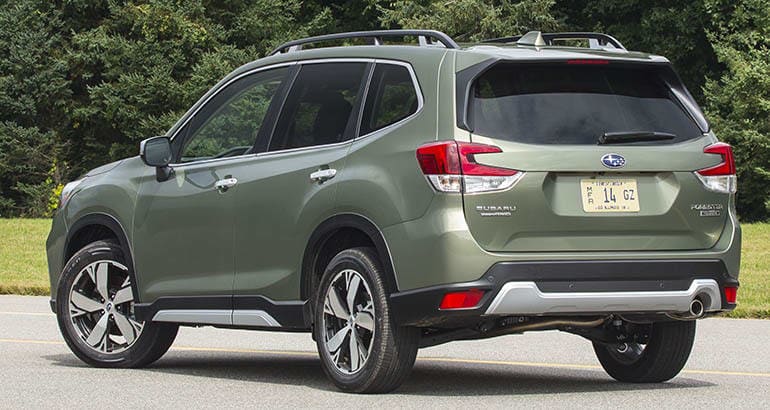 The Off-Road Challenge
Some automotive manufacturers claim their cars have off-road capabilities. Consumer Reports' expert, Ryan Pszczolkowski, shows 'Consumer 101' TV show host, Jack Rico, how CR puts these vehicles to the test—and offers off-road driving tips.