When you shop through retailer links on our site, we may earn affiliate commissions. 100% of the fees we collect are used to support our nonprofit mission.
Learn more.
Luxury SUV shoppers want comfort, they want a quiet cabin, and they want power on demand. The new 2020 Mercedes-Benz GLE has all of that.
But those same shoppers want high-tech tools they can easily use, not gimmicky controls that are overly sensitive, difficult to learn, and sometimes wind up being in the way. This is where the redesigned GLE falters—hard.
We just bought our own, and we're getting ready to put it through our 50-plus test regimen. These are our first impressions.
What we bought: 2020 Mercedes-Benz GLE 450
Powertrain: 3.0-liter, six-cylinder turbocharged engine paired to a 9-speed automatic transmission
MSRP: $61,150
Options: $12,945, including Driver-Assistance Package Plus, parking assistance package, warmth and comfort package, and more
Destination fee: $995
Total cost: $75,090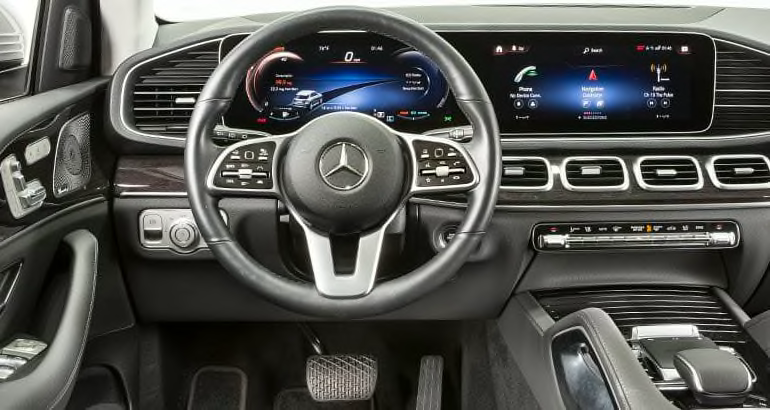 What We Like . . . So Far
The GLE certainly holds up a lot of what Mercedes-Benz promises to shoppers: smooth power with many high-end touches.
The turbo engine creates plenty of power that's easily accessible on demand, with smooth shifts from the transmission. On top of that, this SUV has a very quiet cabin that's well-appointed with lots of luxury finishes, including the optional heated armrests that we paid extra for.
luxury midsized SUV road tests
The front seats also pamper passengers. They're very comfortable, and testers applauded the many ways they could be adjusted. One tester did find them a little narrow for his torso.
The GLE isn't quick from a stop, but that's a feature and not a bug. Acceleration from a standstill is measured, which contributes to the vehicle's heavy feel. Some impatient testers on our staff would have preferred a more immediate launch. Still, no one complained about too much lag, as experienced with other turbocharged models. And several testers commented on how easily it was to get enough power to pass other vehicles, even at top highway speeds.
And last, the cargo area is pretty roomy for an SUV of this class, and it has nice materials there; it's not treated as an afterthought.
GLE Has Many Gauge Display Options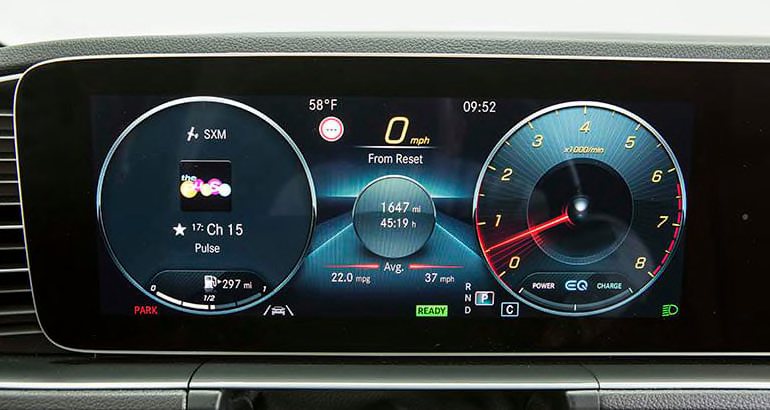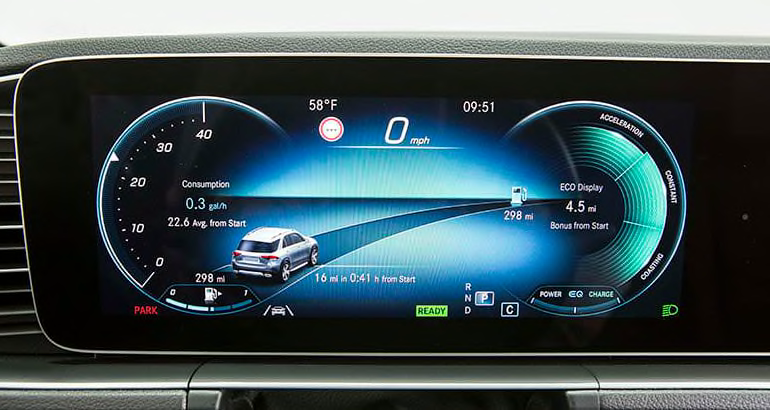 What We Don't Like
The early votes are in on the GLE's controls, and the results aren't good. In fact, these are the most frequent comments from our team: awful, a challenge, pretty frustrating.
The combination of the incredibly sensitive touchpad and wonky steering-wheel controls somewhat ruins an otherwise desirable SUV.
The touchpad sits below the center stack, and testers reported that it could be set off by accidentally brushing against it while lifting a cup from the holder or by the simple movement of a phone cable. CR prefers systems that use a rotary controller rather than a touchpad because of how much more precise they are in making selections.
The steering wheel is also loaded with controls, which one tester liked because they let him skip using the touchpad entirely. Others found them very sensitive. It wasn't uncommon for drivers to inadvertently change the radio station while trying to complete a turn.
As if there aren't enough choices, there's also the wide 12.3-inch touch screen to do some of the same tasks. Certain controls were very difficult to even find in the multilevel menus. One tester couldn't figure out how to turn off the annoying lane departure warning system.
When we buy cars for the Auto Test Center, the radio presets are usually set within the first couple of days. In a telling sign of how frustrating these controls are, none of them had been set after nearly 1,000 miles of use. Those are some of the most basic functions for this or any in-car audio system.
The GLE has running boards, or at least a vestigial version of them. They're narrower than what a motorist might find on a pickup truck, and they are awkwardly located. Because the SUV sits so low to the ground to begin with, they're not very helpful. In general, they wind up mostly hitting the ankles of passengers climbing in and out because they're so odd both in size and placement.
What We'll Keep an Eye On
The GLE's handling gets mostly passing grades from testers. It's fairly nimble and seems to holds the road well even when it's pushed hard. We'll know more once we get it on our track.
The EPA rates the GLE at 21 combined mpg. That would be competitive in this class and a big step up from the 18 mpg overall we got in the last generation GLE we tested.
CR's Take
Several testers had seen enough of the wonky controls to vote with their feet. A couple suggested getting a Kia Telluride instead; the trade-offs in luxury appointments and engine power were more than enough to overcome the tech troubles. And, they noted, shoppers would save about $35,000 to boot.
See the complete Mercedes-Benz GLE road test.