When you shop through retailer links on our site, we may earn affiliate commissions. 100% of the fees we collect are used to support our nonprofit mission.
Learn more.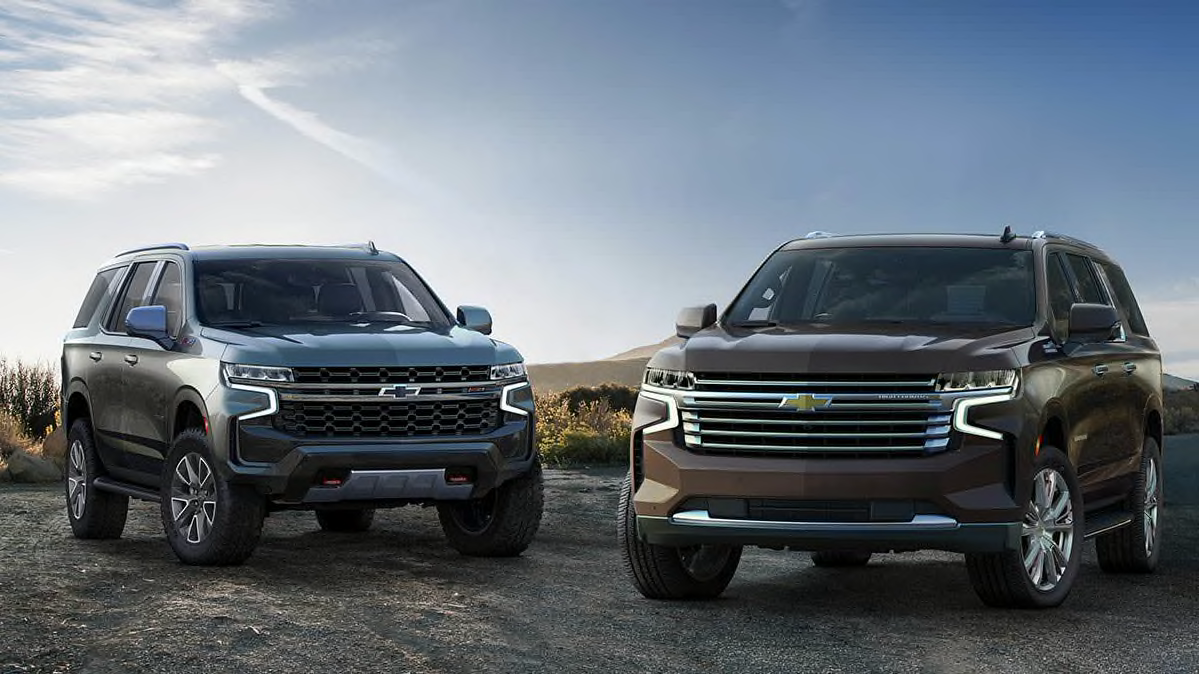 General Motors has rolled out an all-new full-sized truck family numerous times through the decades, following a familiar pattern of light-duty pickup, followed by a heavy-duty pickup with more powerful engines and greater payload capacity, and ultimately full-sized SUVs. This time around, GM has shaken up its strategy, further distinguishing different vehicles built from a common platform.
The big news with the near-identical Tahoe and Suburban is their greater dimensions. These already large models have grown significantly in size, with the Tahoe gaining 6.7 inches in length. The Suburban stretched 1.7 inches. Consequently, these massive vehicles have more interior space than ever.
Another game-changer for these GM models is that the simple and antiquated, live-axle rear suspension has been scuttled in favor of a more modern independent suspension. This promises dividends in ride comfort and handling acumen, as well as third-row-seat room. A redesigned Cadillac Escalade and GMC Yukon are also expected to join the Tahoe/Suburban in 2020.
Beyond these dramatic changes, there are numerous updates throughout. Here is what we know so far.
What they compete with: Ford Expedition, Nissan Armada, Toyota Sequoia
What they look like: These large SUVs resemble the Silverado and other new Chevrolet models, with a distinct grille and squared-off body lines.
Powertrains: 5.3-liter V8, 6.2-liter V8, and 3.0-liter inline-six diesel; 10-speed automatic transmission; rear and four-wheel drive
Price: $48,000 to $70,000 (estimated)
On-sale date: Summer 2020
CR's Take
There are many promising improvements throughout the redesigned Tahoe and Suburban, but bigger is not always better. These new models are huge. This may make them very well-suited to some drivers who crave the extra passenger and cargo space—and live in wide-open spaces. However, many shoppers should consider how easy it would be to maneuver and park such gigantic vehicles in their everyday life. A 4.1- to 4.9-inch increase in wheelbase suggests these behemoths may be even more out of place when maneuvering in parking lots.
The current Tahoe came up short in our fuel economy and emergency handling tests. Further, it feels underpowered and the ride is too stiff. With the changes on the new model, these deficits may have been remedied. We will find out for sure once we've purchased one to put through our more than 50 tests at the Consumer Reports Auto Test Center.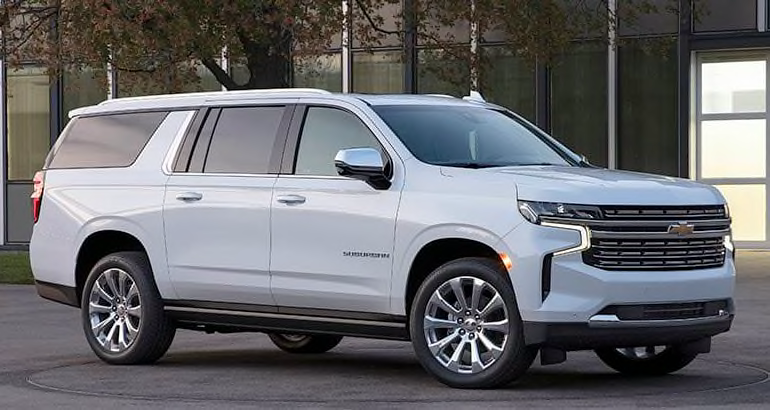 Outside
The styling fits right in with the freshest models within the Chevrolet portfolio, including the Silverado and upcoming Trailblazer. These new SUVs have LED headlamps and taillights, and they wear the bold grille shape that is becoming more common among Chevy SUVs. Behind their grilles are active shutters that can adjust to improve aerodynamics and thereby enhance fuel economy.
The numerous trim lines will be visually differentiated by significant grille, trim, and wheel differences. This will give each trim its own identity and tempt some buyers to spend more on their vehicle.
The change in dimensions separates the three-row Traverse from the Tahoe, creating a more natural size progression through the Chevrolet model range. Previously, they both measured 204 inches bumper to bumper.
The Suburban now measures 3 inches longer than archrival Ford Expedition MAX, at 225.7 inches.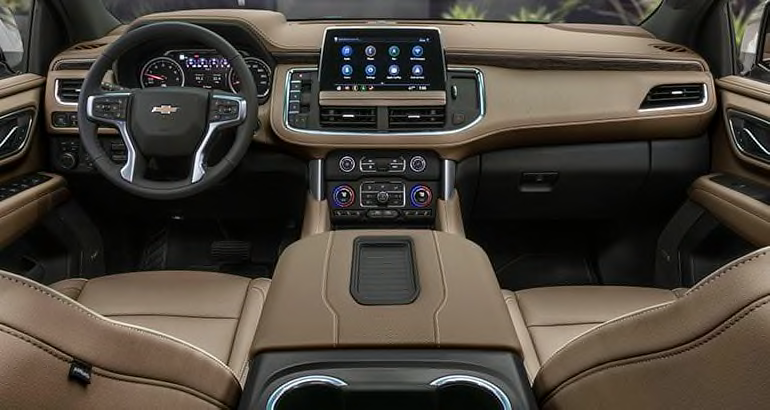 Inside
Breaking from past traditions, the cabin is styled more like an upscale SUV than a pickup truck. The center dash houses a 10-inch screen for the infotainment system, with features that include WiFi, Android Auto, and Apple CarPlay. Push-button controls for the transmission are to the left of that screen.
We like that there are traditional knobs under the screen for volume and tuning. And there are dials and buttons further below for climate controls.
Top trim models will have an 8-inch screen in the instrument cluster, and a 15-inch head-up display will be available.
Passengers benefit most from the increased length, especially in the Tahoe. Second-row Tahoe passengers gain 3 inches of legroom, and third-row riders have a whopping 10 more inches to stretch out. (The Suburban second and third rows each gain about 2 inches over the 2020 model.)
Beyond room, the seats gain adjustability, with the second-row now able to slide forward, adjusting for access, passenger comfort, and cargo needs. Entry is even easier, thanks to larger doors enabled by the longer wheelbases.
The second- and third-row seats fold quite flat, opening an expansive space. Thanks to the independent rear suspension, the third row folds into a well rather than on top of the cargo floor.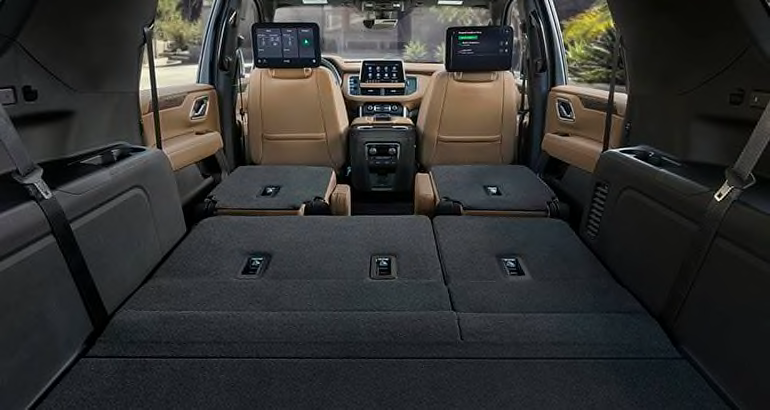 What Drives It
There are three engines for these full-sized SUVs: two gasoline V8s and a diesel six-cylinder. All are teamed with a 10-speed automatic transmission.
The base engine is a 355-hp, 5.3-liter V8. It comes standard on the LS, LT, Z71, RST, and Premier trims. The more powerful 420-hp, 6.2-liter V8 is optional on lower trims and standard on the upscale High Country trim. Both V8s use GM's latest cylinder deactivation technology to smartly bolster fuel economy by turning off some cylinders when not needed, such as during steady-speed cruising. By contrast, Ford offers a 375-hp, 3.5-liter turbocharged V6 in both the Expedition and the longer Expedition MAX.
The 277-hp, 3.0-liter diesel engine is all-new, and it distinguishes the Tahoe and Suburban from their competitors. There is a trend among full-sized pickup trucks to introduce small, diesel engines, and these are the first modern, full-sized, light-duty SUVs to follow this strategy. The diesel promises to deliver the highest fuel economy ratings in a segment, while being well-suited for towing. It has 460 lb.-ft. of torque, matching the peak output of the large 6.2-liter V8. However, the diesel muscle is achieved at a low 1500 rpm, estimates GM, giving it prodigious power to start pulling a large trailer from a standstill, whereas the V8 achieves its maximum torque at 4,100 rpm.
For towing, an app can store multiple trailer profiles that allow you to monitor tire pressure and temperature, and adjust the blind spot warning system based on trailer size.
Safety & Driver Assist Systems
The Tahoe and Suburban will come with forward collision warning and automatic emergency braking with pedestrian detection. However, blind spot warning and rear cross traffic alert don't come standard. That is a shame, because those features would be particularly welcomed on such large vehicles. Front parking sensors, lane keeping assistance, and rear pedestrian detection are available add-ons.