Amazon Basics Carry-On Travel Backpack Review
It has all the design élan of a Soviet housing block. But it's very affordable and certainly sizable—it just might not fit under the seat.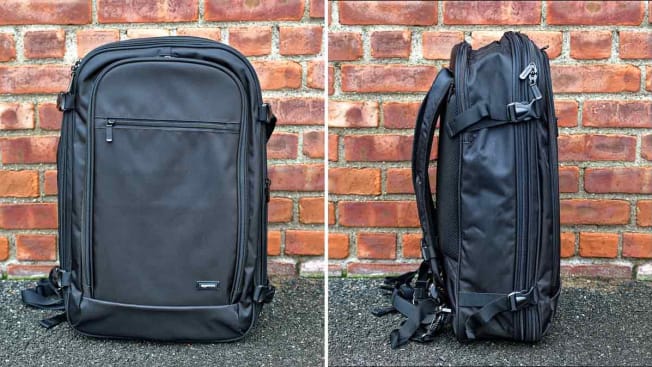 The Amazon Basics Carry-On Travel Backpack is one of 10 travel backpacks I evaluated for qualities including organization, comfort, and sturdiness as part of CR's "Outside the Labs" review program.

Price: $53.83
Where to buy: Amazon
Dimensions:  21.5 x 15.75 x 8.25 inches
Weight: 3.6 pounds
Construction: Polyester
Claimed capacity: N/A
Tuckable pack sleeves: Yes
External bottle sleeve: No
Shoulder carry: Yes
Waist strap: Yes
Eyeglass sleeve: No
Extras: Compression straps
Here's My Review
When packing my gear into the Amazon Basics Carry-On Travel Backpack, I tried to imagine Jeff Bezos filling it for a trip . . . into suborbital space. Would he coo about the extra-large laptop cavity that was big enough not just for my iPad Pro and my MacBook Air but also my magazine, book, and adventure guide? Heck, I even managed to stow my dopp kit and windbreaker into this portion of the bag—since it's subdivided into an overlarge electronics sleeve and then a capacious secondary bin that stretches the length of the pack. Overfilling this section chewed into the capacity of the center compartment (the largest of the group I evaluated), but that was okay because it meant that I'd have more ready access to the items I'd want to grab in-flight. I stuffed whatever I wouldn't need en route (umbrella, extra clothing, camera) in the pack's harder-to-access core.
But note to Jeff: All that space travel has you neglecting earthbound travelers. The Carry-On's construction has a flimsy, slippery quality, and some interior stitching looks especially weak when compared with all the other bags I evaluated. Likewise, the external grab handles are large but they're also slick and harder to grip. The Carry-On feels like what it is: a price-targeted item that left the needs of real-world travelers out of key design decisions save one: The waist belt makes this an easy bag to carry in spite of its size.
But it's also a super-tight squeeze for underseat cramming. It just makes it—with total toe overlap in my mock airline setup. I fear that some stricter flight attendants might relegate this one to the overhead bin—or to the cargo hold, if there's no room up there. 
Bonus! Zip-away backpack straps should protect them from damage if you ever need to check this bag.
When you shop through retailer links on our site, we may earn affiliate commissions. 100% of the fees we collect are used to support our nonprofit mission. Learn more.