Patagonia Black Hole Mini MLC Travel Backpack Review
It's comfy, big, and perhaps the most versatile pack of them all, which is why it's our Editor's Choice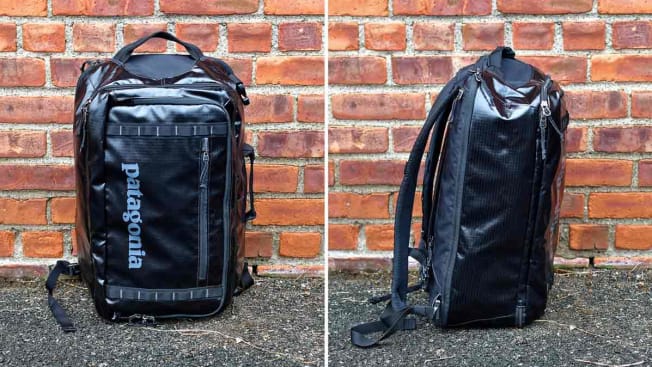 The Patagonia Black Hole Mini MLC is one of 10 travel backpacks I evaluated for qualities including organization, comfort, and sturdiness as part of CR's "Outside the Labs" review program.
Price: $169
Where to buy: Patagonia
Dimensions: 12.25 x 19.5 x 6 inches
Weight: 2.7 pounds
Claimed capacity: 26 liters
Construction: Recycled polyester
Tuckable pack sleeves: Yes
External bottle sleeve: No
Shoulder carry: Yes
Waist strap: No
Eyeglass sleeve: Yes
Extras: Keychain loop
Here's My Review
It was a close race against a few other contenders, but versatility, comfort, organization, and structural integrity helped the Patagonia Black Hole Mini MLC edge out the rest. It has mesh pockets so you can easily see what's inside. Lots of slots and cubbies, especially in the outermost "business" compartment, meant that my gear wasn't free-floating all over the place. That portion also unfurls partly rather than opening like a book, so you don't have to sweat spilling contents. 
The oversize laptop sleeve is large enough to gulp both my Macbook Air and iPad Pro, plus a book and magazine. But if you really stuff all your gear in this pack, it's barely going to fit in that underseat space. (I used the Black Hole Mini to make that time-lapse packing video and as stuffed, it wouldn't squeeze into our simulated underseat compartment.) But even not packed to bursting, it will still hold enough to work as an overnight bag, and it's an especially comfy carry with wide, strong backpack straps and a chest clasp that'll adjust to many different torso lengths. 
The exterior has a beefy, 100 percent recycled ripstop polyester construction that, yes, is shiny and ruggedized, and has an adventure-y vibe that might not play well in a buttoned-up office. But it laughed off rain showers, and its over-large grab handles at the top and side make it easy to tug out from under the seat or slide your arms through the straps. Despite not having a waist strap, I even found it fine dashing around town for over an hour of carry time. (See the Incase pack for the only other one here that, sans waist belt, is as comfy.) It could be too big for the average commuter, but the versatility argues in favor of it as a do-a-lot-of-things, travel/commuter, haul-your-greenmarket-groceries bag. 
Bonus! It gets a slot-through for sliding onto the telescoping handle of your roll-aboard carry-on bag, so you can roll two bags at once through the airport. And it has a shoulder strap, though the pack is too ungainly to carry across your body when it's fully laden.
When you shop through retailer links on our site, we may earn affiliate commissions. 100% of the fees we collect are used to support our nonprofit mission. Learn more.