When you shop through retailer links on our site, we may earn affiliate commissions. 100% of the fees we collect are used to support our nonprofit mission.
Learn more.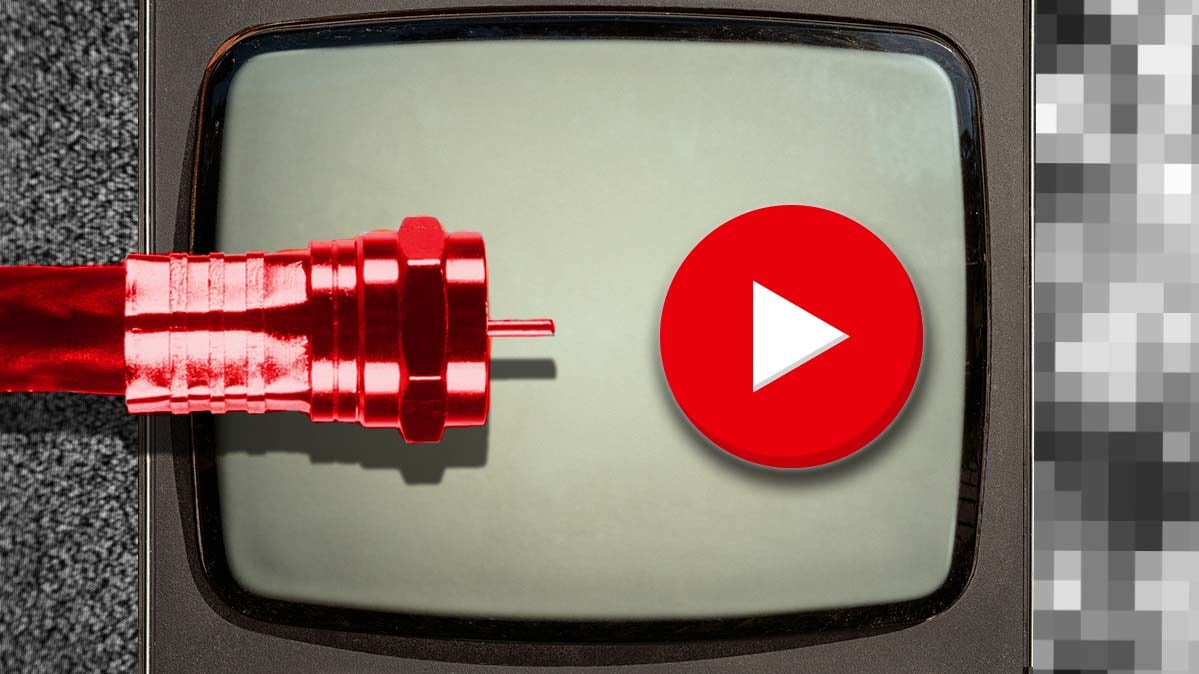 If you like flipping through broadcast and cable channels such as ABC, CNN, and HGTV, you have two main options. You can stick with cable or satellite TV, which have been around for decades. Or you can switch to one of several cable-replacement services that stream live TV channels over the web. Either way, you'll be able to watch broadcast and cable networks, catching the news or the Thursday night sitcoms as they air.
By contrast, Netflix and other on-demand streaming services are not channels per se, or even collections of channels. Rather, they're better thought of as libraries of TV shows and movies that you watch whenever you want.
The Case for Cable
People are so used to hating their cable companies that it can be hard to recall what made cable so impressive to begin with: dozens, even hundreds, of channels—all available around the clock. And most of the time, cable TV just works. You don't suffer delays or buffering because of bandwidth limitations or a balky WiFi network, the way you might with a streaming service.
Here are a few reasons why you might want to keep, or maybe reconsider, a traditional pay-TV package.
Convenient billing, familiar layouts. If you get TV and internet access from the same company, you'll get one bill for both services. And you're already familiar with how the program guide works and with channels you've been flipping through since, well, forever. That's not always how it works with streaming services. (See "Help! How Do I Change the Channel?")
Cheaper, skinnier plans. Cable companies are coming up with less expensive, stripped-down plans to compete with cable-replacement streaming services. For example, Cox has a plan that costs around $35 per month, and Charter has a $45-per-month Spectrum Select plan that serves up about 125 channels. These low prices are in line with many streaming TV plans, which typically start at $40 or $50 per month.
More on TV Services and Streaming
Better cable boxes. Bulky, old-fashioned set-top boxes are largely a thing of the past, at least for the major TV providers. Instead, many companies now offer next-generation set-top boxes with modern interfaces and support for newer TV features, such as 4K video with high dynamic range (HDR). Some now offer apps that let you access online streaming services, such as Netflix and YouTube. More cable boxes also include voice capability and compatibility with Amazon Alexa or Google Assistant, so you can use voice commands to change channels or search for shows and movies.
And … the case against. Consumer Reports members typically give low scores to their cable companies in our annual surveys, dinging them for value and customer service.
One problem is cost. The average annual bill for TV service was more than $1,200 in 2018, according to Kagan, a unit of S&P Global Market Intelligence. That's over $100 per month—just for TV—and many people find that bills are higher than what they anticipated when they signed up.
"Over the last several years, cable companies have begun to impose new fees for services that were previously included in the base rate for service," says Jonathan Schwantes, senior policy counsel at Consumer Reports. The tacked-on charges, which include "broadcast TV" and "regional sports" fees, keep rising. These days, the rate you see in an advertisement may only be about three-quarters of the total bill that comes in the mail, once fees and taxes are added in.
The Case for Streaming Alternatives
Generations of cable TV viewers have complained about paying for channels they didn't want. And to make things worse, most consumers didn't have a choice among providers in their neighborhoods.
Today's cable-replacement streaming services are addressing both problems. The half-dozen or so services on the market all offer more than one tier of service, going from as few as 33 channels up to 140-plus channels. That boosts your odds of finding a mix of content that feels right for the price. And if you change your mind, you can quickly switch to another tier or even a different company—no appointment with the cable guy or satellite-dish installer needed.
Here's why you might want to switch to a cable-replacement service.
Lower prices. Even with recent price hikes, most of the cable-replacement plans cost less than half as much as the average pay-TV bill, according to market research firm eMarketer—admittedly for far less programming. You can get a bunch of channels for as little as $15 per month. More robust services that offer 60 or 70 channels, including local broadcasts and cable channels such as CNN and HGTV, are typically priced around $45 or $50 monthly. Compared with basic cable, that's cheap.
No box rental. Most cable companies require you to rent a set-top box for a monthly fee of $10 or so, which can add up to more than $100 annually; receivers with DVRs can cost even more to rent. By contrast, you access a streaming service using an app on a smart TV or a streaming device that plugs into your set, such as a Roku Streaming Stick or an Apple TV. And most offer free cloud DVRs for recording shows. You can buy a streaming player outright for as little as $30, and there are no recurring hardware charges.
No confusing fees. The aggravating, hard-to-understand charges you find on cable TV bills don't show up on invoices from cable-replacement streaming services. You may choose to pay extra each month for more DVR storage or for premium channels, but those are optional charges for added services.
And … the case against. It's true that cable-replacement services deliver broadcast and cable channels over the internet—but there are caveats.
Live local broadcasts aren't available from every service in every TV market—and entire channels are missing from certain services. As just one example, Sling TV doesn't have CBS anywhere in the country. You need to check carefully to make sure a particular plan delivers the channels you want.
The savings vary, too. Cable-replacement services are still typically less expensive than cable TV, but the gap is eroding. Most of the companies raised monthly rates by $5 or $10 earlier this year.
And services may limit how many users can access the service at one time. For instance, the base plans from DirecTV Now and Hulu + Live TV let just two devices play content simultaneously, though you can often add users for $5 or so per month.
How Live TV Package Costs Compare
Skinny
Cable
$35-Plus
Cox TV Starter
Advertised at $25 per month; add $10 broadcast TV fee and $3 mini-box rental, plus taxes. 75-plus channels: local broadcasts from all the major networks in most markets, a smattering of cable channels. No DVR available.
Streaming
$15-Plus
AT&T WatchTV
A low-cost plan that's free to some AT&T mobile subscribers. It has 35-plus cable networks but no local broadcasts. You also get thousands of on-demand shows and movies. It's limited to one user at a time, and it lacks a DVR but has a 72-hour look-back feature for shows that have aired.
Basic
Cable
$80-Plus
Comcast: Digital Starter
Advertised at $60 per month; add up to $10 for broadcast TV and $8.25 for a regional sports fee, plus taxes. 140-plus channels: broadcast TV plus cable channels. Price guaranteed for only one year, and service is limited to one TV.
Streaming
$50
YouTube TV
70-plus channels, including all the major broadcast networks in many markets. Cloud DVR with unlimited storage for up to nine months is included, and three people can use the service at a time. Pay $5 to $9 per month extra for AMC, Showtime, or Starz. (HBO is not available.)
Premium
Cable
$110-Plus
Spectrum Gold
Advertised at $85; add $7.50 for a cable box/DVR, $5 for DVR service, $12 for broadcast TV, plus taxes. 200-plus channels, including the major broadcast networks and many cable channels, including HBO, Showtime, Starz, and The Movie Channel.
Streaming
$85
Sony PlayStation Vue Ultra
About 100 local and cable channels, including HBO and Showtime. A sports pack, with NBC and Fox sports channels, and NFL Red Zone, costs an extra $10 per month. A cloud DVR stores shows for up to 28 days.
Editor's Note: This article also appeared in the September 2019 issue of Consumer Reports magazine.