When you shop through retailer links on our site, we may earn affiliate commissions. 100% of the fees we collect are used to support our nonprofit mission.
Learn more.
Manufacturers are adding new features to washers and dryers that are designed to solve problems or remedy inconveniences you encounter when doing the wash. Consumer Reports sent some staffers to scout out new products at CES 2018, the annual electronics convention in Las Vegas, as well as the Kitchen & Bath Industry Show in Orlando this week, and here's a look at the innovative laundry appliances they discovered.
Pod-Dispensing Electrolux Front-Loader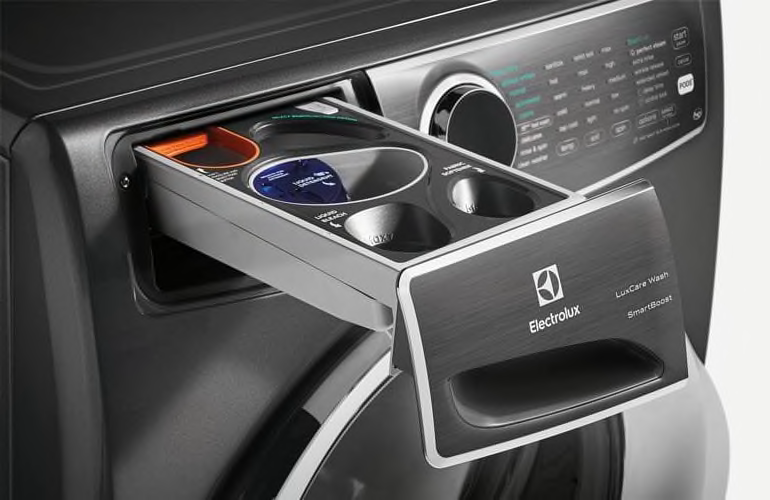 Electrolux is the first manufacturer to add a dispenser for laundry detergent pods to washers, and it's on display at KBIS. These liquid detergent packets eliminate the need to measure detergent, which helps explain why sales are growing 15 to 20 percent a year, while sales of powders dissolve.
"Your only option has been to put the pod directly in the drum, where it can get stuck in the bellows, or doesn't fully dissolve," says Leigh Donadieu, an Electrolux spokesperson. Consumers have also complained online that undissolved pods can wind up stuck to laundry.
MORE ON LAUNDRY APPLIANCES
The Electrolux EFLS627U has dispensers for liquid detergent, bleach, and fabric softener, and the orange-colored "adaptive dispenser" holds up to two pods from any brand. A rush of water moves the pods through the dispenser and, through a series of steps, breaks down the pods and dispenses the liquid detergent to a chamber where it mixes with water before the cycle starts.
"This is a good idea because washers have been designed for liquid and powder detergents," says Emilio Gonzalez, a CR test manager and laundry appliance expert. "Front-loaders use a lot less water than other washer types, and that low-water use may contribute to the problem of detergent pods not dissolving."
This Electrolux front-loader debuts in May for around $1,100.

GE Top-Loader With Pretreating Station
In the past 15 years or so, washers have moved from basements to the main floor, but the laundry sink didn't always follow. Consumer research has found that some folks miss having a sink within reach of the washer, especially when they need to pretreat clothes with stains, according to Julie Muennich, a GE spokesperson.
GE's Water Station, featuring a water faucet in the back of the tub, aims to solve this problem, and is showcased at KBIS. We recently tested the GE GTW750CSLWS high-efficiency top-loader, $720, and evaluated the Water Station feature. "It's an improvement over Samsung's Activewash, the first washer pretreat feature, and is more flexible than Whirlpool's built-in water faucet," says Gonzalez.
"With the GE Water Station, you can use the detergent that's in the dispenser, or add your own," he adds. "This feature automatically mixes the detergent into the water, if you want, and you can choose a water temperature to boost cleaning."
When you're done pretreating the garment, just close the washer lid, let the item soak a while, or start the wash cycle. The dirty water drains, and clean water is added. The video above shows the feature in action in our laundry appliance lab, along with Whirlpool's pretreating feature.
The GE GTW750CSLWS high-efficiency top-loader did not perform impressively overall in our tests, so we're hoping to see this feature added to other GE top-loaders.
Whirlpool Smart All-In-One Washer/Dryer
This all-in-one model is designed to save space. It's both a front-loading washer and a ventless electric dryer, allowing you to wash and dry a load in the same machine. Whirlpool joins LG and Kenmore in the all-in-one laundry appliance category. But this Whirlpool model, which the manufacturer introduced at CES, also includes some high-tech smart features.
You can start the machine remotely, using your mobile phone and an app, and receive alerts when your load is done. Wear an Apple Watch? You can receive alerts on it too. And you can ask Amazon's Alexa to start the washer or dryer, pause it, or run an option. You can also ask Alexa to find out how much longer the wash or dry cycle will take.
The Whirlpool Smart All-In-One WFC8090GX, $1,700, comes out this summer.
How to Wash Your Clothes Like a Scientist
Want to protect your favorites clothes from fading and shrinking in the laundry? On the 'Consumer 101' TV show, Consumer Reports' Chief Scientific Officer James Dickerson reveals tips for prolonging the life of your wardrobe.