When you shop through retailer links on our site, we may earn affiliate commissions. 100% of the fees we collect are used to support our nonprofit mission.
Learn more.
Mesh networks have been all the buzz in router technology this year. As consumers add more devices to their home network—laptops, gaming consoles, wireless speaker systems, smart TVs, and even appliances such as the Samsung Family Hub refrigerator—manufacturers are finally stepping up to solve the problem of lame WiFi.
Netgear just unveiled the Orbi, which follows on the heels of the eero and the Luma (see our wireless router ratings for more models). The Orbi, eero, and Luma employ a series of devices that work in unison to create a WiFi network capable of blanketing your entire home. With this approach, you don't experience a dip in signal speed the farther you venture from the main router, as often happens with a WiFi extender.
The Orbi, which features a router and one satellite unit, goes on sale in September for $400, the same price as Luma's three-unit starter kit. Both undercut eero's three-pronged approach by $100. What's more, Netgear claims that its network delivers 4,000 square feet of WiFi coverage—1,000 more than the eero can. A customer rep at Luma's support line told us its network covers roughly 1,200 to 1,500 square feet per unit.

What Makes the Orbi Unique?
Most routers, extenders, and WiFi-connected devices communicate with one another on one of two bands—a 5GHz and a 2.4GHz—but Netgear added a third to the Orbi, a 1.7Gbps 5GHz channel dedicated to communication between the router and its satellites.
According to the manufacturer, this lets the router extend maximum internet speed to satellites throughout your home. Netgear did not respond to our requests for an interview regarding the Orbi's operation, but in a press release, the company said, "the emphasis should not only be on WiFi coverage itself, but also the performance at the furthest edge of that connection."
Much like the Luma and the eero, the Orbi system promises an easy installation process, with the two modules paired straight out of the box and a web-based setup that can be accessed through your browser or your phone. To reduce confusion even further, its 5GHz and 2.4 GHz bands operate under one network name instead of two.
The Orbi's minimalist look is reminiscent of its mesh network rivals, though it isn't quite as dainty. It's a rounded, white tower about the size and thickness of a large textbook. While the router component can be hidden away, the satellite has to be placed near the center of your home to maximize performance. But Netgear has made it easy to choose the right spot: a blue glow on top means it's operating at max speed, amber means it's a bit far from the router for optimal output, and red means exactly what you'd think it means.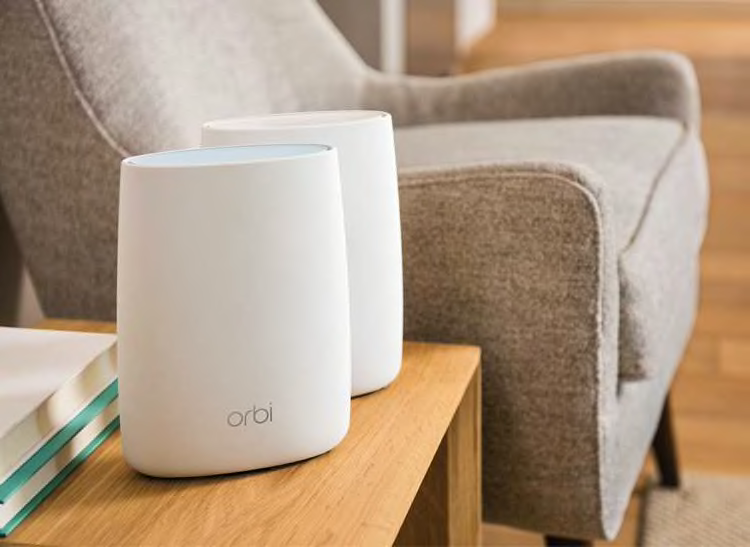 The Orbi's Finer Points
The Orbi's advanced features include parental controls and automatic updates. The system supports the 802.11ac WiFi standard, adopted in 2013, so it can accommodate more than 20 devices and even has the ability to detect where each of those devices is located and push a stronger "smart signal" that way.
It can handle WiFi speeds up to 3 Gbps, which won't mean much to the most consumers. But if you have high-tier service, you might notice a difference when you stream, say, video games. For the sake of comparison, on the 5GHz band, the eero can put out a theoretical maximum of about 600 Mpbs, the Luma is a tad faster with 867 Mbps, and the Orbi allows speeds up to 1,733 Mbps.
While we found a lot to like about the eero in our hands-on trial run, when it comes to connecting other devices, the unit's lone Ethernet port sacrificed a lot of functionality for simplicity. By contrast, each Orbi satellite boasts four ports, which is useful for people with entertainment systems and smart home hubs.
The Orbi has one more thing going for it: Netgear's roots as a market leader in router technology.
If the folks at eero are troubled by the competition from Netgear's Orbi, though, they're not showing it. Nick Weaver, co-founder and CEO of eero, told Consumer Reports in an email: "We were the first to create a whole home WiFi system and bring mesh networking technology into the home. Other companies announcing similar products only validates the space and consumer demand for a top tier WiFi experience. We'll continue to improve our products and underlying technology so consumers have the best possible home WiFi experience."
Home WiFi Mesh Networks
Can't get a decent wireless internet connection in your home? On the 'Consumer 101' TV show, Consumer Reports' expert Nicholas De Leon explains to show host Jack Rico how mesh networks provide faster speeds and better coverage.