Memorial Day weekend is known for commemorating fallen heroes, as well as barbecues, parades, and road trips. But it can also be a great time to buy a new car.
The advertising blitz now underway broadcasts dramatic savings through new-car incentives such as cut-rate financing, customer rebates, and subvented lease deals (which are sweetened by the manufacturer).
To identify standout deals, our analysts have focused on nationwide new-car incentives and discounts that point to notable available savings below sticker price. In the holiday spirit, we're only spotlighting models that are assembled in the United States.
'American' Isn't Easy to Define
Identifying a vehicle as "American" is a murky process. Not only is Chrysler owned by an Italian company, Fiat, but its 300 sedan is also built in Canada. Meanwhile, Ford sells the Mexican-sourced Focus. At the same time, brands including BMW, Honda/Acura, Hyundai, Kia, Mercedes-Benz, Subaru, Toyota, and Volkswagen have been manufacturing stateside for years.
Making a patriotic car purchase can mean targeting models made in the United States, those offered by domestic brands, or potentially both. If buying "Made in the USA" is a goal, be sure to check the window sticker on the specific model you are considering.
All the cars listed below, shown in alphabetical order, are 2016 models. Specific pricing details on these and other trim variations are available on the model pages, along with complete road tests, reliability, owner cost, and other key information. We did find numerous other models with tempting deals, although some cars with big new-car incentives come up short in Consumer Reports testing, underscoring the need for shoppers to do their research.
Also, check our Best New Car Deals, updated monthly, that features the new car incentives only on those models that earn a Consumer Reports recommendation, factoring road test score, reliability, owner satisfaction, and safety.
––––––––––––––––––––––––––––––––––––––––––––––––––––––––––––––––––––––––––––––––––––––––––––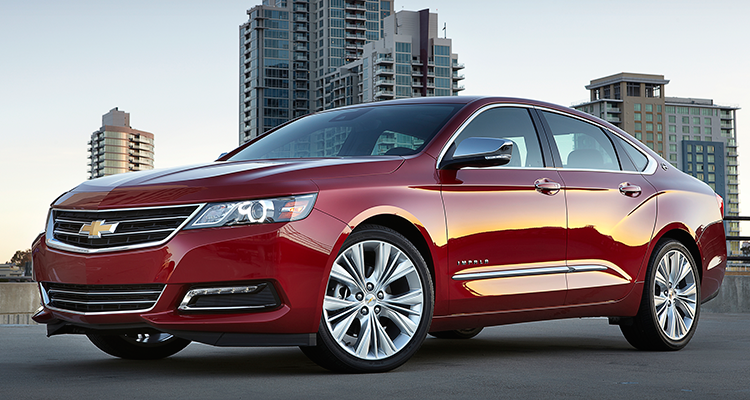 Chevrolet Impala
Our 2016 Top Pick for large sedans, the Impala (shown above and at the top of this article) is roomy, comfortable, quiet, and enjoyable to drive. It even rides like a luxury sedan, feeling cushy and controlled. Engine choices include a punchy 3.6-liter V6 and an adequate 2.5-liter four-cylinder, both paired with a six-speed automatic. In our tests, the V6 returned 22 mpg overall and had good acceleration. Braking is capable, while handling is secure and responsive. The full-featured cabin stays very quiet, and features a sumptuous backseat and a huge trunk. Controls are intuitive and easy to use, but rear visibility is restricted. Advanced electronic safety features are readily available. Updates for 2016 include Apple CarPlay capability and wireless cell-phone charging.
| | | | | |
| --- | --- | --- | --- | --- |
| Make & Model | Incentives Expire | MSRP | Invoice | Potential Savings off MSRP |
| | 5/31/16 | $36,415 | $35,171 | $2,066 |
––––––––––––––––––––––––––––––––––––––––––––––––––––––––––––––––––––––––––––––––––––––––––––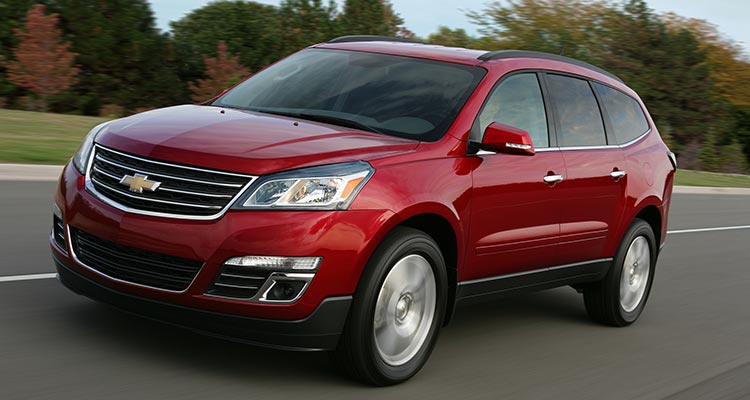 Chevrolet Traverse
Although it dates back to 2008, the large Traverse is still a competitive three-row SUV. We liked its firm, comfortable, and quiet ride and its relatively agile, secure handling. But like its corporate cousins, the Buick Enclave and GMC Acadia, it's beginning to show its age. The 3.6-liter V6 and six-speed automatic powertrain is smooth and powerful enough, but it works hard in this large SUV, and its 16 mpg overall is uncompetitive. A big plus is the ability to fit adults in the roomy third row. Fit and finish has been improved, and forward-collision and lane-departure warning systems are available.
| | | | | |
| --- | --- | --- | --- | --- |
| Make & Model | Incentives Expire | MSRP | Invoice | Potential Savings off MSRP |
| | 5/31/16 | $36,900 | $35,820 | $3,080 |
––––––––––––––––––––––––––––––––––––––––––––––––––––––––––––––––––––––––––––––––––––––––––––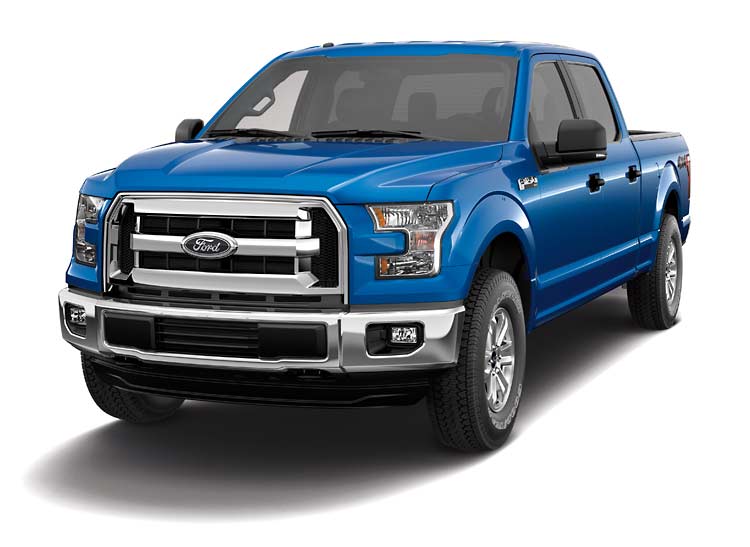 Ford F-150
Ford's big-selling pickup truck uses an all-aluminum body, which saves about 700 pounds over steel. Powertrain choices include a 3.5-liter V6, 2.7- or 3.5-liter turbo V6s, and a 5.0-liter V8, each paired with a six-speed automatic. We tested the 2.7- and 3.5-liter turbo engines, and each delivered abundant power. In our tests the 2.7 got 17 mpg overall, 1 mpg better than the turbo 3.5. The 2.7 is also surprisingly quicker from 0 to 60 mph. The cabin is very quiet, but the ride is jittery and handling is rather ponderous. New safety offerings include lane-departure warning and blind-spot detection. Other notable features include a 360-degree-view camera and integrated loading ramps. Reliability of the redesign has been above average.
| | | | | |
| --- | --- | --- | --- | --- |
| Make & Model | Incentives Expire | MSRP | Invoice | Potential Savings off MSRP |
| | 7/5/16 | $36,410 | $34,162 | $5,306 |
––––––––––––––––––––––––––––––––––––––––––––––––––––––––––––––––––––––––––––––––––––––––––––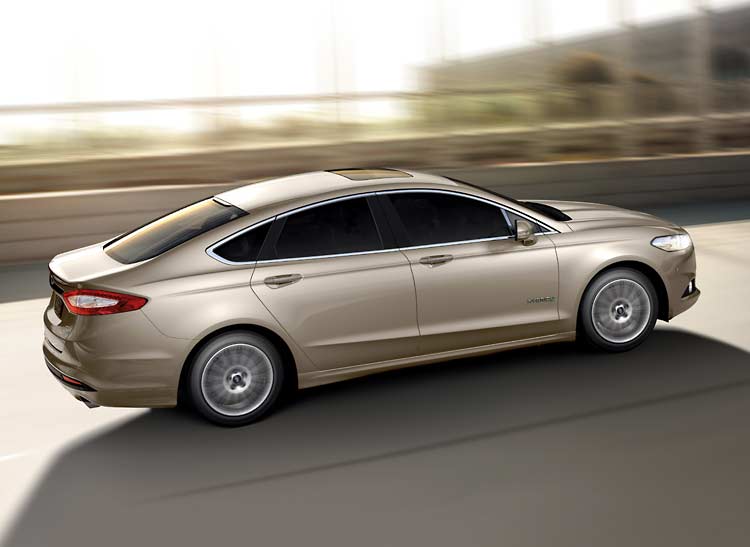 Ford Fusion
This sedan is a delight to drive, with a supple ride and handling rivaling that of a European sports sedan. All trim levels and powertrains feel solid and upscale, with a well-finished and quiet cabin, and comfortable seats. But the rear seat is somewhat snug, and the MyFord Touch interface is an annoyance. Most Fusions get either a 1.5- or 2.0-liter turbo four-cylinder matched with a six-speed automatic. The 1.5-liter does the job, but the 2.0-liter packs more punch and better suits the car. We recorded 24 and 22 mpg overall, respectively, which is among the lower performers in the category. The Hybrid version turned in an excellent 39 mpg overall.
| | | | | |
| --- | --- | --- | --- | --- |
| Make & Model | Incentives Expire | MSRP | Invoice | Potential Savings off MSRP |
| | 7/5/16 | $26,865 | $25,551 | $2,780 |
––––––––––––––––––––––––––––––––––––––––––––––––––––––––––––––––––––––––––––––––––––––––––––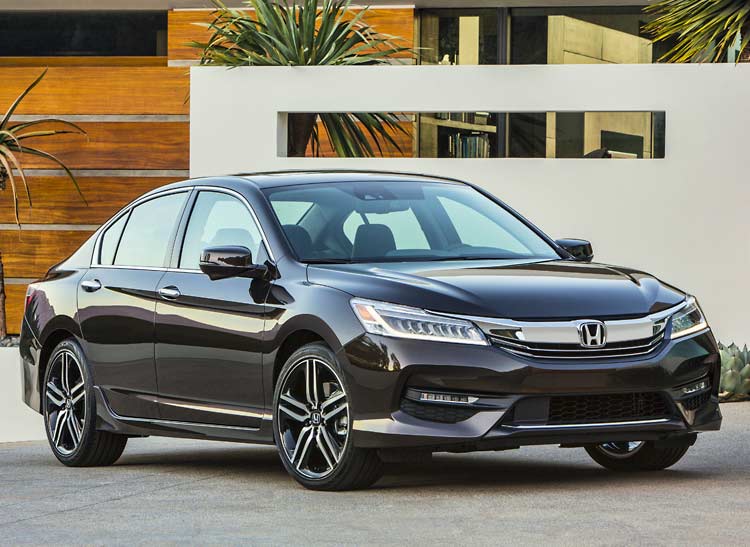 Honda Accord
Across all trim lines, the Accord is well equipped and priced competitively, making it one of our top-rated family sedans. It handles responsively, though the ride tends to be choppy. It has a roomy and well-finished interior, and the base four-cylinder engine gets 30 mpg overall with its mostly unobtrusive continuously variable transmission. For purists, the Accord still offers a stick shift. The 3.5-liter V6 is lively and refined, and gets a very good 26 mpg overall. We didn't like Honda's unintuitive infotainment system the only way to avoid it is to get the base or Sport trims. Honda's "Lane Watch" right-side camera is an ineffective substitute for blind-spot monitoring. Reliability has been above average.
| | | | | |
| --- | --- | --- | --- | --- |
| Make & Model | Incentives Expire | MSRP | Invoice | Potential Savings off MSRP |
| | 7/5/16 | $23,840 | $22,103 | $1,460 |
––––––––––––––––––––––––––––––––––––––––––––––––––––––––––––––––––––––––––––––––––––––––––––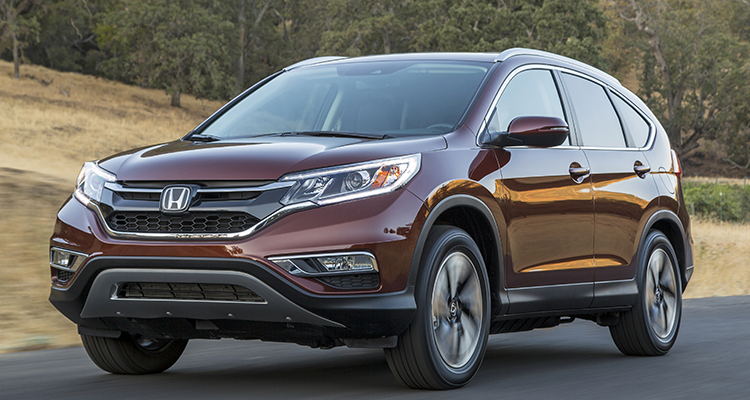 Honda CR-V
The CR-V is one of the roomiest, most functional small SUVs. The 185-hp, 2.4-liter four-cylinder returned 24 mpg overall in our tests. All but the base LX version use a distracting, difficult-to-use, and frustrating infotainment system. Handling is responsive and secure, but the ride is stiff, with bumps coming through in a pronounced way. The interior is still loud compared to other small SUVs. The rear seats are roomy, and folding them flat is a breeze. Small rear windows hurt the view out back, but the standard rearview camera helps. Reliability has been average of late. Active safety features are only available on the top Touring trim. The LaneWatch camera is no substitute for a true blind-spot monitoring system.

| | | | | |
| --- | --- | --- | --- | --- |
| Make & Model | Incentives Expire | MSRP | Invoice | Potential Savings off MSRP |
| | 7/5/16 | $28,195 | $26,782 | $1,046 |
––––––––––––––––––––––––––––––––––––––––––––––––––––––––––––––––––––––––––––––––––––––––––––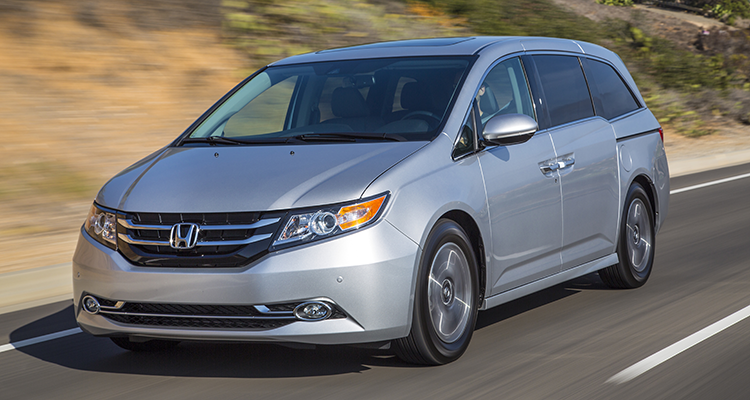 Honda Odyssey
This versatile and capable hauler combines clever and generous packaging with responsive handling and a supple ride—surprising for a minivan. Its vigorous 3.5-liter V6 and smooth six-speed automatic returned 21 mpg overall in our tests. The Odyssey can seat eight in relative comfort, with varying configurations for cargo and passenger needs. Easy access, excellent child-seat accommodations, and abundant cabin storage add to the family-friendly quotient. Among our few gripes is the tediously complicated dual touch-screen infotainment system. In addition, fit and finish and some material selection are not what one would expect at this price, and AWD isn't available.
| | | | | |
| --- | --- | --- | --- | --- |
| Make & Model | Incentives Expire | MSRP | Invoice | Potential Savings off MSRP |
| | 7/5/16 | $36,950 | $34,186 | $1,971 |
––––––––––––––––––––––––––––––––––––––––––––––––––––––––––––––––––––––––––––––––––––––––––––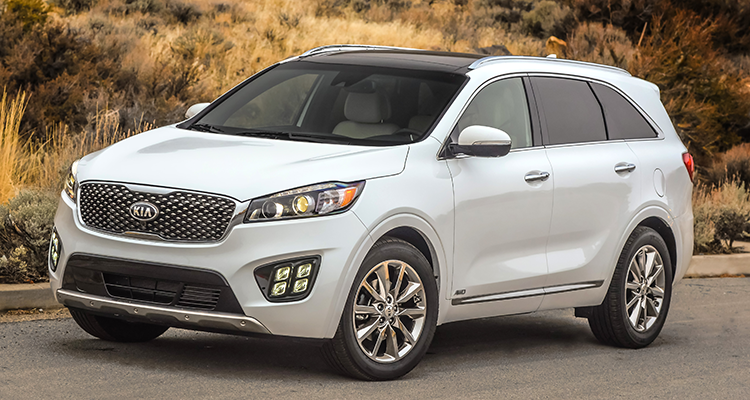 Kia Sorento
This is a great SUV hiding in plain sight. Most midsized crossovers often feel like uninspiring errand runners. But the Sorento offers class-above elegance at mainstream prices. It's a shade smaller than its midsized competitors, but that allows the Sorento to be city-friendly while still offering the space and features of a larger vehicle—including an optional-but-tiny third-row seat. The smooth 290-hp V6 is responsive with competitive fuel economy, while the base 185-hp four-cylinder is no slouch. The suspension absorbs the worst bumps and ruts with dignity while still giving you confidence in corners. The interior design is flat-out gorgeous, with intuitive controls and infotainment system. The Sorento comes with well-above-average predicted reliability.
| | | | | |
| --- | --- | --- | --- | --- |
| Make & Model | Incentives Expire | MSRP | Invoice | Potential Savings off MSRP |
| | 7/5/16 | $34,795 | $33,381 | $2,517 |
––––––––––––––––––––––––––––––––––––––––––––––––––––––––––––––––––––––––––––––––––––––––––––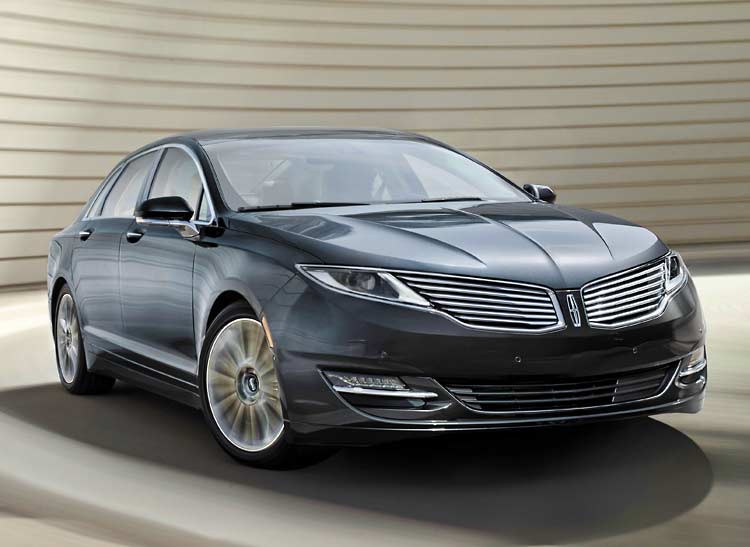 Lincoln MKZ
Based on the Ford Fusion, the upscale MKZ has a luxurious, quiet interior, and its ride and handling rival some high-end European sports sedans. Powertrains include a 2.0-liter turbocharged four-cylinder and a 3.7-liter V6, each matched with a six-speed automatic. There's also a hybrid, which returned a near-class-best 34 mpg overall in our tests. The push-button gear selector and touch-sensitive controls for climate and audio functions are frustrating to use. And the modern styling compromises cabin access and rear-seat room. Reliability has been average. One added bonus—both the MKZ and MKZ hybrid sell for the same price, and both are eligible for the sales incentive.
| | | | | |
| --- | --- | --- | --- | --- |
| Make & Model | Incentives Expire | MSRP | Invoice | Potential Savings off MSRP |
| | 7/5/16 | $36,115 | $34,418 | $2,292 |
––––––––––––––––––––––––––––––––––––––––––––––––––––––––––––––––––––––––––––––––––––––––––––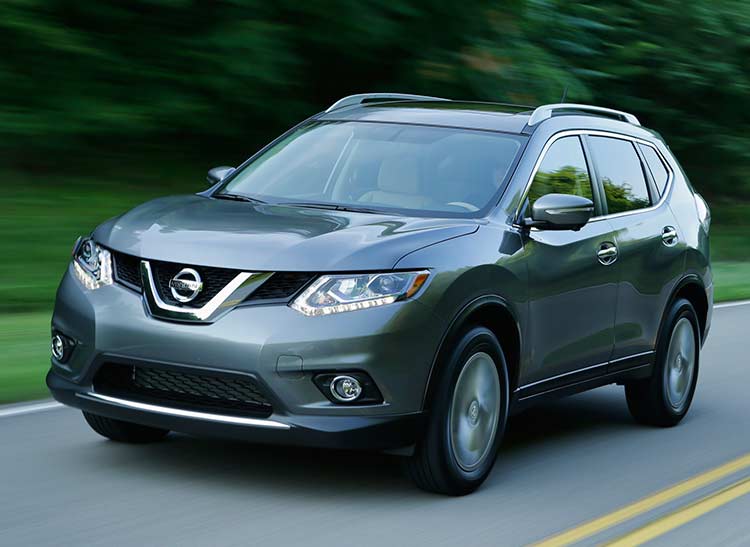 Nissan Rogue
The easy-to-drive Rogue is one of the better small SUVs. It rides better than most competitors and is fairly quiet and refined. Handling is sound, with prompt steering response and restrained body lean in corners. Power comes from a 2.5-liter four-cylinder mated to an updated continuously variable transmission that is not overly intrusive. Our AWD Rogue delivered 24 mpg overall. The interior is spacious for the class and nicely finished. The second-row seat is very roomy, and the small, optional third-row seat allows seating for seven in a pinch. A rear camera is standard, and available safety gear includes rear cross-traffic alert and forward-collision, lane-departure, and blind-spot warnings.
| | | | | |
| --- | --- | --- | --- | --- |
| Make & Model | Incentives Expire | MSRP | Invoice | Potential Savings off MSRP |
| | 5/31/16 | $26,990 | $26,097 | $1,491 |
Shopping links are provided by eBay Commerce Network and Amazon, which makes it easy to find the right product from a variety of online retailers. Clicking any of the links will take you to the retailer's website to shop for this product. Please note that Consumer Reports collects fees from both eBay Commerce Network and Amazon for referring users. We use 100% of these fees to fund our testing programs.