Secrets to Stress-Free Flying
Cramped, chilly, noisy planes can make air travel a real hassle. CR's no- or low-cost tips can help bring some comfort back to flying.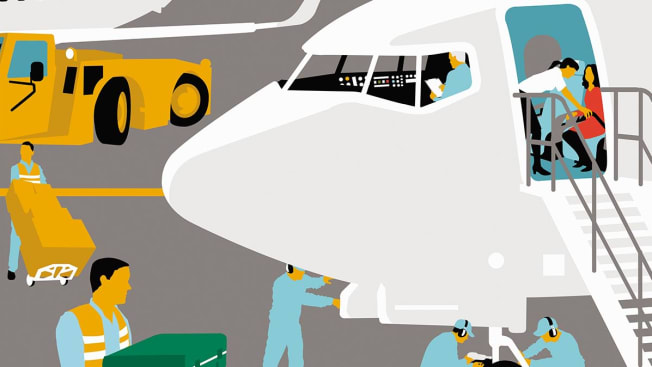 As airlines reduce legroom and seat width to shoehorn more passengers into their planes for profit, comfort is in increasingly short supply. The 55,000 CR members who completed our most recent airline satisfaction survey gave legroom and seating comfort the lowest possible scores for all the domestic airlines we rated except JetBlue, which members gave only slightly higher marks.
Also distressing were reports from parents flying on the least expensive fares that airlines wouldn't guarantee they could sit with their young children unless they paid a fee or upgraded to a higher fare.
Here, we offer some easy and affordable ways to make flying more comfortable and increase the chance you'll be seated with your kids without having to pay for the privilege. Members can also access our exclusive luggage ratings and advice to help you choose the bags that will serve you best for the long haul.
Choose the Right Aircraft
Not all airplanes are created equal. Some incorporate technology designed to reduce fatigue and increase comfort, particularly on longer flights.
For instance, while most airline cabins are pressurized to the equivalent of 8,000 feet above sea level, the Boeing 787 and Airbus A350 and A380 (all typically used on international routes) are pressurized to the equivalent of 6,000 feet, which may improve oxygen absorption and reduce headaches and fatigue. Boeing and Airbus say the advanced air treatment systems on these models also make them less arid and more comfortable than other aircraft. Booking long flights on one of these types of planes may help you arrive feeling fresher and even reduce the effects of jet lag.
Savvy travelers know that choosing a seat involves more than deciding between window and aisle. While most seats in the economy section typically offer the same amount of personal space (many airlines allow you to purchase a few extra inches of legroom in coach for an added fee), other factors can make a seat more or less desirable. For instance, flyers sitting near the galleys or bathrooms may be subject to more noise, light, and even jostling from other passengers than those in other areas of the plane. Before choosing a seat, consult a website such as SeatGuru, which highlights the most and least desirable locations. (If you're flying on one of the cheapest fares, you probably won't be able to choose your seat. And airlines reserve the right to change any passenger's seat assignment if it deems it necessary.)
Consider an Airline-Branded Credit Card
Consumers who frequently fly on the same carrier may find the benefits and conveniences provided by an airline-branded credit card worth the annual fee, which can range from $95 to more than $500, depending on the card. For example, flyers who carry the Gold Delta American Express SkyMiles card can check in one suitcase at no additional charge (worth up to $60 in savings on round-trip flights) when they fly Delta. They also get to be among the first to board, meaning they won't have to compete for overhead bin space. There's no annual fee the first year, and it's $95 after that.
The Delta Reserve American Express card offers early boarding, free checked bags for up to eight members of the cardholder's traveling party, access to airport lounges for the cardholder, and other benefits for $550 per year. The Citi/AAdvantage Executive World Elite Mastercard offers many similar perks to American Airlines ticket holders for $450 per year.
Carry a Pillowcase and Cushion
If your airline provides you with a pillow, it might not come with a clean cover, which means you could end up with one slobbered on by a previous passenger. Your own pillow may be too bulky to carry onboard, but stowing a small pillowcase in your carry-on won't take up much room and can make standard-issue airline pillows seem cleaner and more appealing.
A lightweight and portable seat cushion can also provide added comfort, especially on long flights. "I bring a memory foam seat pad with me when I know I'll be flying long distances in economy class," says George Hobica, the founder of Airfarewatchdog.
Carry-on rules can be strictly enforced, so make sure that any cushion you bring can be placed in­—or snapped onto—your carry-on bag.
Bring Noise-Canceling Headphones
A good set will offer some peace and quiet by reducing the sounds of engine drone, crying babies, and chatty passengers. CR's highest-rated wireless portable headphones are the Bose QuietControl 30, $300, which earn a rating of Excellent, with an Overall Score of 87. The Audio-Technica ATH-ANC100BT headphones, $100, are a CR Best Buy with an Overall Score of 68 and a rating of Very Good.
Most airlines give premium passengers amenity kits to make them feel pampered. (Delta even offers pared-down versions to passengers in the main cabin.) To make your own, pop travel-sized items into a zippered cosmetics case (toothbrush, toothpaste, lotion, hand sanitizer, wipes, and lip balm), plus an eye mask, earplugs, a comb or brush, and a pair of no-show or ankle-high socks to keep your feet warm when your shoes are off.
Concerns for Flying Families
It may be hard to believe, but it's legal for a U.S. airline to seat a toddler far away from its parents on a flight. CR reviewed more than 100 consumer complaints related to family seating filed with the Department of Transportation from March 2016 through November 2018 and uncovered multiple cases in which children younger than 5 were seated apart from the adults traveling with them. In 12 cases, children 3 or younger were separated from their parents; in two cases, children as young as 1 were seated apart from their parents. There were also occasions in which airlines refused to seat children who suffered from seizures or were autistic next to their parents.
Among the concerns parents voiced in their complaints to the DOT were that they wouldn't be able to assist their children in an emergency and that children sitting on their own would be at risk for sexual assault. (The FBI has investigated cases in which victims of sexual assault on airplanes were as young as 8.) In some of the complaints, parents who were separated from their children said they resorted to asking strangers to trade seats. When that failed, families were asked to leave the plane or they chose to leave out of concern for their children.
Airlines often imposed or attempted to impose additional fees to allow parents to sit with young children, says William J. McGee, an aviation adviser to CR who reviewed the complaints. In the worst cases, families who had to rebook their flight to ensure they were seated together paid thousands of dollars more than their original fare. In one instance a family paid $4,341 more; in another, the additional cost came to $14,084.
As part of the Federal Aviation Administration Reauthorization Act, Congress directed the DOT in 2016 to review family-seating policies and, if appropriate, require airlines to enable families to sit with their young children at no extra cost. But more than three years later, the agency says it has no plans to ask airlines to make any changes to their family-seating policies.
The DOT announced in a public statement that it had determined new rules weren't necessary because less than 1 percent of the airline-related complaints it received from June 2016 through May 2017 were about family seating. Instead of enacting new rules, the agency added a new section to its website offering advice to families about sitting together and links to individual airline websites for more information about their family-seating policies.
"This is a serious issue that should not be dismissed based on the number of complaints filed with the DOT," says Anna Laitin, director of financial policy at CR. She says that children being seated apart from their parents is a growing problem, largely because obtaining an advance seating assignment has become more complicated and expensive. Today's lowest fares typically don't allow passengers to reserve a seat in advance, and purchasing tickets that include a seating assignment can be cost-prohibitive for some, Laitin says.
Without new regulations, the only way to guarantee that your family will sit together is to pay for seat assignments (or to secure advance boarding on Southwest, possibly for a fee), McGee says. But following these tips can help you avoid unpleasant surprises and increase the chance you'll fly together as a family, even if you don't pay extra.
The lowest-priced tickets—such as Basic Economy—usually don't include a seat assignment. Seats for these fares aren't assigned until much closer to departure (sometimes at the gate), and requests regarding location might not be honored. Airlines provide this information to consumers who book online, but some parents may still assume that an airline will seat them with their children. The complaints submitted to the DOT show that parents can't make that assumption.
Book Everyone on the Same Reservation
If you book family members on more than one reservation, airlines might not know that you're traveling together. Also, be sure to confirm your seating assignments (if you have them) before you go to the airport. They could change at the last minute if, for example, a different type of aircraft is used.
If you don't want to pay to get seat assignments, try calling a reservations agent at the same time you're booking your flight online to inform him or her that you're traveling with children. (You may incur a fee.) The airline isn't required to seat you together, but the agent may be able to accommodate your request or make a note in the reservation, which could help you later.
Similarly, if your ticket was booked on a third-party site and not directly with an airline, contact reservations to let an agent know you're traveling with children. McGee urges parents to do this as early as possible. Flights operate so full these days that there's little wiggle room if you don't arrange for seating in advance.
Get to the airport at least a couple of hours before departure for domestic flights. You'll have more time to try to work out a solution if you need to.
If you don't realize until you arrive at the airport that you and your children are separated, talk with a gate agent. Airlines for America, a U.S. airline trade association, says that it's possible for families to sit together without incurring additional charges but that airlines leave it up to customer-service employees to make seating arrangements on a case-by-case basis.
If you've had a problem, file a complaint as soon as possible. You can notify Consumer Reports and the Department of Transportation.
Editor's Note: This article also appeared in the February 2020 issue of Consumer Reports magazine.