When you shop through retailer links on our site, we may earn affiliate commissions. 100% of the fees we collect are used to support our nonprofit mission.
Learn more.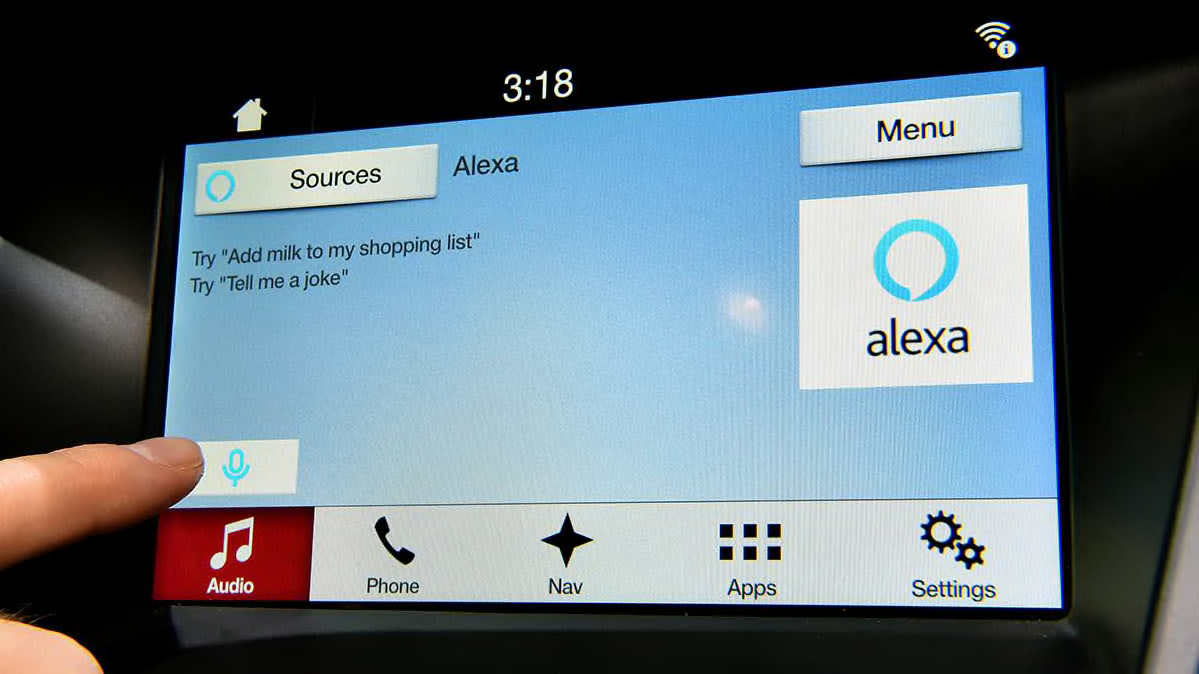 Amazon's Alexa voice assistant might be an easy way to add voice control and automation to a variety of smart home devices, but Consumer Reports has found that Alexa doesn't integrate as seamlessly in a car.
In our tests, we encountered clunky interfaces and awkward voice commands. In addition, it didn't play well with offerings from other tech giants, such as Apple.
Simply put, Alexa did a lot of things that Amazon (and automakers) said it would, but it's too early to tell whether the technology will be reliable over the long haul. Early adopters who have bought into the Alexa experience at home may find it appealing, but others might want to wait for some of the kinks to be worked out.
Amazon recently announced that later this year it's going to release a version of its popular Echo smart speaker designed specifically for cars. But some drivers won't have to wait that long to take Alexa on the road.
Certain new vehicles, including some that Consumer Reports has in its test fleet, already have Alexa available as a built-in feature.
Amazon is now the third major tech company vying for control of your car's infotainment system. Google's Android Auto and Apple's CarPlay are already widely available in most new vehicles, and they put familiar apps on your dashboard so you don't have to learn a new operating system just for the car.
Here's what we've learned so far.
How Does Alexa Work in a Car?
There are several levels of Alexa integration for cars. The most basic allows drivers to activate an Alexa feature and ask the Amazon smart speakers in their home or office to tell them how much fuel the car has or whether the car doors have been locked. Voice commands can also be used to start or lock the car remotely.
With some vehicles from Audi, BMW, Ford, Lexus, Lincoln, and Toyota, Alexa lets drivers use voice commands while they're in the car to get turn-by-turn directions, make phone calls, or stream music, podcasts, and audiobooks. Cars with built-in Alexa usually require an active telematics service, such as FordPass or BMW Connected, which offers remote monitoring and control of certain vehicle functions, and often requires a paid subscription after a free trial period.
Unlike Android Auto or Apple CarPlay, Amazon uses only voice commands, not an on-screen interface. From the car, drivers can use voice commands to control Alexa-compatible devices in their homes, such as thermostats, lights, and garage doors. You can also set routines based on location—so the heat will turn up at home as soon as you leave the office, for example.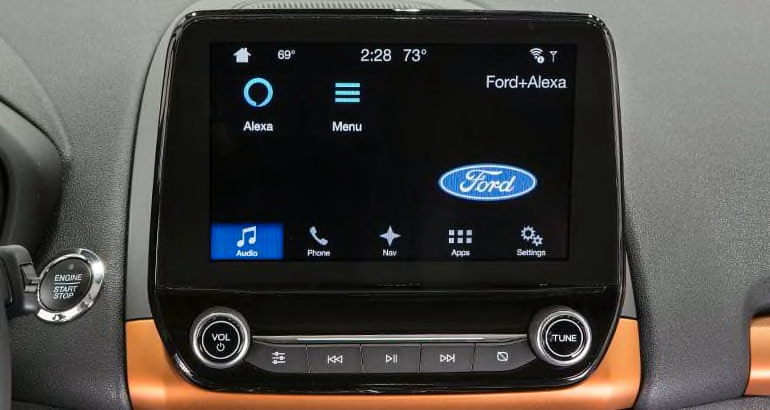 Does It Work?
We put in-car Alexa to the test in two vehicles: a 2018 Ford Ecosport small SUV and a 2019 Lexus ES350 sedan. While ads show drivers effortlessly making requests of Alexa while driving, we found that reality isn't as seamless.
To start, both vehicles require owners to download a cell-phone app. Configuring each app and linking it with an Amazon account took us about 10 minutes, but that's just a one-time annoyance. But because the 300-page owner's manual for the Lexus infotainment system didn't include instructions on how to do this, we had to look it up on the Lexus website instead.
Lexus doesn't offer an Apple version of its Alexa app yet (the automaker says it's coming in 2019), so we had to connect an Android phone to the ES350. Using Alexa was more involved than simply saying the "wake word" (in this case, "Alexa") from behind the wheel. First, we had to navigate to the Apps page on the Lexus' infotainment screen and select "Lexus+Alexa." Only then could we make a request.
The same was true when we connected an iPhone to the Ford, but that came with an additional hurdle: In order to activate Alexa here, Apple users must disable CarPlay—which requires a trip deep into the Ecosport's settings menu. Want to use Google Maps or listen to a podcast on the Apple app? You'll have to reactivate CarPlay—and disable Alexa.
All of the usual Alexa commands are here. We had Alexa turn on the living-room light at our connected home, stream some Steely Dan tunes, and get directions to a restaurant in downtown Hartford, Conn. After Alexa recognized the destination, both the Ford and the Lexus used the vehicle's own navigation systems for maps and turn-by-turn instructions.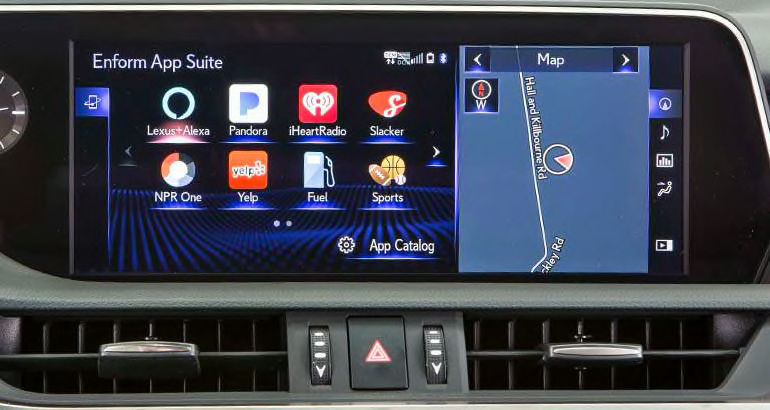 Still, we found that neither car's microphone understood us as well as the Alexa-equipped devices we've used at home. For instance, the Lexus wouldn't recognize repeated requests to stop playing music.
Instead of relying on the voice training users may have already done to teach the Alexa app to recognize the idiosyncracies of their own speech, automakers use their own software to help recognize drivers' voices. "There is no need for separate voice training as Ford worked with Amazon to improve recognition reliability in the car," Ford's Fazel Adabi told CR.
Similar to Android Auto and CarPlay, Alexa compatibility in the car relies on the data plan of the connected phone. So users may find themselves without Alexa if they're in an area with poor service. And, of course, they'll have to foot the bill for that data.
We also tried the home-to-car functionality of the Lexus to check the fuel level, door locks, etc. Owners need a subscription to the Lexus Enform telematics service to make this work, which costs $8 per month or $80 per year after a free one-year trial period for new-car buyers. In addition, drivers must download another app—Lexus Enform Remote—and enable an Alexa "skill" (a voice-based app) on their Amazon account. This setup process took about 15 minutes.
The limited number of commands did indeed work. But the main problem we encountered here was semantics. An Alexa skill requires a specific set of words to activate, and in this case every request had to be prefaced with the tongue twister "Alexa, ask Lexus to …" Still, on a cold day it would be useful to ask Alexa to warm up the car.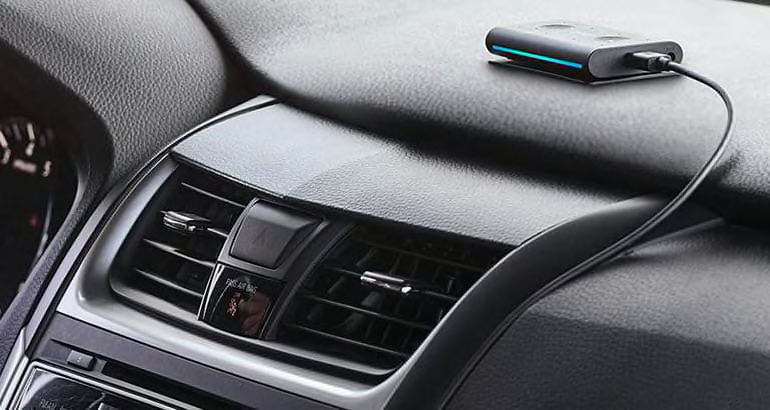 What If My Car Doesn't Have Alexa?
Amazon is currently offering select customers a beta test of Echo Auto, a new Alexa-equipped device that's designed specifically for cars that don't have Alexa built in.
It's about the size of a pack of cards and uses your phone's data connection but has its own integrated microphones that are designed to hear your voice over the sound of music and road noise. It's a simple device that plugs into an auxiliary port or connects using Bluetooth.
Echo Auto is currently available for preorder at an introductory price of $25; Amazon says it will eventually sell for $50. Right now, preordering is invitation-only; you can request an invite from Amazon's website. Echo Auto doesn't require a subscription but it does use your phone's data connection, which could drive up your monthly cell-phone bill if you don't have an unlimited data plan.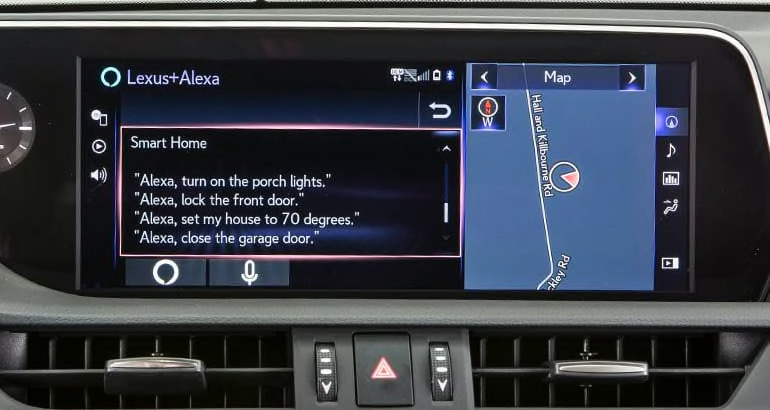 What About Privacy Concerns?
Location-based services might seem convenient, but they require drivers to let Amazon know where they are. That may be more information than some drivers want to share.
"You have to balance the convenience of something like Alexa with the privacy concerns that come with it," says Robert Richter, Consumer Reports' privacy and security testing program manager. "If you're comfortable having an Alexa in your house, you could probably have one in your car as well."
In addition, he says that drivers should know there's always a possibility of a data breach, and if that happens, third parties may be able to access your Alexa data without your consent. "I would never consider your data 100 percent safe," he says.
An Amazon spokesperson told CR that customers can delete their location data even after it has been collected in Amazon's Manage Your Content and Devices page.
Editor's Note: This article has been updated with new information from Amazon and Ford.