When you shop through retailer links on our site, we may earn affiliate commissions. 100% of the fees we collect are used to support our nonprofit mission.
Learn more.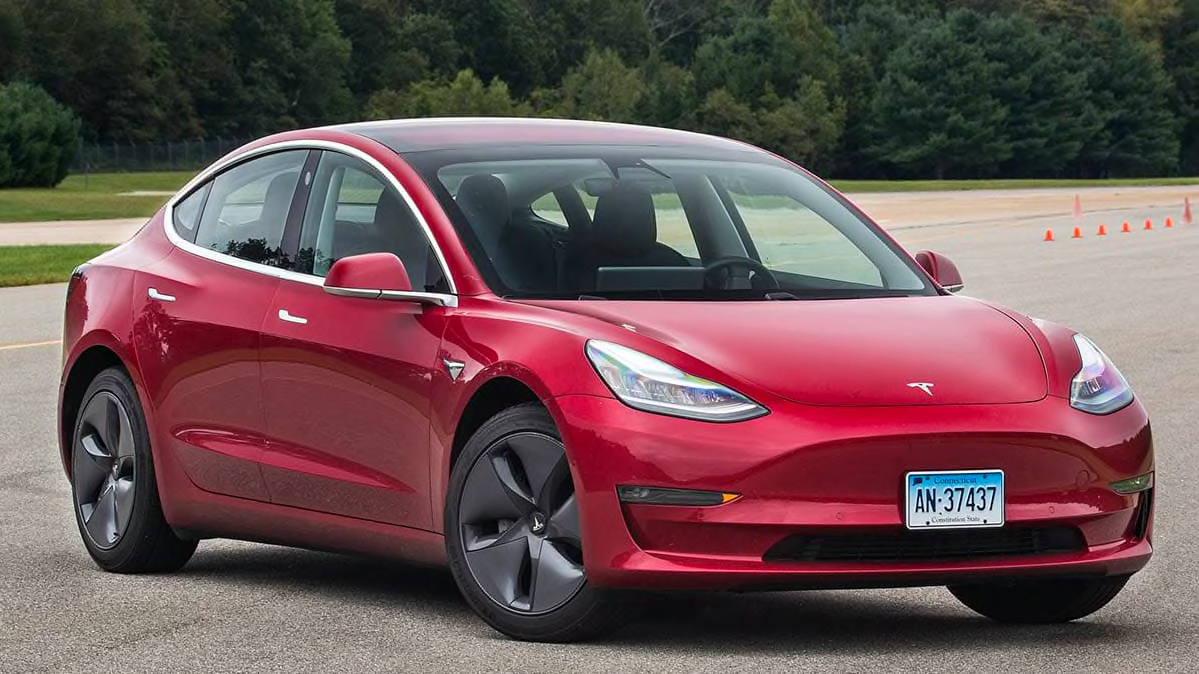 A Tesla over-the-air update this week left the Consumer Reports Model 3 electric car without key features for more than a day, including automatic emergency braking (AEB) and Autopilot.
The automaker sent a new update to the car on Thursday that restored the capabilities, says Jake Fisher, director of auto testing for Consumer Reports.
Other Model 3 owners also complained online about the update failure. Several of them on the Tesla Motors Club Forum noted that they were experiencing similar problems.
The electric car maker has been praised in the industry for its ability to remotely update critical vehicle systems. So far, it's the only automaker to use OTA updates in this way, but more companies are likely to follow suit in the near future, Fisher says.
"Tesla may be the first to do this, but other automakers will want to remotely change how their cars perform," he says. "Without enough care, that could lead to disaster for drivers."
In an emailed statement to CR, a Tesla spokesperson blamed the error on a firmware issue and said that even with the problem, the car was in a safe state, and capable of manual driving without Autopilot functions.
"We are working to proactively scan the fleet," Tesla said in the email. "For cars that have already experienced an update failure, we are deploying another update that fixes the issue." CR received and installed its update on Thursday.
Tesla said that it was "implementing fixes in several different areas that will prevent this from happening again in the future."
Tesla emailed its responses late Thursday. The company did not respond to specific written questions posed by CR about whether owners could revert the software on their own, which other systems might not be working, or how Tesla tests OTA software updates before sending them out.
Cars Aren't Smartphones
The software update snafu might represent a rare OTA hiccup for the tech-savvy company, but it also shows that Tesla and other auto companies could be as vulnerable to the difficulties of over-the-air software updates as other high-tech products, including smartphones and computers.
A major difference, of course, is that consumers rely on key automotive safety systems, such as AEB, to protect them and their passengers.
"OTA fixes can be really convenient for consumers, but you can't treat cars like smartphones because a new bug in your car's safety systems can be deadly," says David Friedman, vice president for advocacy at Consumer Reports. "An OTA repair fixing a defect or inadvertently creating one, as appears to be the case here, should be treated like any other recall or defect, including clear communication to consumers and government safety regulators."
Tesla told CR on Friday that the number of cars affected was "extremely small" but did not provide an exact number. According to Tesla's quarterly statements, the automaker delivered 28,395 Model 3s as of June 30, the end of 2018's second quarter.
The Future of Updates
OTA updates are gaining favor with automakers, and the reason is clear: If car companies can make updates and fixes to cars remotely, they can save big money on warranty repairs. Tesla earlier this summer improved the braking performance of the Model 3 using an OTA update.
"We will absolutely be seeing OTA update capability coming to every automaker over the next several years," says Sam Abuelsamid, a senior analyst who focuses on automotive technology at Navigant, a consulting and research firm.
"While Tesla was the first OEM to use OTA updates for safety critical systems, many companies have been using the capability for telematics systems and infotainment for many years," Abuelsamid says. "The first-generation Chevrolet Volt actually had the capability when it launched back in 2010, but GM opted not to utilize it because of concerns if something went wrong like this latest Tesla update."
This isn't the first glitch caused by an OTA update. Earlier this year, many FCA vehicles found that their audio system, navigation, backup camera, and some climate-control features were no longer working after an OTA update from satellite radio provider Sirius XM. Lexus vehicles had a similar problem in 2016.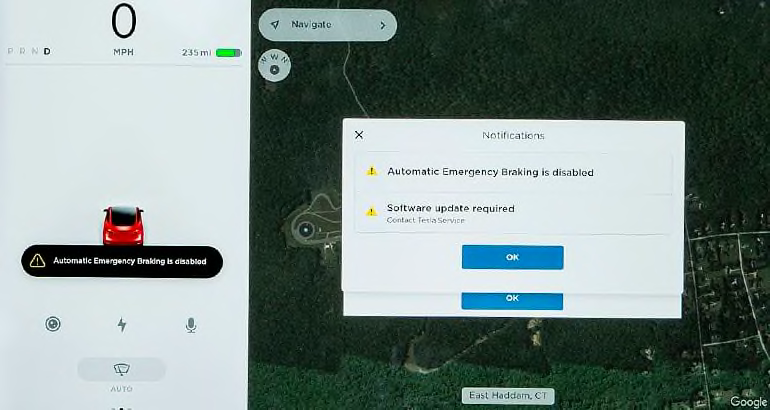 Installing the Update
We updated the Model 3 software Wednesday, Sept 12. Once the installation was done, the center screen showed a message that said: "Update did not complete successfully. Please wait for a new update to be sent to your car." It showed a yellow triangle warning: "Software update required. Contact Tesla Service."
As our testers drove the Model 3, they discovered that the adaptive cruise control and Autopilot systems were not available. Warning messages displayed for only a few seconds when we tried to engage either system. The "Software update required" message and yellow triangle sign remained on the screen throughout.
Engineers found that the AEB wasn't working when they tested the system out on CR's track. It was only when the car's AEB failed to engage before an imminent collision that a warning appeared on the center screen, informing the driver that the system was not available.
On Thursday, the Model 3 screen showed that a new software update was available. Our engineer applied the update, and our Model 3 was able to complete it successfully. Engineers validated that adaptive cruise control, Autopilot, and AEB were working once again shortly after that.
"On top of losing the functionality," Fisher says, "we were very concerned by the lack of information provided to owners about the nature of what was wrong with our car." On the Model 3's sole screen, there were messages noting that the update had failed, but it was never clear which systems were still working and which ones were not. It wasn't even clear whether the car was safe to drive.
Editor's Note: This story was updated to include Tesla's response.
See the complete Tesla Model 3 road test and ratings.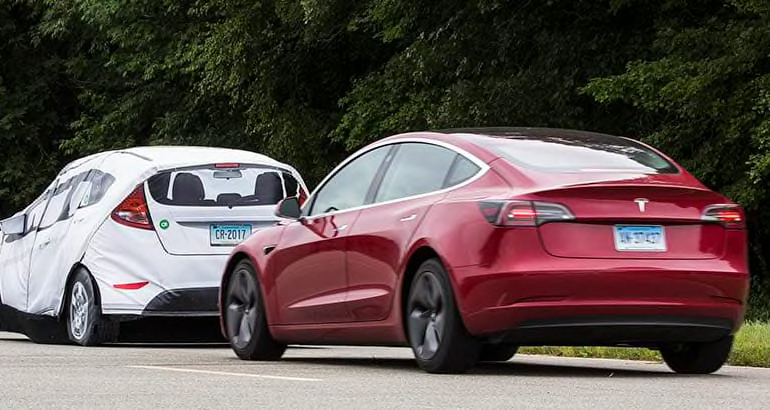 Electric Cars 101
Electric cars are bringing some of the biggest changes the auto industry has seen in years. On the "Consumer 101" TV show, Consumer Reports expert Jake Fisher explains to host Jack Rico why these vehicles might not be as newfangled as you think.